Borodinsky - when it's baked in a cake tin
This is a 100% sourdough rye from the book "Bread Matter". that book is an excellent read but for some reason, this is the first recipe I made from it. Well, second actually, but that Russian Rye was a total disaster. I think there's a printing error in the formula, it just has too much water. Yes, I know pure rye breads should have very wet dough, clay like in fact, but that one was in the porridge territory. Anyhow, back to this Borodinsky - opposite of that Russian Rye, it's perfect. The formula is right on for everything. My husband is still just getting used to the taste of heavy rye, even he immediately liked it.
I did make one major change -- I know, I know, I seem to be incapable of sticking to instructions, but this time it's not my fault! Sort of. After I mixed the clay like dough, I discovered that I don't have a loaf tin that's the right size for this amount of dough. I don't want something that's too big since I want the bread to have some height, in a pinch, I used an oval Japanse cheese cake tin I got from China, it's pefect! about 60% full going in: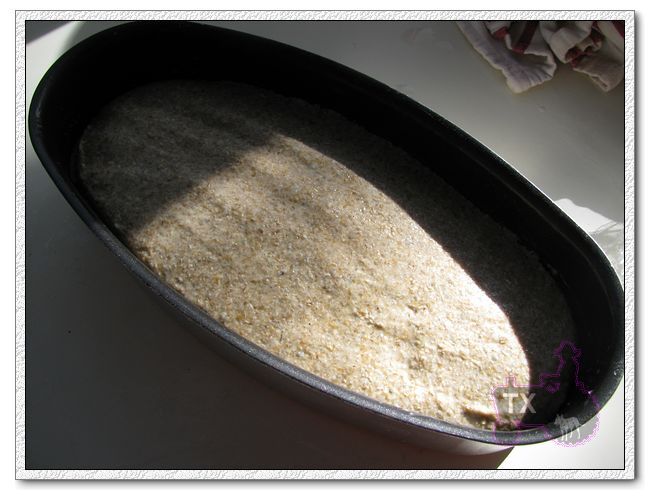 Almot to the top at the end of fermentation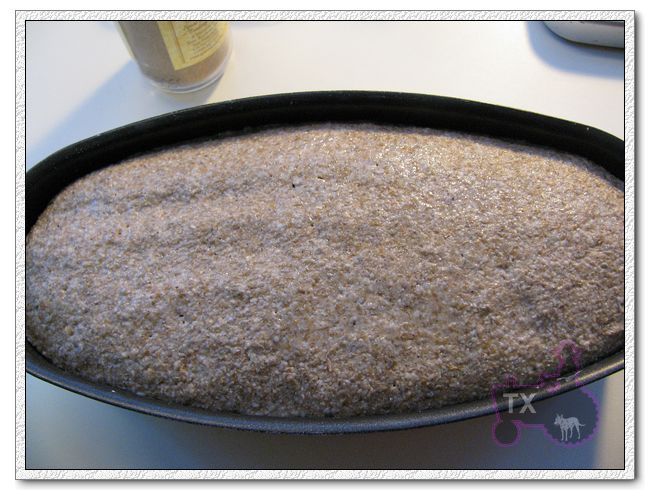 And a little domed over after it's done:
- levain
rye starter (100%), 20g
rye, 90g
water, 190g
1. Mix and leave at room temperature for 12 to 24 hours. Mine was left for 20hours, very bubbly and sour.
- main dough
levain, 270g
rye, 230g
salg, 5g
coarsely grounded coriander seeds, 5g, plus more for topping
molasses, 20g
barley malt syrup, 15g
water, 90g
2. Mix everything, and dump into an oiled tin, smooth the top if necessary but try not to press it down, otherwise the dough mighth get into crease and make it hard to demold.
3. Rise for 2 to 5 hours, if the dough is a little over half of the tin going in, at the end of the rise, it should be just below the top. Mine was left at 23C for 2.5 hours, my rye starter is lightening fast.
4. Brush water on top and spread a layer of coarsely grounded coriander seeds
5. Bake at 430F for 10min, then 400F for 40min. Maybe my cake tin doesn't conduct heat well, but at that point I took it out and the bread is not nearly done. I put it back and baked at 400F for another 20min, perfect. Wrapped for 36 hours before cutting in.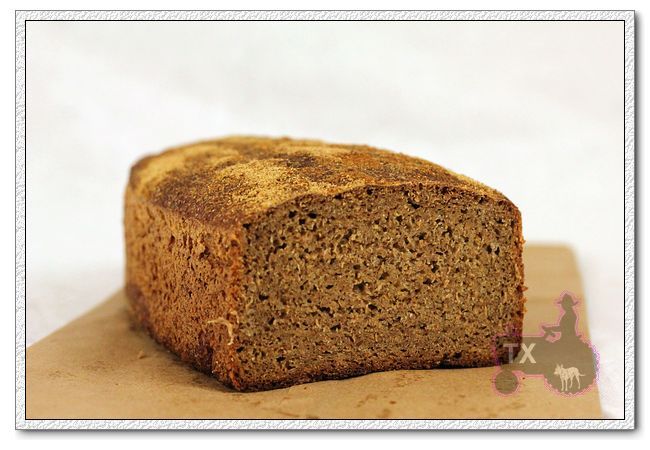 Nice even crumb, still a bit bottom heavy but getting there. I think I prefer a "not so warm" rise for my sourdough rye, as supposed to the "very warm temp" what most books suggests. It's moist but not sticky, very flavorful. I decide that I really like coriander in my breads.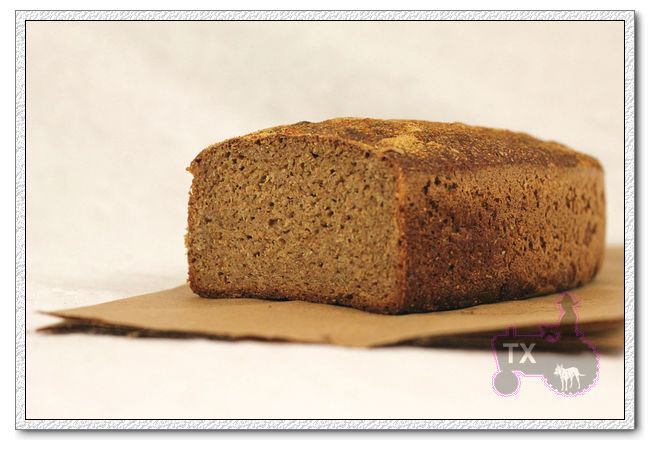 I was complaining about not being able to find rye flour in local grocery stores, Eric pointed me to fresh ground Rye from Country Creations (flourgirl51), I got two huge bags, and that''s what I use in my rye breads these days. Very flavorful and great price/service.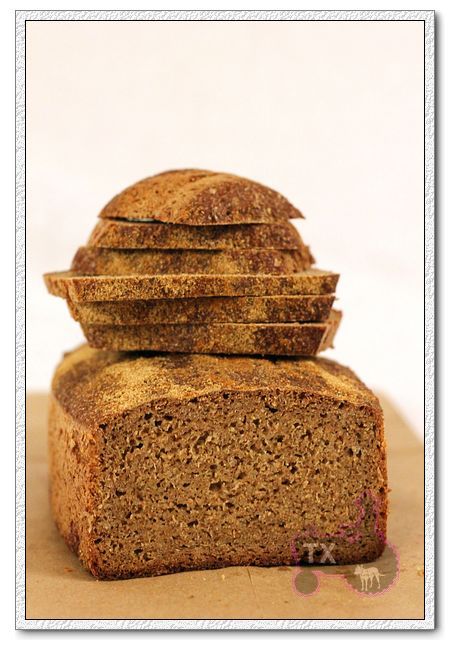 Completely unrelated, here's a Chocolate-Almond torte I whipped up to use up some egg whites, very good.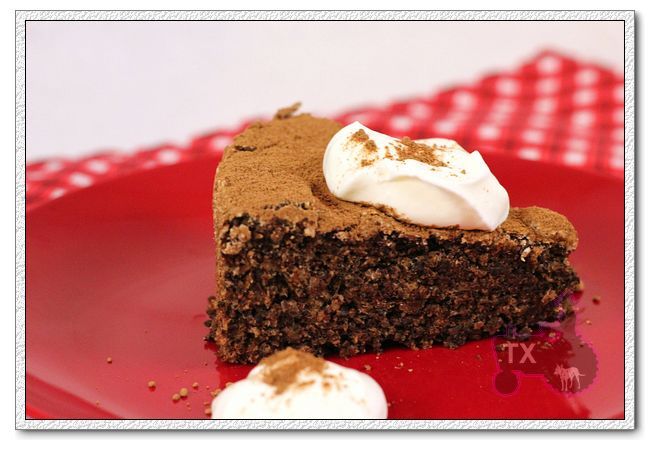 The recipe is from "Pure Dessert", but can be found here. The recipe asked for a 9inch pan, I used an 8 inch, worked out wel.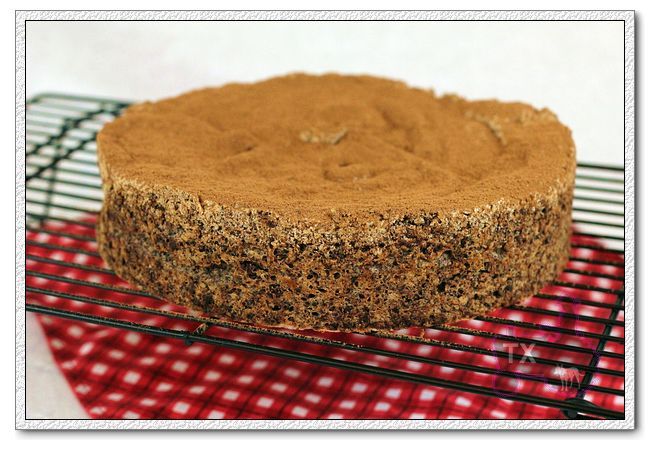 Easy to make and VERY VERY VERY delicious, especially if you like dark chocolate. Perfect with a little whipped cream.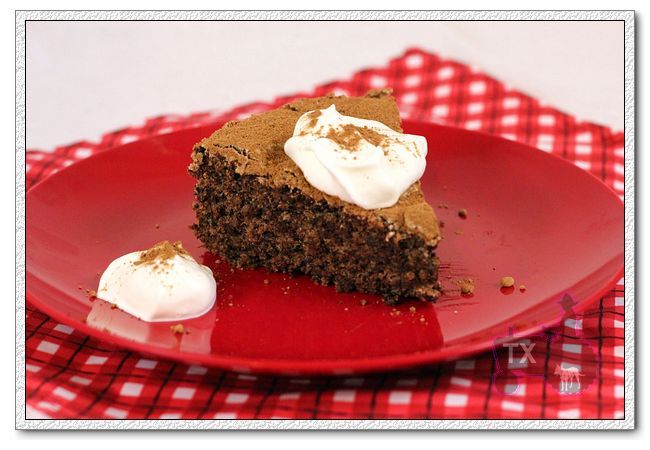 Sending to Yeastspotting.