Beard on Bread - Buttermilk White
I baked this bread for the second time and made a couple of changes. Here is the ingredient list as printed.
Buttermilk White Bread
Recipe By: James Beard in Beard on Bread
2 packages active dry yeast
1 tablespoon granulated sugar
1/2 cup warm water (110 to 115, approximately)
4 cups unbleached hard-wheat flour
1 tablespoon salt
3 tablespoon melted butter
1 to 1 1/2 cup buttermilk
Changes I made were to use instant yeast and reduce the quantity to 1 tablespoon, next time I'll use even less.
I left out the 1/2 cup warm water and used 3/4 cup buttermilk (made from Saco "Cultured Buttermilk Blend" powder) plus 3/4 cup of non-fat milk. My 4 cups bread flour at 120 grams per cup with the 1.5 cups liquid was plenty wet enough without the water. I couldn't find anywhere that Beard defined what a cup of flour should weigh.
I also cut the salt in half and used canola oil for fat instead of butter.
I did a 20 min autolyze, then mixed in the oil and salt for a few minutes, then did a couple stretch and folds after 30 and 60 minutes and shaped after another 30. The dough more than doubled in the first 30 min. (I took out 75 gr of dough to make a small roll since last time the quantity (about 920 gr) seemed to much for my 9x5 pan.)
Dusted top with some sifted flour and proofed about 45 min which may have been a little too long as dough had not only domed above pan but was starting to hang over the edge. Fortunately that sprung up in the oven to make a nicely shaped loaf.
Baked at 375 for 40 min, removed from pan and left in the cooling oven for 8 min (on its side, as recommended by Beard).
After cooling I sliced this and I can tell you it smells wonderful.
Here is the loaf cooling.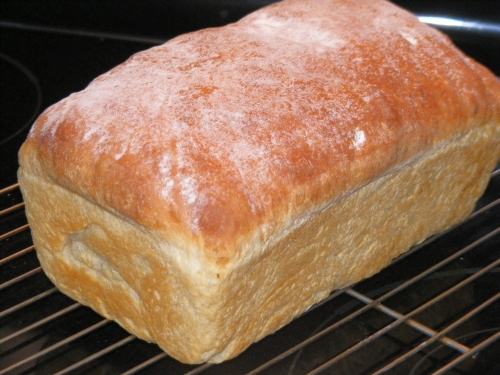 And here is the crumb close up shot. Looks good to me! Note the knife dragged some of the flour from the top down into the crumb. I didn't notice this until uploading the pic.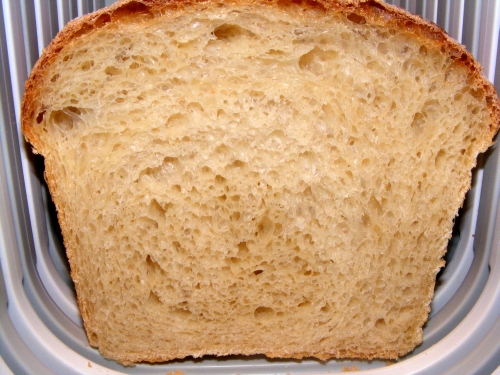 I'll add a taste update after I have some for lunch.
UPDATE: Really enjoyed a sandwich at lunch. This was better with the half buttermilk half non-fat milk. I think I'll cut back the salt a little more to 1 tsp and reduce the yeast a little as well.
Submitted to YeastSpotting