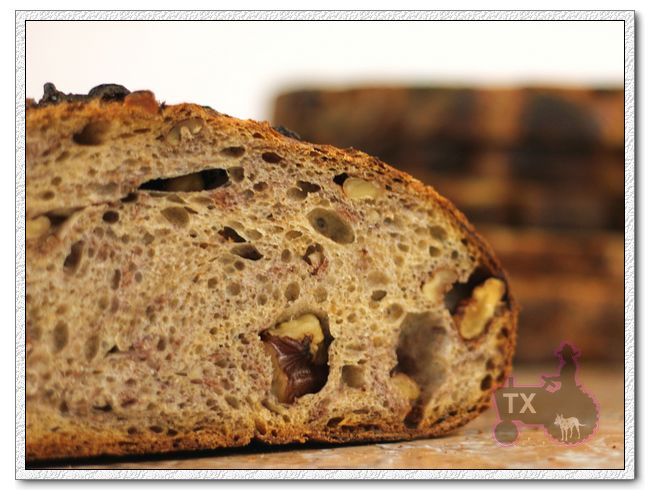 Another winning recipe from Nancy's Silverton's "Breads from the LA Brea Bakery", I adapted it slightly to use my 100% starter, and changed the fermentation schedule a little too. The best part about this walnut bread is ... the walnuts, A LOT OF walnuts. The original recipe asked for 14oz, which is a lot to start with, I tend to go overboard with nuts and dried fruits in breads,  ended up dumping in all the walnuts in the jar, a little less than a pound. I don't regret one bit. So fragrant, rich, and crunchy, walnuts are a great match for the ww and rye flour in the dough.
Walnut Levain
*makes 2 big loaves, each a little over 2lbs
- sourdough sponge
water,430g
mature starter (100%),139g
milk,30g
barley malt syrup,21g
ww flour,227g
rye flour,99g
salt,0.25tsp
1. Mix, cover, leave at room temp for 5 hours until there are visible bubbles on the surface, put in fridge for 8 to 12 hours.
- main dough
water,170g (I added a bit more to make the dough softer, didn't measure how much more though, I tend to like softer/wetter dough)

sugar, 1tsp
bread flour,624g
salt,3.25tsp
walnut oil,2tbsp
sponge

walnut halves, 14oz (I used almost 450g)
2. Mix water, sugar, flour, sponge, autolyse for 20min. The books says: add salt, mix until medium strength, mixer at medium speed for about 5min. Add oil, mix until well absorbed, another 2 min. Knead in walnuts. I mixed for much less time since my dough is softer and I intend to S&F.

3. Original recipe says to store the dough in the fridge right away for overnight bulk rise. I know from experience that it wouldn't be enough time, and I don't have a lot of time the next day to finish the bulk rise, so after mixing, I let the dough rise at room temp for 1 hour then put the dough in the fridge. Since my dough is softer than the original version, I did 2 S&F during that hour too.
4. The next day, take the dough let it continue to rise at room temp to double of original size if it hasn't so far. Mine needed another hour. Divide into two portions. Round, rest, shape into whatever shape you like. Rise upside down in brotform. Mine only needed 1.5 hrs, even though the book says 2 to 2.5.
5. Bake with steam for 45 min at 450F.
I really like this scoring pattern.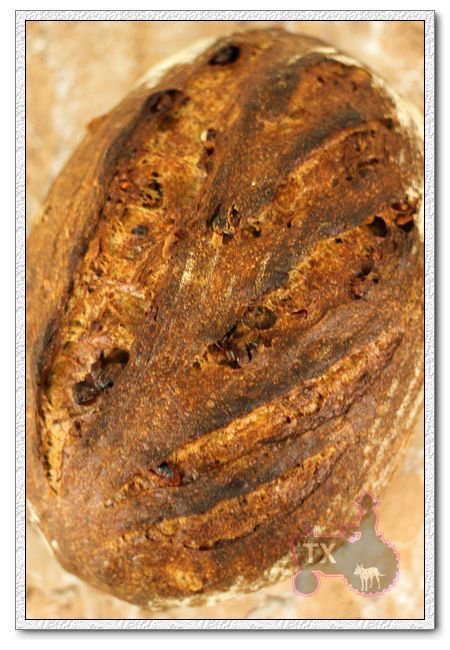 It bakes pretty dark, and that's the way I like it. The fully caramelized crackling crust matches perfectly with crunchy walnuts. And it sings!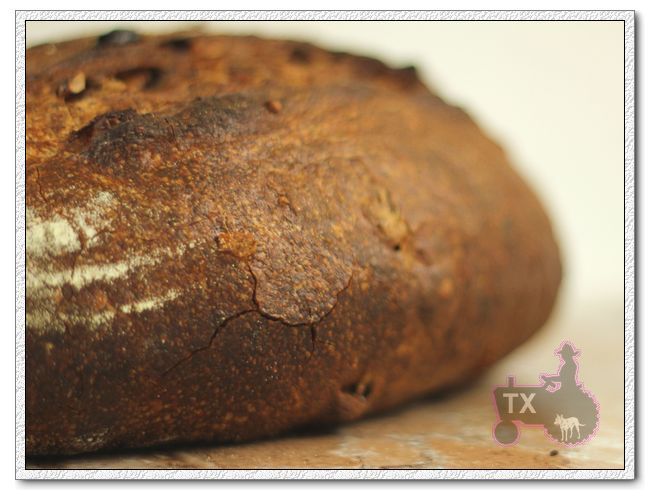 There are so many walnuts, they are peaking out everywhere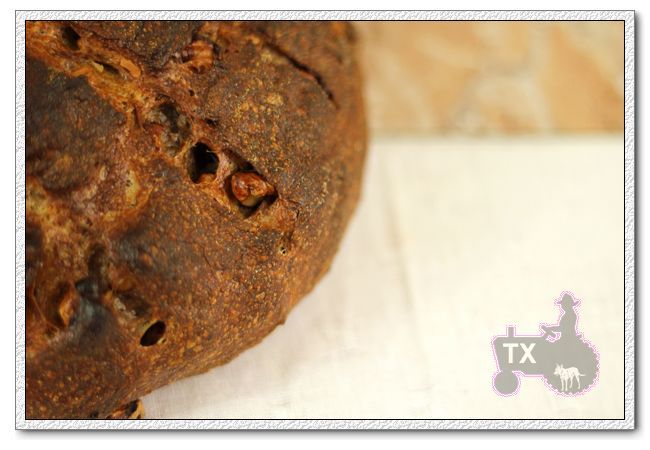 This is a bread perfect for toasting. The recipe yields a lot of bread, I at first considered to only make half, luckily I didn't. It's so delicious and fragrant that we can't seem to stop eating it!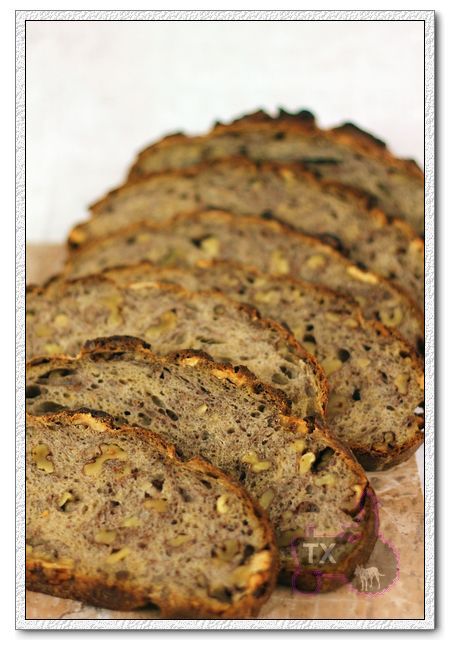 From all the breads I've made, and there have been a lot, this is definitely one of our top 10! And it's not hard to make at all.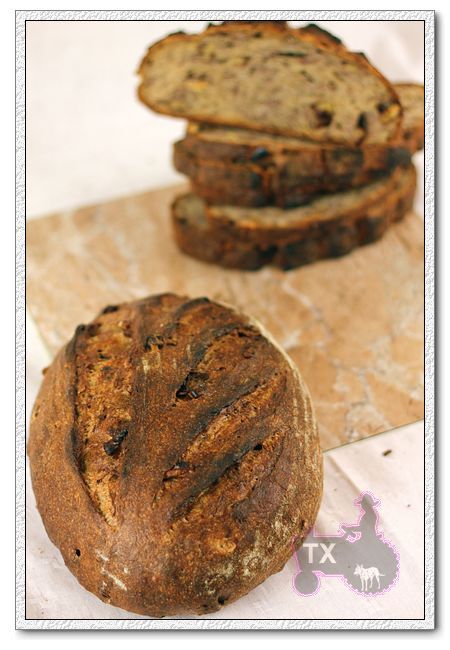 Sending this bread to Wild Yeast's YeastSpotting event.