September 29, 2010 - 8:47am
Sourdough dog bisuits - and a dog food public announcement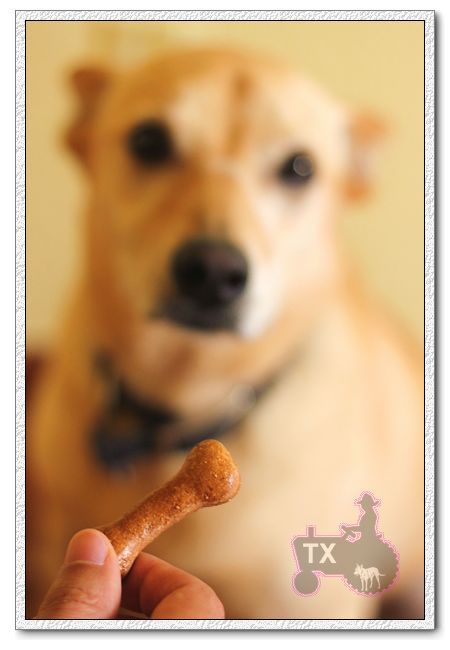 This is Ruby. Whenever people ask me what kind of dog he is (yes, he's a boy, with a girl's name, what? he is man enough to be OK with it! :P), my answer is "a yellow running dog". While we have no idea what breeds are mixed in his blood (probably a lot),  it doesn't take long for anyone to notice that Ruby loves to run. He is always ready to take off running, any time, any place, any weather. I am a marathon runner, and he is my running partner - 45 to 55 miles a week, but that's merely a trotting warm-up for him, he really lives for the trips to the dog park, where he can be unleashed and just SPRINT forever. So far he's can run faster and longer than any other dogs we know, and even some slower cars. :P
There's one thing he loves ALMOST as much as running - eating. Ever since we adopted him 5 years ago, he has always INHALED his kibbles in minutes. Sometimes I don't even think the kibbles actually hit the bowl, I think he intercepts them midair and just swallow. He also eats anything that resemble, or don't resemble food - the most memorable one was half of a Gatorade bottle lid, which then scratched his inside and caused bloody diarrhea, even that didn't affect his appetite. Whenver my friends tell me about their dogs that don't eat, I simply don't undersand, what a foreign concept - until 10 days ago.
We had just picked him up from doggie daycare (I know I know, we are the worst kind of spoiling doggie parents, but he loves to run and it's a all day play kinda place...), stopped on the way to pick up a new bag of dog food (Iams minichunk in green bag, the same kind he has eaten for all 8 years of his life). Got home in time for dinner, opened the bag, poured kibbles to his bowl, he sniffed and WALKED AWAY! We were stunned, was he having a heat stroke? Sometime wrong with his teeth? Did he eat something bad in the daycare? For the next 3 days, he simply refused to eat his food during the day, before bed, he would slowly chew a few kibbles and walk away again. He would take some treats we gave him, but we don't usually give him people food, just some plain bread slices. With so little food, he was not as energetic as usual, still wanted to run in the morning, but slower and slower. During the day, he would just lay there and look weak. We were seriously concerned.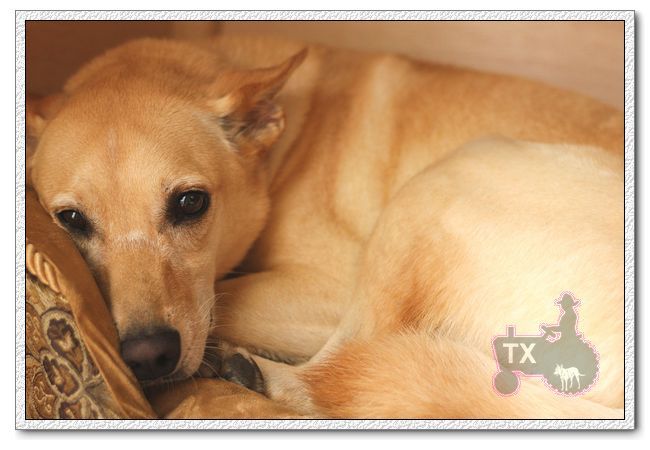 Finall got in a vet appoinment, the exam and blood test showed no problems - until we mentioned about the food. My vet said Iams had switched production facility and ingredient formula 3 months ago, ever since then there have been a lot of problems. Many of the foods are being recalled, the ones are not recalled (including the one Ruby was eating) also have some bad feedbacks. A lot of dogs would not eat the food, even though they have been eating the same brand/formula for their entire life. Some would get seriously sick after eating, a few older/smaller/weaker ones even have to be put down. We returned the Iams food immediately and got Hills Science dog food instead, Ruby immediately started eating - really immediately because we opened the bag right outside of the store and he started inhaling the kibbles on the sidewalk! Even since then, we have been feeding him part homecooked food (bland rice + chicken), part new dog food, by yesterday, he is eating all dog food, and doing very well. We ran 10 miles this morning, let's just say he's not the one that slowed us down. :P
I am beyond livid about Iams, how can they change ingredients without warning the customers? And what poisonous ingredients are they putting in the food that makes Ruby refuse to even get close?! What about those dogs that got seriously ill or even died? Who's going to take responsibility for them? So here's the PSA: if your dogs/cats are eating Iams, be very careful about feeding them food that's bought after July, if they eat less or get sick, it's very likely the food! In the mean time, check out this link: http://www.aspca.org/blog/pet-food-recall-iams.html , especially the comments.
Anyway, now that the scary episide is behind us, I made these sourdough biscuits this past weekend for the poor little guy to make up for what he had to go through. They are full of human grade nutritious ingredients, as well as added benefit of sourdough. I adapted the formula from Nancy Silverton's "Breads from LA BREA Bakery", but Wild yeast has a similar adaption here. I did add one extra egg in the dough since Ruby runs a lot and needs the extra protein. The dough is very easy to handle, and the process is straightforward. It's a great way to use up extra starter!
I made sure to bake them long enough so they remain crispy for a long time. The recipe does yield a whole of cookies, so I froze a lot of them.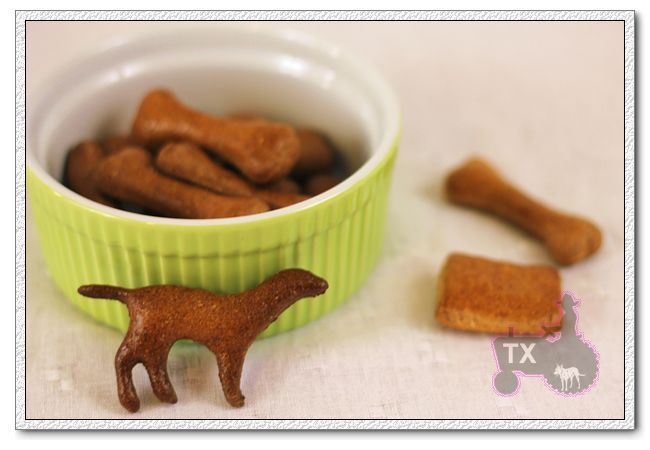 Ruby LOVES these, look, he's practically cross-eye-ed.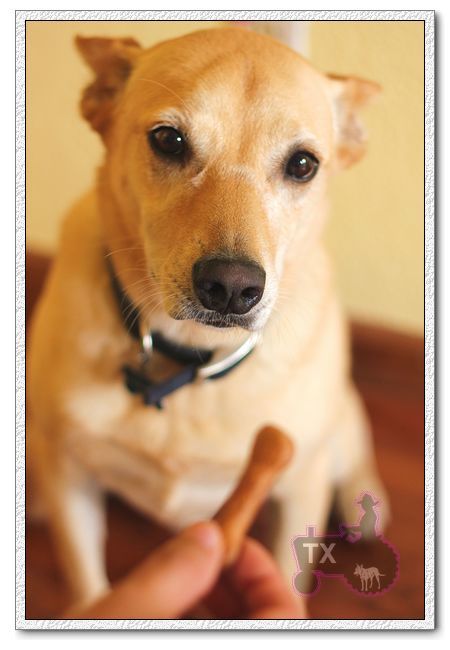 Pleeeeeeeeeeease...