February 11, 2007 - 7:04pm
Chocolate cherry sourdough bread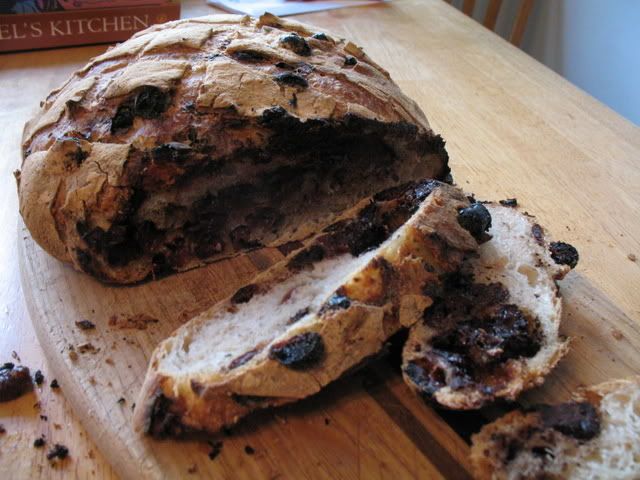 I've been wanting to make this bread for years, ever since I first had a bite of chocolate cherry bread from Zingerman's in Ann Arbor, Mich. I've tried making this several times over the past few months, all of them flops. Pancakes, covered in charcoaled chocolate (Yum-o!) were the usual products of my labors. Not this time. I finally got think I nailed it. Here's how I made it (note: These cups are Laurel's Kitchen-style cups. Don't fluff up the flour and spoon it in -- dig deep and let it settle.

Ingredients:

120 grams or 1/2 cup active sourdough starter (100% hydration)
340 grams or 2.25 cups bread flour
8 grams or 1 1/8 tsp salt
210 grams or 3/4 cup + 3 Tbs Water
150 grams or 1 cup dried tart cherries
125 grams or 1 scant cup big chunks of chocolate

I've found I get more flavor out of my sourdough if I let the starter ripen at above 80 degrees. It's not necessary, though. Just make sure your starter is ripe. The night before, dissolve the starter into the water as best you can. Mix the salt with the flour (You can try using all-purpose -- I think all-purpose has better flavor and texture for sourdough, personally -- but I find that bread flour gives this bread the heft it needs to rise well despite the weight of the goodies). Then dump the flour into the starter slurry and mix it all up together until it's all hydrated. The dough should be very tacky and maybe a little sticky, but not super sticky. We're shooting for the texture of wet French dough, not ciabatta.


Cover the bowl with plastic or a plate, and let it sit at room temperature (about 70 degrees F, more or less) for about 12 hours (anywhere from 10-14 should be fine). Once it's ready, it should look something like the photo to the left.

Meanwhile, pour some boiling water over the cherries. If you can't find dried tart cherries (Trader Joe's sells them around Boston), dried cranberries will usually do almost as well. Let the fruit soak for about 15 minutes, drain and then place them on towels or paper towels to dry. You want the interior wet enough so that the fruit won't draw moisture from the dough, but dry enough on the exterior so they won't turn your dough into soup (it can happen -- believe me, I know). When the fruit is ready, mix it up with the chocolate in a bowl, and have it handy.

Flour a workspace lightly, and then gently turn the dough out onto the board. With wet hands, lightly pat the dough into a rectangle. Stretch the dough to about twice its length, and then spread 1/4 of the chocolate cherry mixure in the center. Fold one-third of the dough on top, and again, spread 1/4 of the mixture on top. Fold the final third of the dough like a letter, and then turn the dough one-quarter. Follow the same procedure, and then cover the dough. Let it rest for about 15 minutes. Here's a photo sequence to show you what I'm talking about.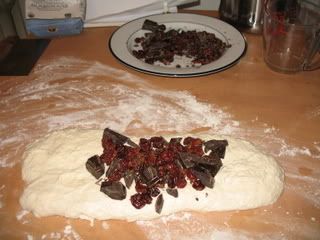 Stretch and spread.



Fold and spread.



Fold again. Then turn the dough one quarter and repeat! Easy-sleazy. (That's the final product above. I skipped a few steps in the photos. It's well-established that stretch and fold only remains exciting and engaging for ... oh ... no more than three photos, I believe..)

Folding the chocolate and cherries into the bread ensures that the vast majority of the goodies stay protected from the fierce heat to which you're going to subject the dough in order to get that lovely, crunchy crust we all adore. The yummy stuff is not as evenly distributed as it would be were it mixed in from the beginning, but uneven distribution is highly preferable to charcoal. Trust me.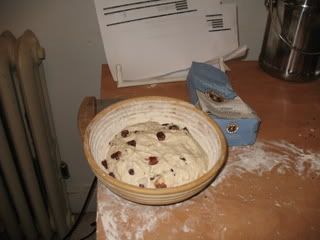 Now, after letting the dough rest for 15 minutes, gently shape the dough into a boule, and place it in a well-floured banneton. I splurged a while back and bought one of my own, but you can easily construct a makeshift banneton out of a bowl and a well-floured linen napkin.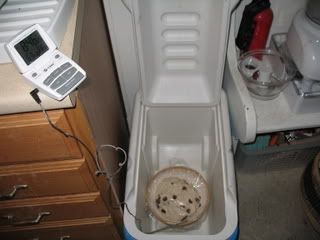 I like to let my sourdough proof in the makeshift proof-box you see to your right. I pour a cup or two of boiling water in there and close it up. It'll stay within 3-4 degrees of 85 degrees F for about 90 minutes. I then pour in another cup or two of hot water.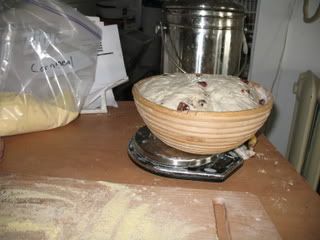 After 3 hours, my bread looked like this.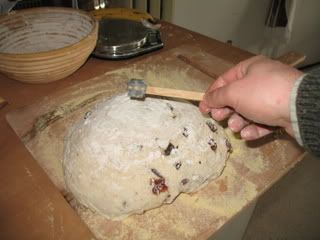 About an hour beforehand, I'd put my cloche in the oven and preheated it to 500 degrees F, but if you don't have a cloche, a dutch oven or oven-safe casserole will do. If you don't have that, just use your baking stone and steam the oven. If you don't have that, just put the bread on a baking sheet. Once the bread was scored, I baked it covered for 30 minutes, and uncovered for about 17-18 minutes, and then let it cool an hour (can you believe it?) until we dug in. I had a minor mishap with a bit of my bread sticking to the peel, thus the odd shape to the left. It didn't disuade us from gobbling it all up with 48 hours though.