September 27, 2010 - 5:40am
Blueberry Cream Cheese Braid
After having drooled over Floyd's Blueberry Cream Cheese Braid for a long time, I finally made it yesterday. I made half a batch and am glad I did. I would recommend at least 3 braids if you make a whole batch. The half batch was so big it was hanging of both ends of my 15" sheet pan. That being said, after breakfast this morning there is a big piece missing! It was great.
Changes and observations.
The dough was too wet using my 120 gr/cup flour measuring, so I had to add quite a bit of flour (and I am no longer afraid of sticky dough, but this was thick batter).
I mixed it in the bread machine using the dough cycle but didn't let it finish because the dough felt done.
I used 1/2 of a 21 oz can of blueberry pile filling.
Didn't do the overnight so I let the sponge ferment for a couple of hours and then mixed/kneaded the dough, let it more than double, then filled and shaped, rise again for about 45 min, then baked.
Toppled with confectioners sugar (1 cup plus 1/4 t vanilla, 1 T milk) glaze after cooled.
This makes a beatiful presentation and has so many options for fillings. I cannot wait to try some others. This is so much better than anything I ever bought in a store.
Here is the braid after filling and shaping, ready to apply egg glaze.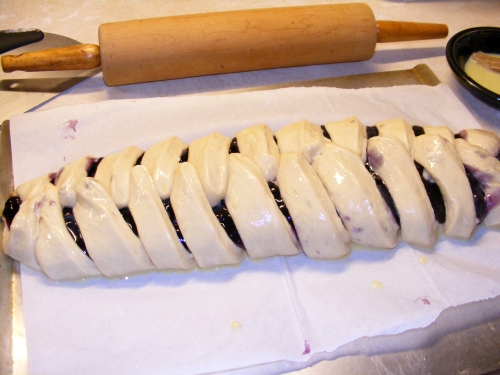 With egg glaze.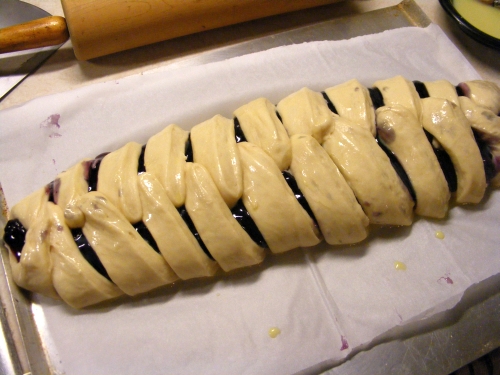 And here it is ready to bake.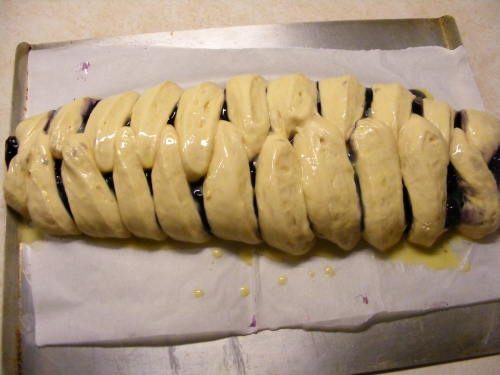 Just out of the oven.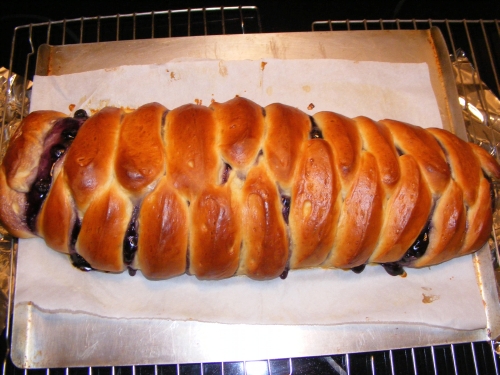 Confectioners glaze.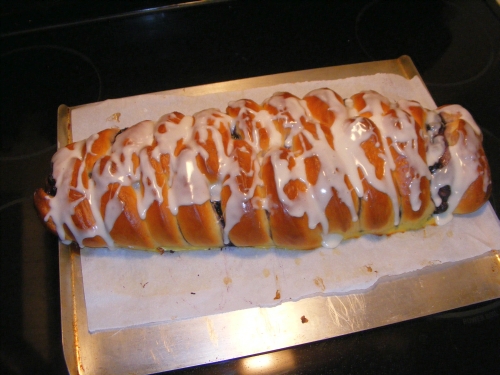 Crumb shot (makes me start drooling again.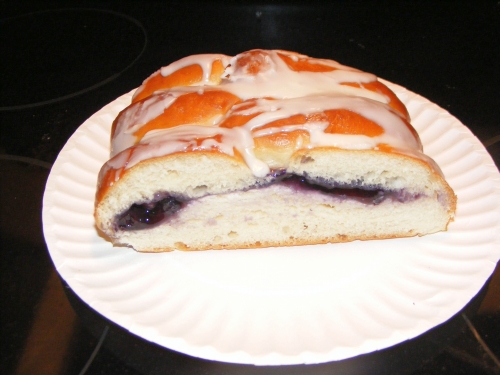 Crumb close up.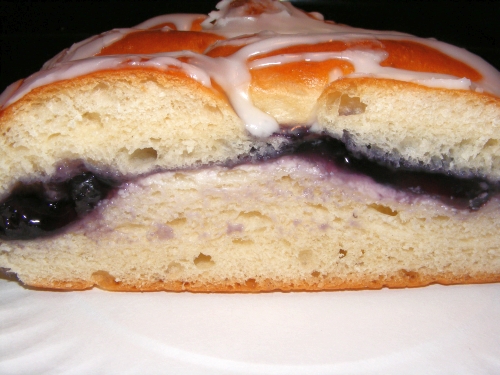 Thank you Floyd and everyone that commented on that thread. I think I'll go have another piece. :-)
Submitted to YeastSpotting
10-01-10 update to add YeastSpotting link