September 20, 2010 - 8:56am
Time for Onion Tarte - Zeit fuer Zwiebelkuchen
Fall is the time of the year when Alsatians and wine loving Germans think: "Zwiebelkuchen"! For this mellow sweet onion pastry is the perfect companion to new wine.

If you travel in fall through the wine growing areas left and right of the Rhine, you will find inns, restaurants and many vinyards offering sparkling new wine (Federweisser). They often serve it together with freshly baked Zwiebelkuchen (Onion Tarte) or, an equally tasty variation, Porreekuchen (Leek Tarte).

But beware - Onion Tarte is an aider and abetter of that seemingly feathery light youngster, helping it go down so smoothly, that you are tempted to drink it like lemonade! When you wake up the next morning you realize why Federweisser is also called: "Sauser" (Buzzer) - there's something buzzing in your stomach and your head is spinning...
You find the recipe for Zwiebelkuchen or Leek Tarte here: http://hanseata.blogspot.com/2010/09/zwiebelkuchen-onion-or-leek-tarte.html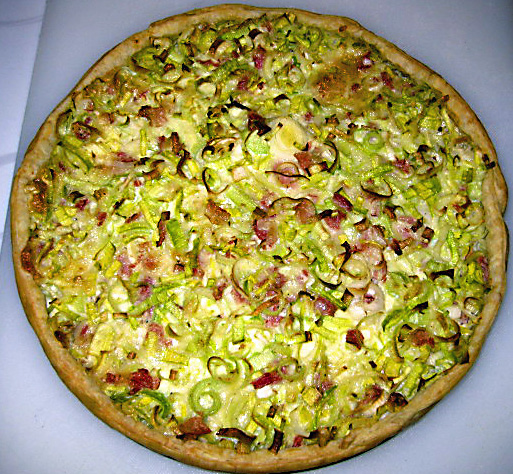 Leek Tarte