September 12, 2010 - 1:01pm
A visit to Eureka Meulens
Or to Eureka Mills, if you are more fluent in English than in Afrikaans.
We spent the past week on vacation in the Western Cape Province of South Africa.  Along with spectacular vistas, fynbos, animals we've never seen before (who knew that bontebok and blesbok would be so difficult to differentiate?), rolling farmlands, orchards, vineyards, calving whales and two different oceans, we managed to fit in a visit with Nico Steyn, miller and manager of Eureka Mills. 
It was really a happy accident rather than the result of any forethought.  We had stopped at a farm stand, noticed several bags of Eureka Mills flour, and read the address: Heidelberg.   And then it hit us—we were standing in a shop on the outskirts of Heidelberg!   After locating a telephone number, we called and made arrangements to visit that afternoon and see, as Nico put it, "how we make what we think is the best flour in South Africa."
For those who might be in the vicinity someday, Eureka Mills is located just south of the N2 highway at the Karringmelkrivier (Buttermilk River) exit, west of Heidleberg.  And it is easy to spot: there is an enormous grain elevator visible from the highway which, so far as I know now, has nothing to do with Eureka Mills.  Since it was the biggest and most obvious grain-related structure, I aimed for that and drove right past the mill, only noticing the sign at the last second.  Eureka Mills is a much smaller and bare-bones outfit; as Nico said, a "one-man band operation" that looks like it is one of the buildings of the farm from which it sprang.  All of the buildings were erected by mill staff (including the new expansion that is in progress) and all equipment was installed by mill staff.
Eureka Mills was born in 1998 because two farmers were frustrated by the low prices they were being quoted for their wheat.  They recognized that they could get a much better price for their product if they converted it from raw grain to flour.  As the mill's output has grown over the years (it currently produces about 100 tonnes/month), additional wheat is now purchased from other growers in the area to supplement the original farms' production.  Nico joined the mill in 1999.  He had been interested in a career as a chef but, when that didn't develop, started working at the mill to generate some income.  He has since worked his way up to the miller/manager position.
The wheat used by Eureka Mills is a hard red variety.  Since the area is short of the 35th parallel in latitude and has more of a Mediterranean-style climate, the winter and spring designations used by European and North American growers don't quite apply.  Nico describes it as a "pre-winter" wheat.  The resulting flour is approximately 11% protein and contains nothing but wheat.  No malt.  No added vitamins.  No bleaches.  Just wheat.  Visitors to the mill ("All foreigners" a bemused Nico remarks) include James McGuire and Jeff Hamelman and they have been astonished to find a flour of this purity.
The milling process has just a few steps.  The incoming wheat is first screened to remove any stray pebbles that might have gotten in.  It is then screened again to remove any other non-wheat materials.  From the screens, it is mixed with water (tempered) and stored for 18 hours to achieve a 15% moisture content.  After tempering is completed, the wheat is sent through a series of 3 roller mills that separate the outer layer of bran from the inner endosperm and germ.  The endosperm and germ are then ground between two granite burrs in a stone mill.  The resulting (unbleached) white flour is packaged as either white bread flour or as cake flour (roughly equivalent to All Purpose flour in the U.S.).   As I'm writing this, I realize I didn't ask what differentiates the two white flours.  If it all comes from the same wheat, there can't be much difference except, perhaps, in the fineness of the grind.  Brown bread flour is made by reintroducing a portion of the bran and wholemeal flour is made by recombining all of the bran.  Nico explained that they had learned that running the whole grain through the stone mills resulted in the bran clogging the stones, which costs them about a day of lost production by the time everything is taken apart, cleaned, and reassembled.  Hence, the initial passes through the roller mills to separate the bran before the grain reaches the stone mills.  Lest I leave you with the impression that the milling is easy, here's Nico's take on the process: "The flour is like a woman; what worked with it yesterday may not work today."
Although none of the grains used by the mill are certified as organic, Nico explained that the growers exercise careful soil conservation practices.  Typically, a field will be planted to wheat for two consecutive years.  It will then be planted with canola (seeing hundreds of hectares of the yellow blossoms is dazzling) for a year.  Following that, it will be left fallow for 2 years.  All of the plant material that remains after harvest is worked back into the soil with toothed implements, rather than with plows or discs, to minimize disruption of the soil structure.  As a result, such fields host plentiful earthworms and other beneficial organisms that are not present in a heavy cultivation/heavy chemical use regime.  Soils in this region tend to be very thin and lacking in organic matter, so such practices are essential to long-term productivity.  I remember driving by one field in which the farmer had gathered rocks into large piles and the soil still appeared to have more stones than dirt.
Eureka Mills also produces rye flour, rye meal and crushed rye because of customer demand.  That rye is imported, since the local climate is not conducive to rye cultivation.  If it hadn't been for my whining in one post about not finding rye flour locally, I might not have known about Eureka Mills.  MiniOven did some research on the Web, found out about Eureka Mills, and got me pointed in the right direction.
Nico works closely with a number of artisanal bakers (mostly from France or Italy, he notes) and with distributors to extend the use of Eureka Mills products.  He is frequently on the telephone with bakers, responding to their questions or requests; something that he values as much as they do.  South Africa is going through a dietary shift that, in many ways, is both parallel and linked to its social shifts.  Brown bread flour was not previously taxed, therefore it was cheaper for institutions (schools, prisons, etc.) and low income persons to use for their baking needs.  It now has a stigma as "poor peoples' food" and the growing demand is for baked goods made with white flour.  At the same time, as more people have increasing affluence, there is also a nascent willingness to spend more for artisanal breads.  Most of the master bakers producing those artisanal breads are either Europeans or have European training, hence Nico's comment that visitors to the mill tend to be foreigners.  Those bakers want to have a product they can trust and a person on whom they can rely to address their needs.
If you would like to visit the Eureka Mills website, the address is www.eurekamills.co.za. And, if you are in South Africa and would like to buy some of their flours or goods made with their flours, you can find a list of distributors and bakers on their website.
Future flour (the green fields in the middle distance, not the grasses in the foreground: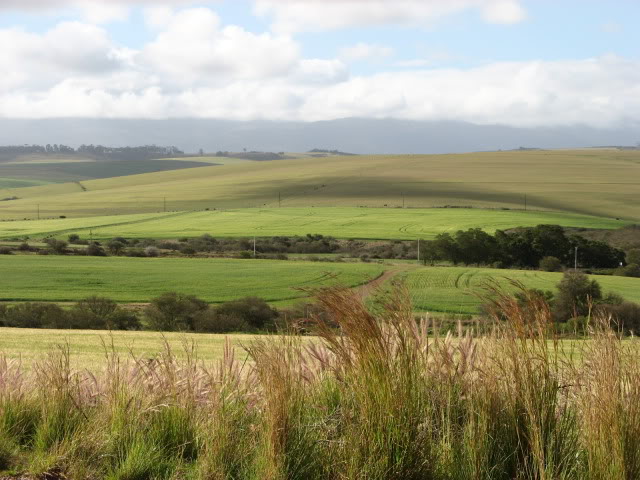 The primary (stones) screen: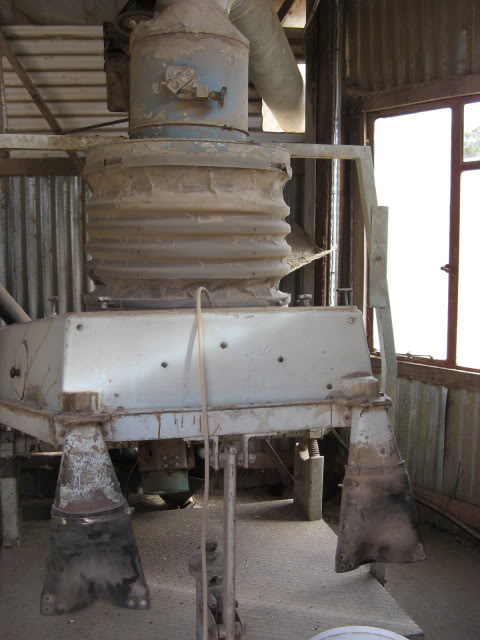 Secondary (trash) screens: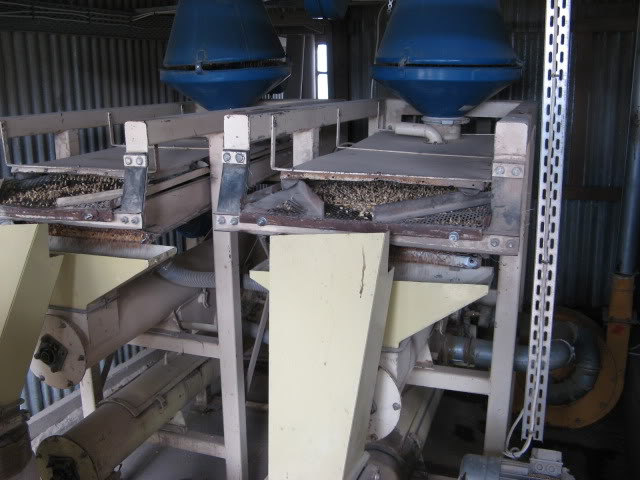 Roller mills: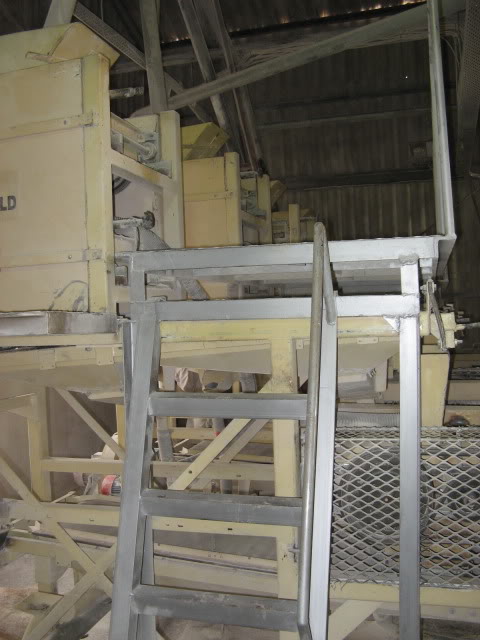 Stone mill (foreground) and sifter (background, right):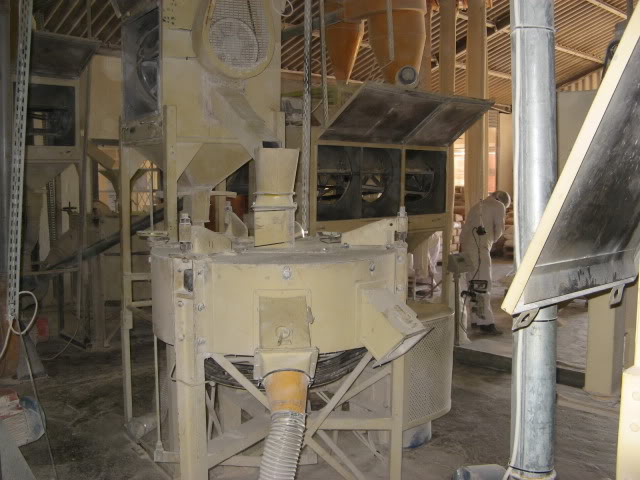 Cleaning up at the end of the shift.  Anything that lands on the floor is sold to a local farmer as cattle feed.: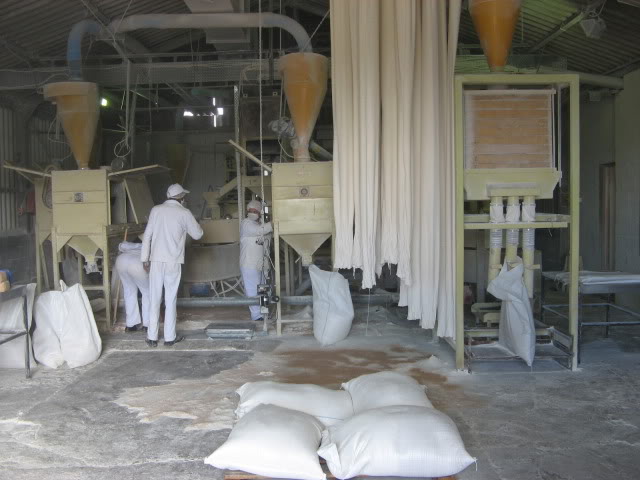 Mill expansion in progress: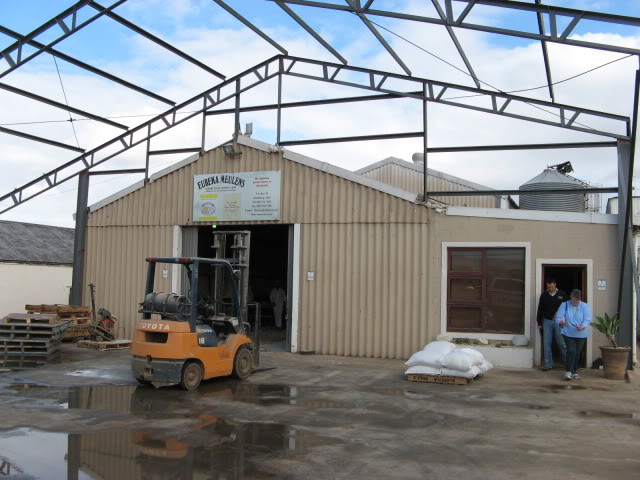 Nico Steyn, miller: