September 9, 2010 - 10:05pm
I really appreciate RobynNZ and Daizy_A and SylviaH who encouraged me a lot to make a sourdough bread. I almost gave up on this. I would not know how good they are if I quit. Thank you so much!( bow)
 I never made a starter from scratch.I had a lot of trouble. RobynNZ helped me from A to Z. Thank you for all you work, Robyn. She transfered to Japanese for me when I didn't understand eventhough she was busy and tired she had had such a hard time. Many thanks to you, Robyn.(bow)
 I have made sourdough bread that is posted by Susan. Thank you, Susan. http://www.wildyeastblog.com/2007/07/08/my-new-favorite-sourdough/ This is a great recipe! 
First sourdough: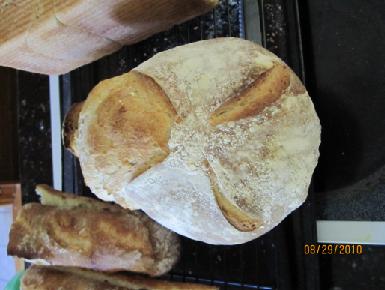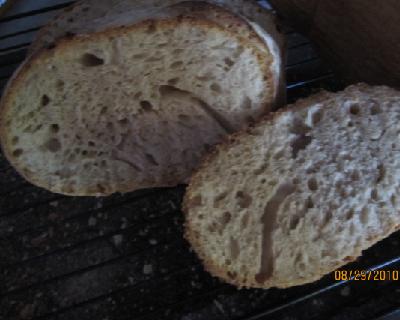 I could eat it at this time but it was very sour. My husband didn't like it. He said that he didn't like sourdough bread. ( I used 1:1:1 = starter:water:flour) Starter was 15th day.  The sourdough was burst too.
Second sourdough: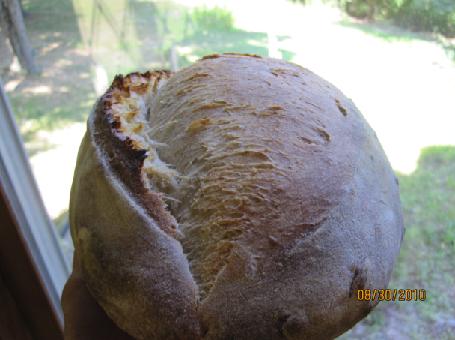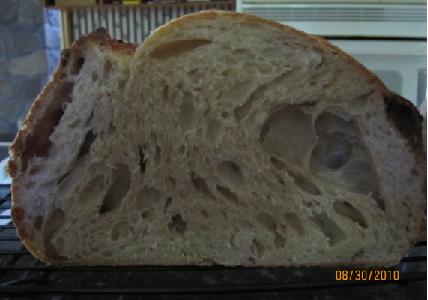 I used BLEACHED FLOUR and It turned out rubbery crumb. ( I didn't know why at this time.)
Third sourdough: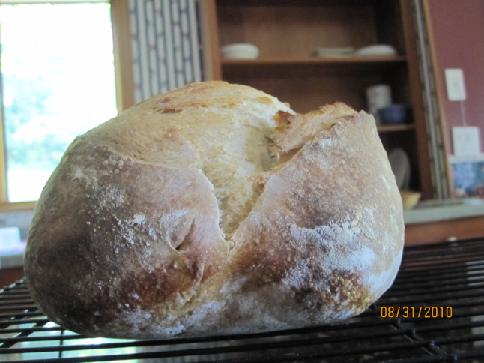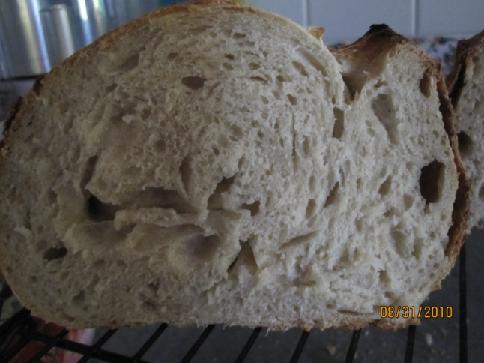 Again, I kept using BLEACHED FLOUR and  the crumb was rubbery like eating slippers or  a foating duck toy. ( I still didn't know why )
Forth sourdough: I started to feed my starter BLEACHED FLOUR and continued to use bleached flour for making a sourdough bread. There were black spots the crust ramdomly and very white spots on the blooms. Of course the crumb was harder and rubbery.
Next day( Fifth day) I realized that I was killing my stater feeding BLEACHED FLOUR. and I got an information that putting the bleached flour in a microwave for 1 minutes and cool it off and use it. And I did... then I saw my starter got flatten totally. I was so shocked.. At this time, RobynNZ sent me messages to feed whole wheat , rye flour except bleached flour.  Unbleached flour had run out so that I was using bleached flour but I had whole wheat flour I forgotten. so I fed it to my poor starter as soon as I got the message from Robyn.  A few days later, my starter was okay. and I waited more a few more days, my starter was geting better and better. and I tried to make a sourdough again, The ratio was 1:5:5. It was another failure.  My starter was not ready for the ratio yet.
Yesterday: The ratio (1:1:1)  I used flax seeds flour ( Bob's red mill) instead of rye flour. My husband and I are not a big fan of rye flour.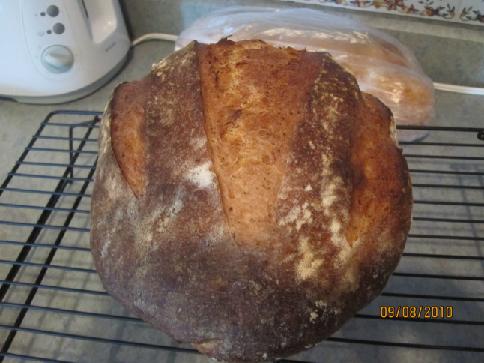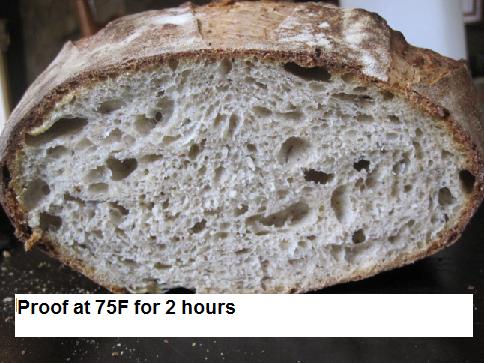 That was edible and my husband loved it. I though that needed more soft texture. I wanted to make it less sour. but I was very happy with it.
Today: The ratio was 1:3:3 I used flax seeds flour ( Bob's red mill) instead of rye flour again.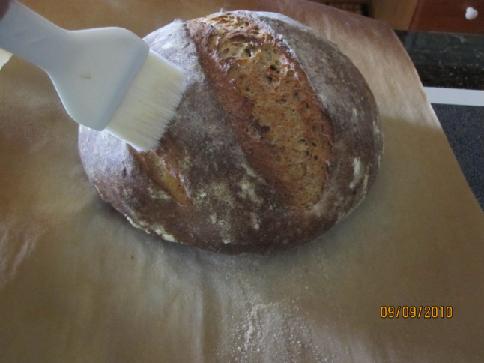 I swept some flour on the crust by a brush because I sprikled too much flour.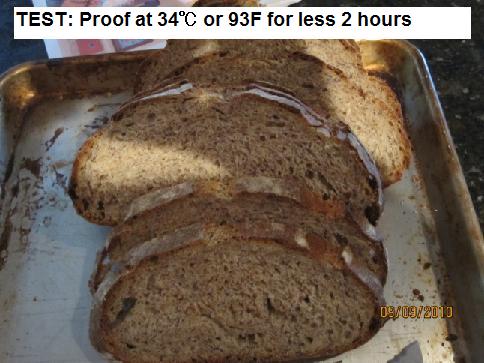 This sourdough was less sour and good, but I think I needed more moisture. A lot of Japanese proof sourdough or bread using a starter at this high temparture. I think that Japanse likes soft and light  bread more than heavier and chewy for this kind of bread. I am not sure...   I like that in the middle. My husband really loves this bread so much. I love this too.  
Note: I keep my starter at the basement ( the temparture is around 69F or so)
Thank you for reading this poor thread,  I wanted to thank you to the TFLERS who encouraged me a lot and I saw many tflers are making Susan's sourdough bread so that I read a lot of their comments that were very helpful. Thank you everybody.
Best wishes,
Akiko