September 6, 2010 - 10:57pm
Whole Wheat Boule with a Sesame Crust
Hello everyone,
This bread is Whole Wheat Bread, from Eric Kastel's Artisan Baking at Home with the CIA.
This is a straight dough which includes whole wheat and honey. After shaping the boule, it was sprayed with water, gently picked up, turned over & rolled around in a bowl full of sesame seeds; then gently placed seam side-up in a cloth-lined banneton for final proofing.
After proofing & turning out onto a parchment-lined peel, the boule is misted & left to sit for a few minutes, scored, then misted once more before loading into the oven. (When misting, be careful not to get the parchment wet - I learned tonight that damp parchment doesn't slide well when trying to load the stone!).
I think the sesame seed crust is kind of pretty - and the loaf smells sweet and wheaty. We're going to slice it tomorrow for breakfast so I'll try to take a crumb shot then.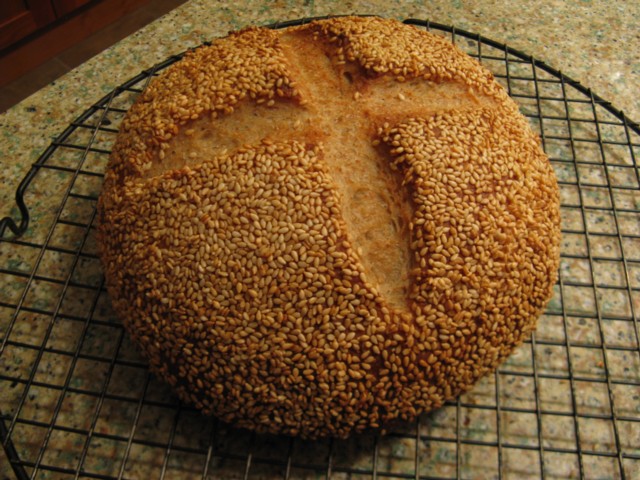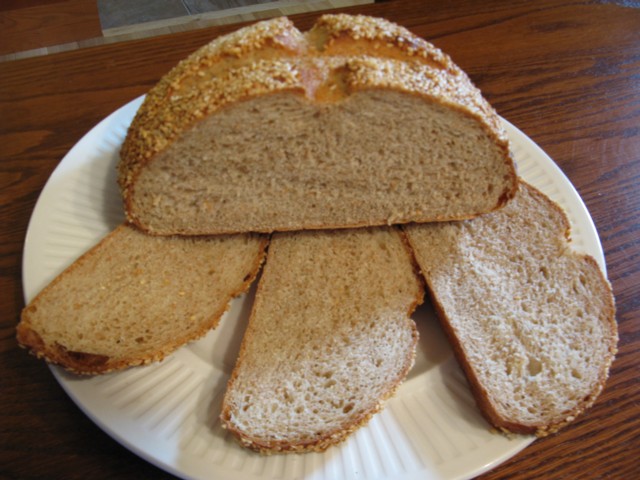 Regards, breadsong