Greek Bread with Liquid Levain and Goats Milk
This is my version of the recipe from HERE 'Im having trouble getting this to go directly to the recipe, in search type Crusty Greek Country Bread'. I have never made a bread containing goats milk, I thought this a good choice instead of the water called for in the recipe, and I have to say what a very pleasant surprise.  It turned out just as I hoped it would.  The flavor with levain and goats milk was delicious and I've never tasted anything like it before.  It had a sweet creamy taste from the goats milk and duram flour with the added nutty flavor from the sesame seeds.  The crumb was just as I wanted just open enough, I coated the egg wash on extra heavy and all the way down the sides to hold an extra heavy sprinkling of the sesame seeds.  This bread will be outstanding toasted or for sandwiches, whatever way you choose to enjoy it.
Sponge: set aside to rise for 2 hours.
208 gm liquid levain - 100% hydration
84 gms scalded and cooled goats milk - 
62 gms Bread flour
Dough:
671 gms Bread Flour
240 gms Duram Flour - You have your choice of flour combinations - Duram is one of my favorites 
420 gms Scalded Goats Milk - cooled
2 Tbsp. Honey
2 Tbsp. Olive Oil
1 Tbsp. Sea Salt
Adding the sponge, I used mechanical and hands with my KA and a combination of Stretch and folds. 
Glaze: One whole egg with 2 tsp water and wisked till foamy - 1/2 cup sesame seeds -
 two round linen lined baskets were used for proofing and then turned onto parchment paper on paddles and slid onto hot oven stone.
Preheat oven and stone 450F convection setting for one hour
Because the loaves were heavily coated with glaze I only spritzed my oven after putting in my loaves....no steaming device was used.
Baked for 45 minutes adjusting my oven temperature from 450 convection off 10mins. reducing down to 425 and 375F.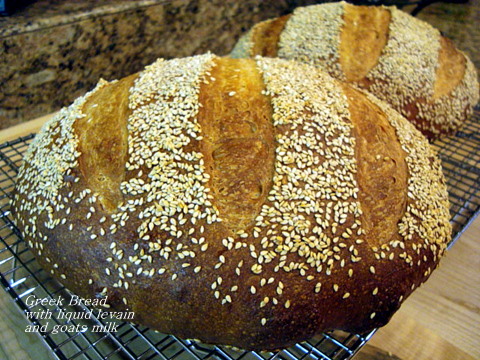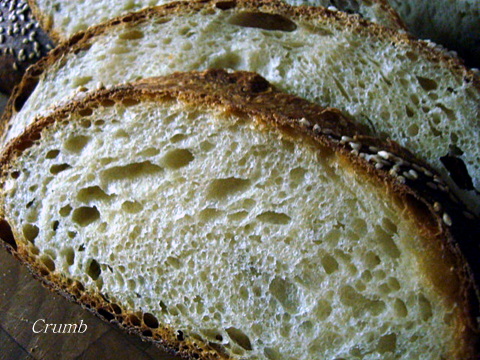 Sylvia