English muffins and warm Washington, DC evenings
I love English muffins, not only for breakfast but as a sometime lunch mate (ok, so I like tuna melts). But they pose a quandary for me: my usual recipe is easy to work with and handle, but produces muffins with a rather tight crumb. And let's face it, English muffins are all about nooks and crannies, so this won't do.
There are, of course, lots of recipes for English muffins that are based on dough with a batter consistency that produces wonderful open crumb. But these necessitate using either muffin rings or accumulated empty tins of canned tuna. Frankly, my kitchen already has too much stuff and I'm not about to begin assigning a shelf to empty StarKist cans. Plus, I want a formula that can be used in a bakery where production might involve a hundred or more on a daily basis. For that, EM rings (or empty tuna cans) aren't the answer.
So after a lot of playing with the hydration in this recipe I think it's reached a point where the dough is both hydrated enough to produce those wonderful nooks and crannies we all love, yet still amenable to shaping. (Hydration is 70%.)
One of the nice things about this particular recipe is that the levain constitutes over 30% of the dough weight, so it brings a tremendous amount of flavor to the muffins.
This will produce six, 3.5 oz/99 g English muffins, and a smidge of leftover dough.
Levain: Mixed 12 - 14 hours prior to final dough
Flour   .15 lbs/67 g
Water  .15 lbs
Levain .15 lbs
Final dough:
Flour   .59 lbs/266 g
Water  .34 lbs/155 g
Salt      .02 lbs/7 g
Instant dry yeast ¼ tsp/1 g
Levain .45 lb/202 g
Mix: DDT = 76° F
Add levain to water, then add dry ingredients and mix on speed 1 for approximately 3 - 4 minutes. Mix an additional 3 - 4 minutes on speed 2 until moderate gluten development. (With my fairly weak Hamilton Beach I'll sometimes go to speed 3 for a minute if the dough insists on climbing up the dough hook).
Place dough in a lightly oiled bowl, cover and allow to ferment for 1 ½ hours.
On a well-floured surface, divide dough into 3.5oz/99 g pieces. I roll these by turning the floured side up, and using the stickiness of the non-floured dough which is now side-down to let me create apricot-sized pieces.
Place rounded dough balls on a well-semolina-dusted pan with ½" sides. (They don't need to be ½", but for purposes of shape, you don't want to use either a flat sheet pan or one with, say, 1" sides). Leave sufficient space between them so that they can spread out without touching. Spray tops of dough with Pam and then tightly wrap the pan with plastic crap (dmsnyder's most apt description). The tight wrap with plastic will allow the dough to rise out versus up during its final proof, thus creating nicely shaped rounds of the appropriate size. (Also the reason for a pan with sides!)
Proof for 1 hour.
Heat electric skillet to 400° F and very lightly oil. Place muffins, semolina side down, in the pan, being careful not to overcrowd. (The dough will be very sticky, so the method I've adopted which allows me to handle without misshaping them in the process is to lightly wet my finger tips and then pick them up and place them in the skillet.)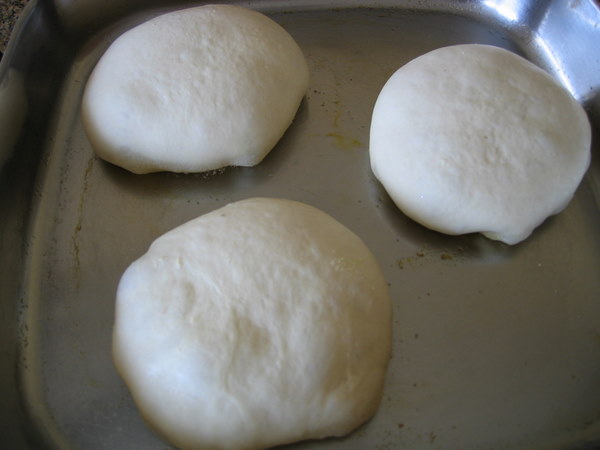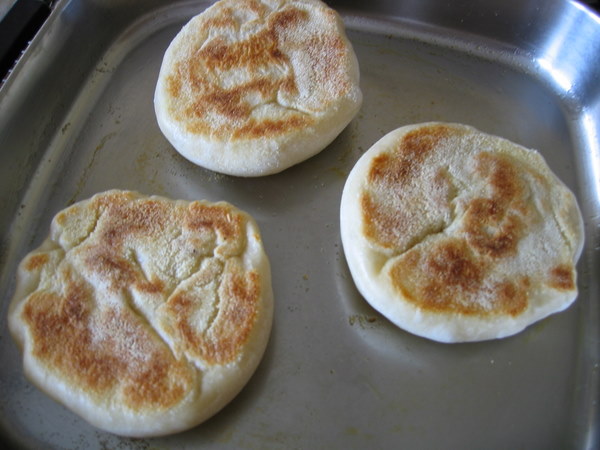 Cook (I'm so used to saying bake this seems unnatural) 8 minutes - 6 minutes at 400° F and 2 minutes at 350°F. Turn and cook another 7 minutes at 350° F. Place on wire racks to cool.  (Below on left, a cut muffin, on the right, a 'forked' one.)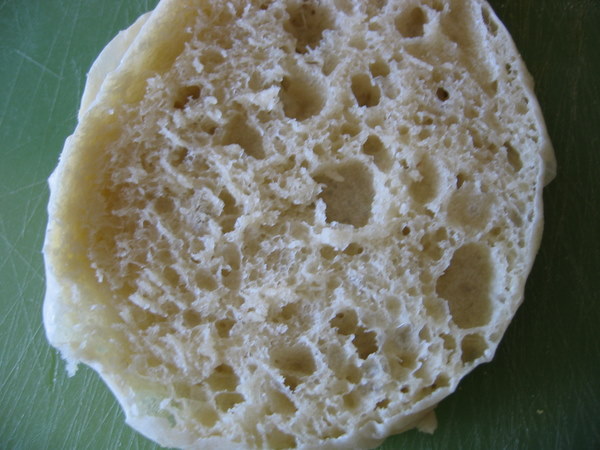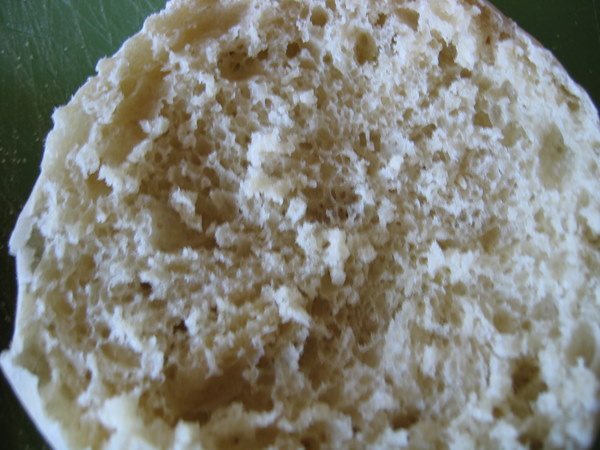 I'm pleased with the openness of the crumb that this recipe achieves - and without the hassle (to me at least) of having to use molds to keep the muffin shape.
And now, on a very warm Washington, DC evening, salade niçoise à la English muffin.
Larry