Fraenkisches Bauernbrot - Farmer's Barley Rye From Franconia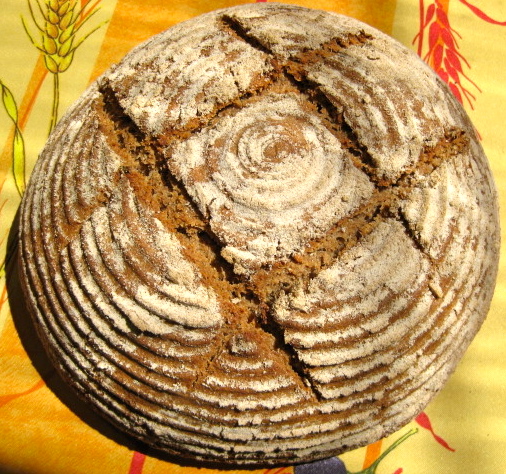 SOAKER:
200 g rye flour
134 g barley flour (or meal)
   6 g salt
250 g water
STARTER:
  93 g whole wheat mother starter (75% hydration, as in "Whole Grain Breads")
215 g whole wheat flour
 66 g barley flour (or meal)
206 g water, room temperature or lukewarm (depending on outside temperature)
FINAL DOUGH:
all soaker and starter
135 g whole wheat flour
 12 g salt
   7 g instant yeast
   6 g caraway, ground (1 tbsp.)
   6 g anise seeds, ground (1 tbsp.)
   2 tsp. coriander seeds, whole, for topping (optional, if proofing bread on baking sheet, not in banneton)
DAY 1
In the morning, stir together all soaker ingredients for about 1 minute, until all flour is well hydrated. Let sit at room temperature, covered.
Mix starter ingredients on low speed with paddle attachment or dough hook (or by hand) for 1 - 2 minutes to form a coarse ball. Knead at medium-low speed for another 2 minutes. Let dough rest for 5 minutes, then resume kneading for another minute. Cover and leave at room temperature for 4 - 6 hours, or until dough is nearly double in size. Use or refrigerate.
In the evening, using a metal bench scraper, chop soaker and starter into smaller pieces, sprinkling them with some extra flour to keep them from sticking back to each other (this step is only necessary if you knead by hand or have a mixer that's not strong enough to handle heavy doughs). Put pre-dough pieces and all other ingredients in mixer bowl.
Mix on low speed with paddle attachment (or by hand) for 1 minute to bring ingredients together into a ball. Knead on medium-low speed for 4 minutes*, adjusting with flour or water as needed (dough should be slightly sticky). Let dough rest for 5 minutes while preparing a lightly oiled bowl or plastic container.
Resume kneading dough for 1 minute. Dough should be very tacky, if not sticky. Form dough into ball and place in prepared bowl or container, rolling it around to coat with oil. Cover and place in refrigerator for overnight fermentation.
* paddle attachment might work better than dough hook, since bread is a "gluten challenged" one.
DAY 2
Remove dough from refrigerator 2 hours before planning to use. Shape dough into boule or batard. Place either in banneton or on parchment lined baking sheet to proof. If proofing on baking sheet, mist with water and sprinkle with coriander seeds, pressing them slightly into the dough (optional). Mist loaf on baking sheet with spray oil, sprinkle loaf in banneton with generous amount of whole wheat flour. Cover with plastic wrap or kitchen towel and let rise at room temperature for 45 - 60 minutes, until bread is about 1 1/2 times its original size. Score with # pattern.
Preheat oven to 500 F/260 C, and prepare for hearth baking (including baking stone and steam pan). Place bread in oven, pour 1 cup boiling water in steam pan, and bake at 475 F/ 246 C for 10 minutes, then reduce temperature to 425 F/218 C and bake for another 10 minutes. Rotate loaf 180 degrees and continue baking for 25 - 30 minutes more. Bread should be dark golden brown, sound hollow when knocked on bottom, and register at least 200 F/93 C.
Transfer to a wire rack and let cool for at least 1 hour. (Bread freezes well, thaw at room temperature).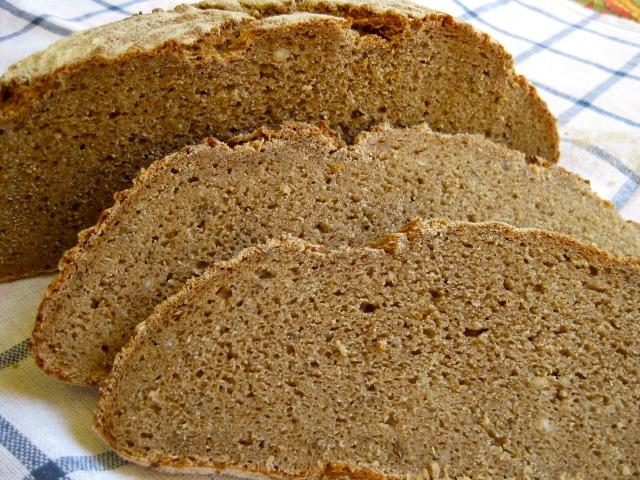 Fraenkisches Bauernbrot should have a fairly dense crumb like this (bottom is a bit sticky because it was sliced when still warm). My loaf didn't have a coriander topping because it was proofed in a banneton.