The Elusive German Roll - Wo gibt's bloss ganz normale Broetchen?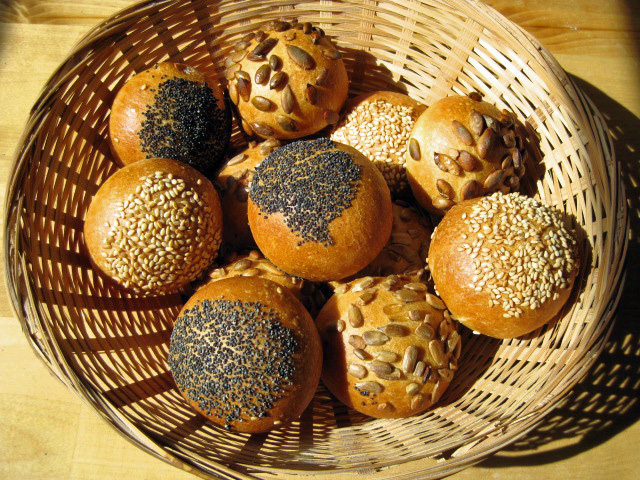 Nobody in Germany thinks of baking regular, plain white rolls at home. You get them freshly baked everywhere, in bakeries, supermarkets, and even in gas stations. Every German region has them, called "Rundstueck" in Hamburg, "Schrippe" in Berlin, "Semmel" in Munich, or simply "Broetchen" (little bread).
The typical Broetchen has a crisp crust and a fluffy, soft, easy to pull out crumb. It has nothing in common with its pale, crustless, chewy US cousin, the dinner roll. And - sorry, guys! - American Kaiser Rolls are just Kaisersemmel wannabes, they share only the pretty star cut with their Bavarian or Austrian ancestors.
One of the greatest woes of German expats is the total lack of this everyday staple in the US. No Broetchen to be found anywhere - perhaps bad imitations, but never the real thing. No cookbook would even list the recipe, no website provides it, the deceptively simple, but oh so elusive good old German Broetchen!
When I finally found and adapted a recipe, and baked my first batch, using regular bread flour, I was in for a big disappointment. The pretty little rolls tasted okay, but the consistency was totally wrong, with a lean and airy crumb like a French roll. My next trial with all-purpose flour only proved AP's limitations - it definitely was not up to THIS purpose! Totally frustrated I shoved the recipe in one of the numerous paper/cookbook/ food magazine piles adorning my office, telling myself to just forget about it.
But then one day at my favorite Italian wholegrocer, Miccucci's, in Portland, I came upon a neat little package of Italian Tipo 00 flour half hidden behind bags of instant polenta. With the predatory instinct of a hawk I swooped down and grabbed it. The next day saw me in my kitchen, the (after a prolonged search) unearthed recipe in view, mixing a new batch of Broetchen dough.
Viva Italia - Tipo 00 was a winner! Finally Broetchen as they should be, crusty on the outside, but fluffy and "pull-out-able" inside! (Later I found out that pastry flour works well, too).
You'll find the recipe here: http://hanseata.blogspot.com/2010/06/weizenbroetchen-german-rolls.html