Baking this pound cake since 1964
I have decided to give the recipe for this wonderful pound cake I have been baking since 1964 and only given the recipe out to family in the past 45+ years.  It is very close to the same recipe given by Paula Deen called mama's pound cake.  I think only the milk and salt differs a little.  I have referred to this recipe always as 'Grandma Turners Pound Cake'.  It was given to me by my mother in law Elsie Turner in 1964 and was given to her by her daugter in law from Atlanta, GA.  What is so great about this pound cake and the reason I don't turn it upside down out of my large bundt pan or angle food cake pan is it has a cookie crunchy crust that is fabulous and I think very desirable on a pound cake.  It is a very large cake and can be made nicely also in loaf pans.   We love it with fresh sliced strawberries, sprinkled with a little sugar to bring out some juices...yumm.  A real family favorite for over 45 years.
1.  2 sticks of butter
2. 1/2 cup vegetable oil
3.  3 cups all purpose flour
4. 3 cups of Sugar
5. 1/2 teaspoon Baking Powder
6. 1/2 teaspoon vanilla -Added-vanilla extract used 
7. 5 Eggs
8. 1 1/4 cup whole milk
Bring your eggs and butter to same room cool temperature - so the butter is fairly soft -this helps prevent the curdling effect you get when mixing the batter together at different temperatures.
By hand or electric mixer
Grease and flour pans - Preheat oven to 325F - I use convection oven and bake for 1 hour and 20 min. for my 10+ cup large non-stick bundt pan.  Testing with a spagetti noodle poked down into the cake and coming out dry.  The crust will be a nice dark golden brown. 
Sift flour, salt and baking powder together in a bowl '3 times' now I just shake it though a wire sifter once.  In a large bowl or mixer, Cream butter, oil and sugar until light and fluffy - Add eggs one at a time to creamed mixture ' I lightly beat them - Add milk and flour to creamed mixture alternately. I end with the flour.  Add vanilla extract.  You can also use lemon extract. 
After the cake is baked.  Cool for about 5 minutes.  Lay a cooling rack on top of the pan and invert.  Lay another cooling rack on top of the bottom of the cake and flip back over to see the cookie crust side...try not to eat it all!
                  ADDED - These freeze great.  I wrap them up in plastic wrap and then foil.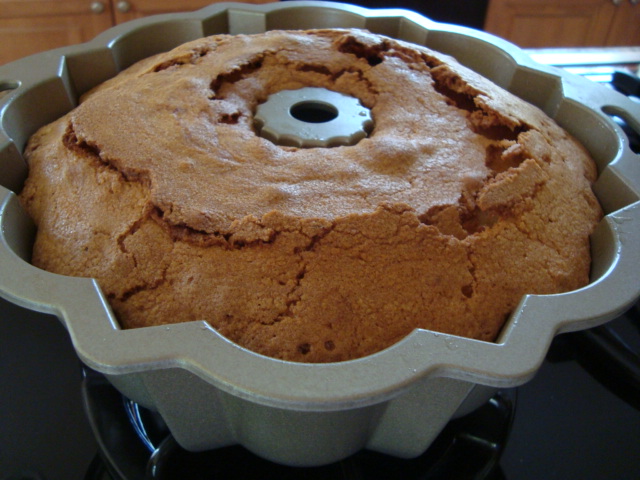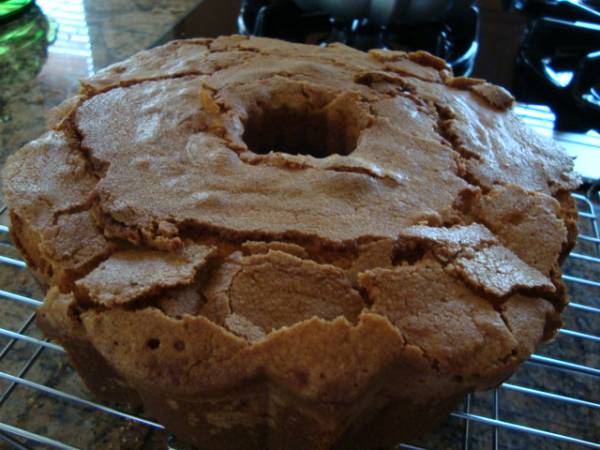 Gets crunched a little more when removing but you can see why I prefer this top to the
                                                                  molded bundt top.  It's hard not eat this delicious crunchy cookie crust top.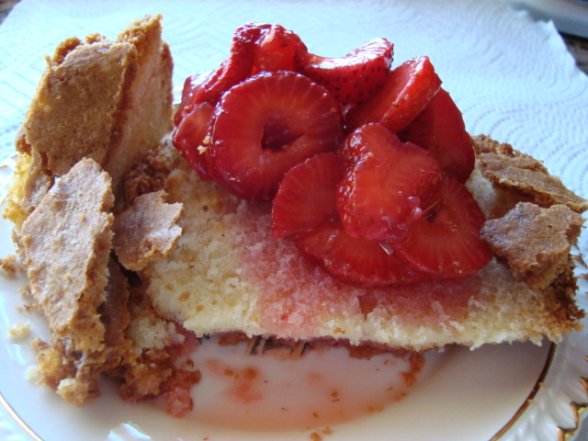 Sorry we didn't have any whipped cream today.  The strawberries make a nice juice when sliced with a bit of sugar sprinkled over them.  Or you also make a lovely puree strawberry sauce to go with some sliced strawberries. 
Sylvia