Polish Sourdough Rye Bread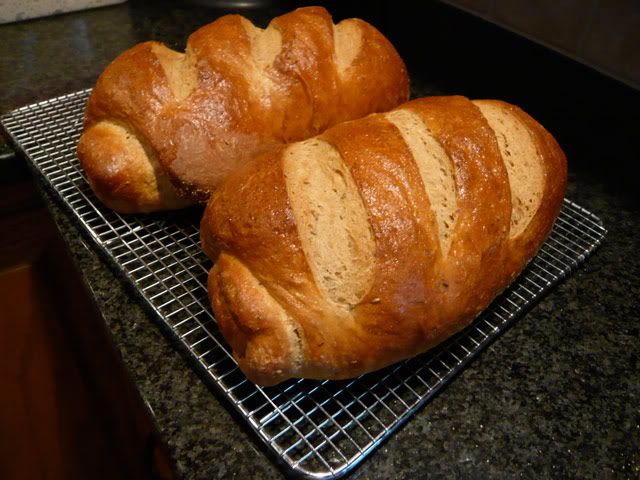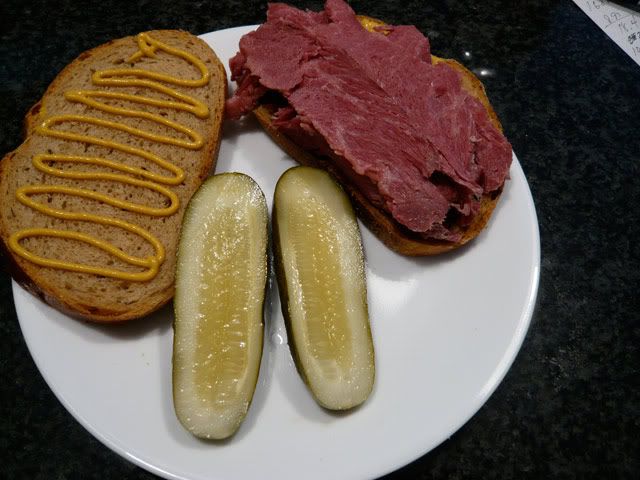 Yes, it did taste as good as it looks.The crumb is very soft, the crust is a little chewy and the flavor is mildly sour. Very nice bread.
Polish Sourdough Rye Bread ~ Chleb Zwykly na Zakwasie
By: Joe Valencic

Ingredients:

18.4 oz. Rye sourdough starter ~ 100% starter
(Take regular sourdough starter and start building a rye starter from it by feeding 6oz. of white starter with 1/2C of rye flour & same weight of warm water. Build until you have enough for 2-1/3C of starter. It should take you 2-3 days.)

27 oz. Unbleached bread flour
2-1/2t Instant Yeast
1T Salt
10.6 oz. Warm milk
2 lg. eggs at room temperature
2T Molasses
1T Caraway Seeds (optional, but I don't know why you would want to leave it out.)

In the bowl of your mixer combine the starter, warm milk, eggs and molasses. Use paddle to insure all liquids are combined. In a separate bowl combine the bread flour, instant yeast and salt. Start mixer on speed two and add flour until all is combined. Leave on speed two for 6-7 minutes. Dough should pull from sides of the bowl and be free from the bottom of the bowl. Dough should be soft but not sticky. If needed, add flour 1T at a time until dough no longer is sticky. Remove dough from mixer and shape into a ball. Then put it into a lightly oiled bowl and cover with plastic wrap. let sit until it doubles in size; about 60-90 minutes.

Remove risen dough and place on a lightly oil misted work surface. DO NOT PUNCH DOWN. Divide dough in half and stretch-fold the dough like you are folding a 3-fold letter. Using your finger tips, shape the folded dough into a square about 6" wide, then tightly roll the dough into the shape of a log. Pinch closed the seam as well and pinch & tuck the ends as well. Place in lightly oiled 9" bread pans and cover with plastic wrap. Allow to rise about 1-1/2 X, about 45 minutes. You can also make a free form loaf and place on a cornmeal dusted baking sheet. Cover and raise as above.

Preheat oven at 400F. Brush risen dough with egg wash and bake for 30 minutes. Internal bread temperature should be 195-210F. Immediately remove from pans to raised cooling racks. Let rest for 1 hour before slicing to eat. Wait until bread is room temperature (2-3 hours) before bagging and freezing.Bread will be good for 30 days in the freezer, or 5-7 days in sealed bag on your counter.