I made the 123 sourdough from my starter the other day.  I was amazed and pleased at how this loaf came together.  I don't think I put enough salt in it though, and its not really "sour."  but the starter culture is really vigorous and active, and it is more sour than last time.  I started with 9 oz of starter, 18 of water and 27 of flour, and made two nice loaves.  The crust is thick and chewy, and the crumb is moist, but has small even holes.  No picture of crumb.
I made the dough and kneaded with my mixer for 4-5 minutes, then did a few stretch and folds (2 sets 45 minutes apart) and then let it ferment overnight.  The next morning it was overflowing the bowl!  I shaped it cold and let it rise;  it doubled in size, but that was mostly width, they were very flat. They had good surface tension though;  when I cut them, they split right open.  And, I was amazed at the oven spring;  it rose quite high on the stone.  I baked at 500 °F for 2-3 minutes with steam (3/4-1 cup hot water in a pan) and reduced temp to 450 for about 40 minutes.  The color is great!  I am very happy with this loaf.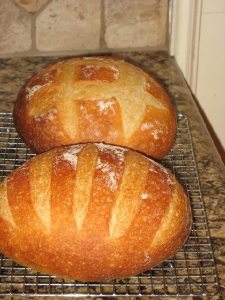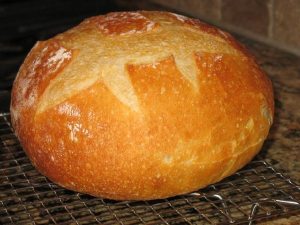 This loaf had a lot of crackling, which I've never seen before.  Is this normal?  what causes it?