Whole Wheat Pane Casareccio di Genzano
In my last post, I wrote about the classic Pane Casareccio di Genzano that I had made for the first time using the formulation in Daniel Leader's 'Local Breads' book. I was pleased with the result so this past weekend I decided to try the Whole Wheat version of the same bread.
For the Biga Naturale, I used my white flour liquid levain with KA Bread Flour. For the dough, I used 50% KA Bread Flour, 44% BRM White Whole Wheat Flour and 6% BRM Dark Rye Flour. This is a high hydration dough and by my calculation, the final dough was a whopping 80% although I was surprised at how malleable it was. I did not follow the intensive mix recommended by Leader but instead used a 30 minutes Autolyse followed by gentle kneading with a dough hook and room temperature fermentation with 4 sets of stretch and fold in the bowl and one final full stretch and fold on the bench.
I shaped and proofed in a lined banneton for 1 hour before baking at 450 degrees F with steam for 15 minutes and 20 minutes at 400 degrees F without steam on convection.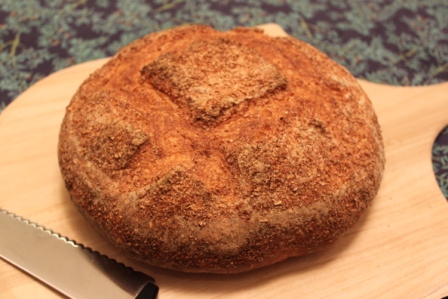 The loaf had good oven spring but not as spectacular as the white flour version. Because of the elevated hydration, the scoring cuts were not very pronounced.
The crust was a rich amber color and the top was coated with browned shavings of wheat bran. It was medium thick and had nice crunchiness.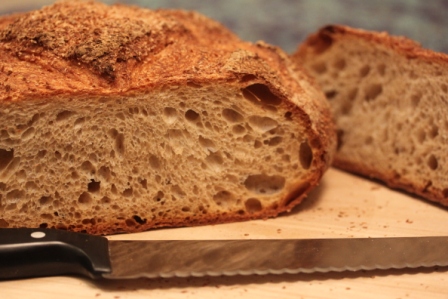 The crumb was cream color with translucent gelatinization and irregular air holes and was tender with just a touch of chewiness. The taste was bolder and more rustic than the white wheat version with a slight bitterness from the toasted bran. The crumb had less sweetness but more whole grain taste and just a slight hint of tanginess from the levain. All in all a very satisfying and comforting bread but not as elegant as its more refined version.
Happy Baking!
Don