Rheinisches Schwarzbrot - Rhineland Rye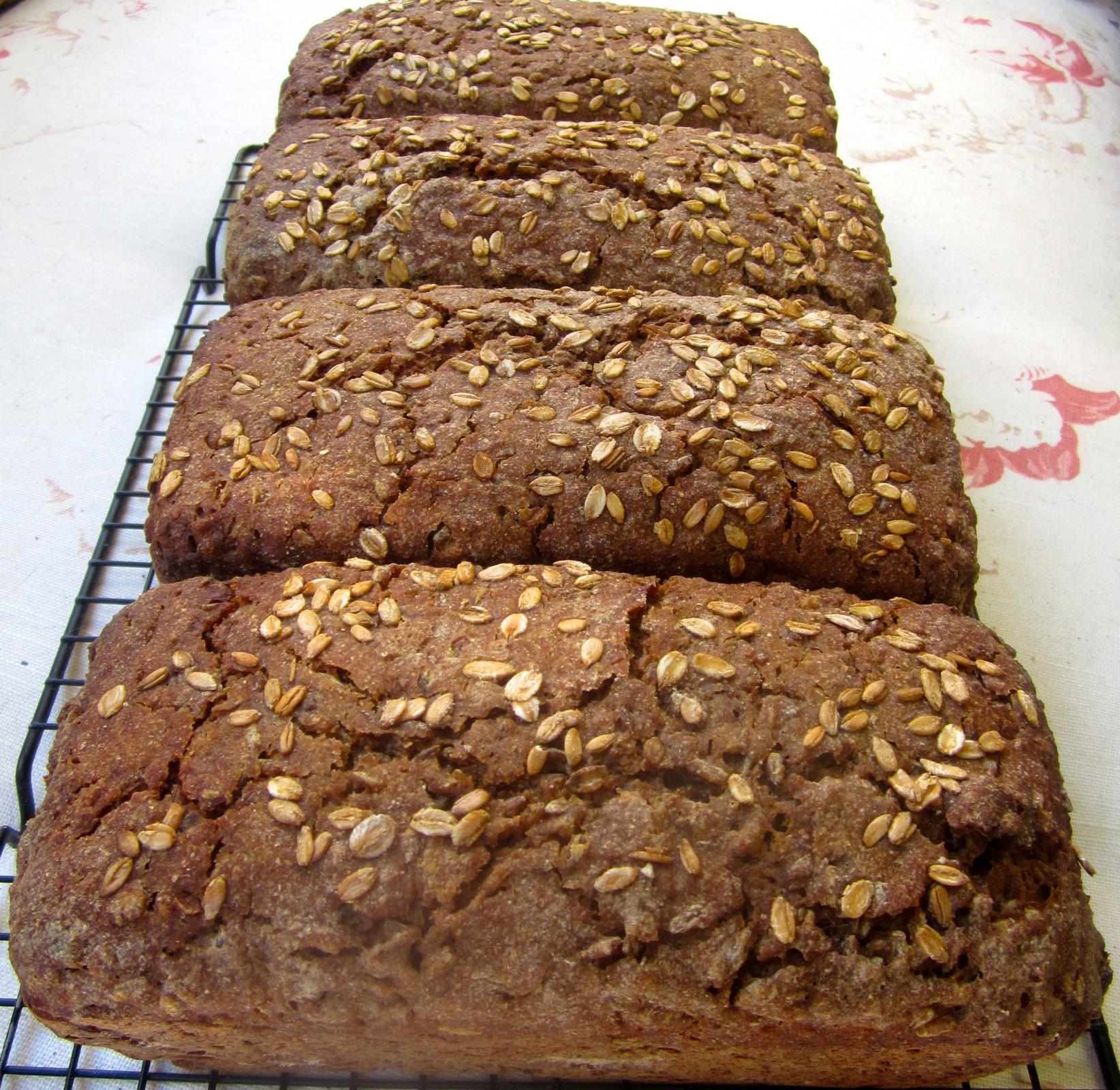 RYE BERRIES
150 g rye berries
water, for soaking
 
SOAKER
150 g rye flour
5 g salt
113 g water
 
STARTER
40 g whole wheat mother starter
116 g whole wheat flour
83 g water, lukewarm
 
FINAL DOUGH
all cooked rye berries
all soaker and starter
37 g whole wheat flour
3 g instant yeast
11 g salt
15 g molasses
3 g honey
1 tsp. rolled rye, for topping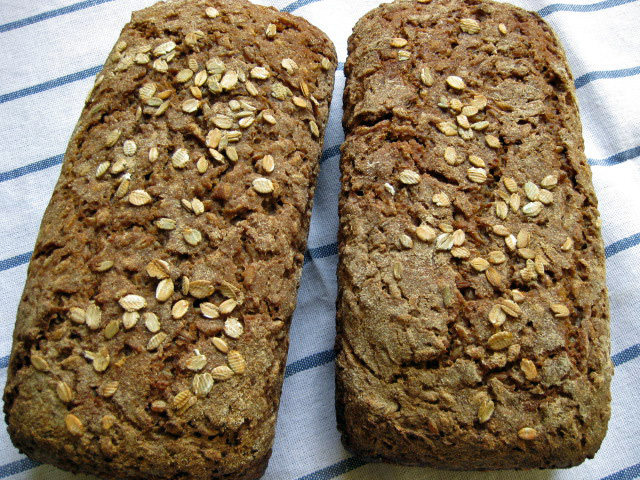 DAY 1 AFTERNOON

In a bowl, cover rye berries with at least 1 inch cold water and let soak for 24 hrs.


DAY 2 EVENING

Drain soaked rye berries, discard water, bring to a boil well covered with fresh water, and let simmer for 30 min. at low temperature. Drain, cover and let cool to room temperature overnight (they can be kept at room temperature for 24 hrs.)

Stir together all soaker ingredients until all flour is fully hydrated. Cover with plastic wrap and leave at room temperature for at least 12 hrs.

Combine all starter ingredients in a bowl to form a ball of dough, then knead (using stand mixer or wet hands) for 2 min. to be sure all ingredients are evenly distributed. Let rest for 5 min., then knead again for 1 min. Cover with plastic wrap and leave at room temperature overnight.


DAY 3 BAKING DAY

If mixing by hand, chop soaker and starter into 12 smaller pieces and sprinkle them with some extra flour to keep pieces from sticking back together (with a good stand mixer this step is not necessary).

If mixing by hand, combine all final dough ingredients in a bowl and knead with wet hands for 2 min. (or use a stand mixer with paddle attachment at low speed). Dough should be soft and slightly sticky.

If kneading by hand: dust work surface with flour, then roll dough in it to coat. Knead for 3-4 min., trying to incorporate only as much flour as needed. (If using a stand mixer, mix with paddle attachment at medium-low speed for 4 min.) Dough should still be slightly sticky.

Let dough rest for 5 min., then resume kneading (hands or mixer) for 1 min. The dough should be still very tacky, verging on sticky. Form dough into a ball and place in lightly oiled bowl, rolling it to coat with oil. Cover with plastic wrap and let rise at room temperature for ca. 45 min, or until it swells and just begins to show signs of growth. (Dough can be refrigerated overnight, remove at least 2 hrs. before using).

Preheat oven to 450 F. Spray loaf pan (8 1/2" by 4") with oil.
Form dough into sandwich loaf and place into pan, sprinkle with rolled rye and spray with oil. Cover pan with aluminum foil, don't let it rise anymore!

Place bread in oven (middle), reduce temperature to 425 F and bake for 35 minutes, until it holds its shape when removed from pan. Take out of the oven, remove aluminum foil, and turn half baked bread out onto a sheet pan (use plastic spatula to loosen it along the edges, if necessary).

Return it to the oven to bake for another about 30 minutes (it should register at least 200 F in the center).

Transfer bread to cooling rack, spray with water and allow to cool. For the first 24 hours keep it in a paper bag to allow it to continue drying out and developing flavor. After that, it can be wrapped in aluminum foil. (Don't keep it in the refrigerator).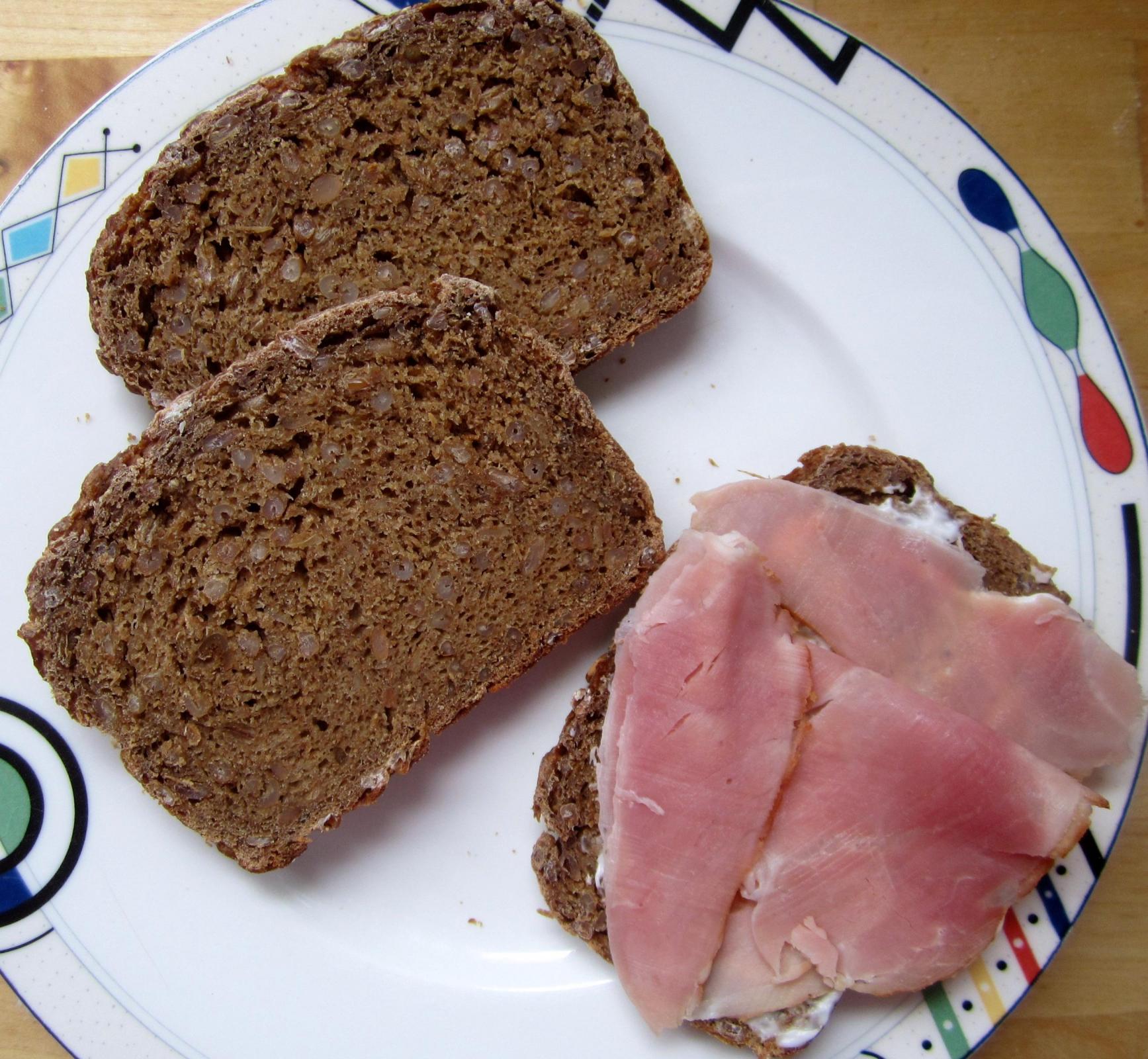 Updated with some changes 7/9/15