My version of Eric Kayser's Pain aux Cereales
Background:
David Lebovitz, the celebrated American food blogger based in Paris has raved about Eric Kayser's Pain aux Cereales on numerous occasions, even proclaiming it to be perhaps the Best Bread in the World. A lot of bread aficianados from all over the world have made the pilgrimage to Paris to sample it and have posted photos as well as detailed description of this particular bread on the internet.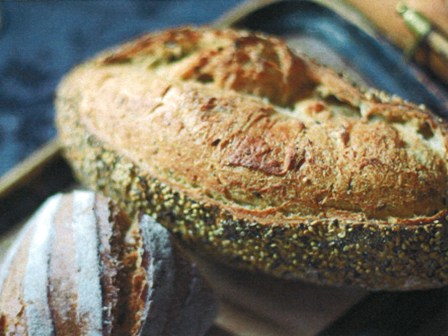 Kayser's Pain aux Cereales from Lebovitz's Blog
I have the Eric Kayser's '100% Pain' bread book and the recipe for his Pain aux Cereales is included. However the photos, the ingredients and the formulation listed do not match the descriptions of the bread sold in his stores. After all, his bread empire is built on the originality and quality of his products, so who can blame him for not divulging all his secrets?
A couple days ago, I decided to formulate my own interpretation of Kayser's Pain aux Cereales based on my compilation of information gathered on the internet and relying loosely on the recipe in his book.
Formulation:
Flour Mix:
- 250 Gms KA Organic Artisan Select AP Flour
- 250 Gms La Milanaise T90 High Extraction Flour
Liquid Levain Build:
- 25 Gms ripe Liquid Levain (100% hydration)
- 50 Gms Flour Mix
- 50 Gms Spring Water
Seed Mix:
- 2 Tbs Golden Flax Seeds
- 2 Tbs Brown Flax Seeds
- 2 Tbs Yellow Sesame Seeds
- 2 Tbs Millet Seeds
- 2 Tbs Poppy Seeds
Final Dough Mix:
- 450 Gms Flour Mix
- 325 Gms Spring Water
- 125 Gms Liquid Levain Build
- 1/4 tsp Instant Yeast
- 10 Gms Grey Atlantic Sea Salt
- 1/3 of Seed Mix (toasted in a non-stick pan)
Procedures:
1- Prepare Final Levain Build and let ferment at room temperature until triple in volume.
2- Mix Flour and Water and autolyse for 30 mins.
3- Add Levain, Yeast and Salt and knead in mixer w/ dough hook on low speed for 4 mins.
4- Add the 1/3 toasted seed mix and incorporate into dough with dough hook for 30 secs.
5- Partially ferment dough at room temperature for 2 1/2 hours with stretch and fold in the bowl every 30 mins.
6- Retard dough in refrigerator for 18-24 hrs.
7- Divide dough into 2, preshape into ball and let rest 1 hr. Shape into batard and proof on couche for 1 hr.
8- Transfer loaves to peel, lightly mist with a vaporizer and sprinkle with remaining untoasted seed mix.
9- Score and bake at 440 degrees F with steam for 12 mins and 20 more mins at 390 degrees F on convection without steam.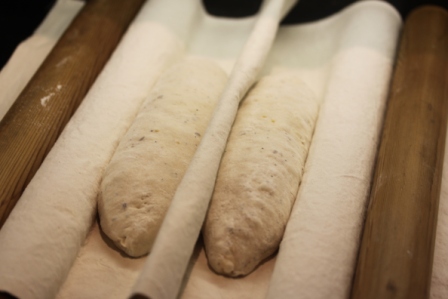 I kept the dough hydration higher than normal at about 77% to compensate for the seeds absorbing some of the moisture from the dough during fermentation. The dough was very responsive with just the right amount of elasticity and extensibility. I got good oven spring, the cuts opened up nicely and the crust was thin and crackly and had beautiful caramelization. The roasted seeds on the crust were colorful and fragrant and glistened from their oil.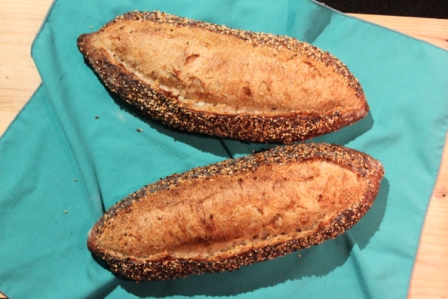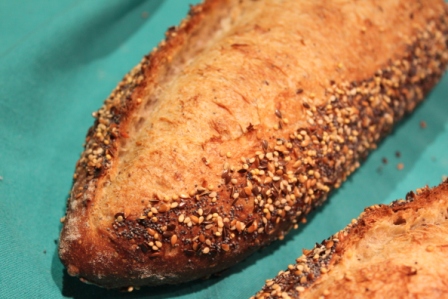 The crumb was cream colored, translucent, soft and slightly chewy and speckled with crunchy seeds. The flavor was complex from the interplay of the nuttiness of the seeds and the slight tang of the levain.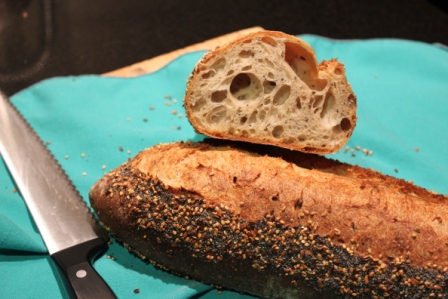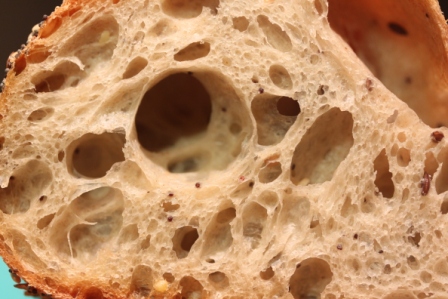 Was it the Best Bread in the World? I would not say so but a darn good bread nonetheless.
Happy Baking!
Don