After reading in 'Baking Artisan Pastries & Breads Sweet and Savory Baking for Breakfast, Brunch, and Beyond' Ciril Hitz forward by Peter Reinhart>
Gibassier - This little-known breakfast bread hails from the Provence region in France and is, in CH wife's opinion, one of the best breakfast breads ever to have graced our table.  She is not alone, most everyone that has been lucky enough to taste a gibassier falls in love instantly.  Perhaps it is the light, buttery texture of the aroma of orange blossom water mixed with the selicate hint of aniseed.  Whatever it is, this little baked gem has the potential for a cultlike following among bakers everywhere....and it goes on...well I just couldn't wait to give it a try. 
Pre-ferment (Biga)                                                                                Yield - apx. one dozen individual loaves -
1.  Bread Flour - I used King Arthur All-Purpose Flour - 180 gms                  350F convection oven mode - 10 -12 minutes
2.  Whole Milk -  I used 2 % - 110 gms
3. Instant Yeast - Osmotolerant - 0.01 - pinch
Dough
1.  Eggs whole 130 grams or 2 Eggs plus one yolk
2.  Olive Oil - 65 gms
3.  Orange blossom water - 38 gms
4.  Water - 25 gms
5.  Bread Flour KAAP used - 400gms
6.  Pre-ferment - All of it
7.  Granulated sugar - I used Bakers fine sugar - 100 gms
8.  Salt - 7gms sea salt used
9.  Instant yeast preferably osmotolerant - 2 teaspoons of osmotolerant used or 10 gms
10.  Unsalted butter - 70gms - Land O Lakes I used
11.  Aniseed - 6 gms - 1 1/2 tsp.
12.  Candied orange peel 1/4 inch cubed - 70 gms - 1/2 cup -  I make my own from organic oranges
13.  Granulated sugar for topping  -  As needed
14.  Clarified butter - 113 gms - 1/2 cup
Night before baking
Combine all the pre-ferment ingredients in the bowl of a 5-quart stand mixer and mix at low speed until a smooth consistency is achieved.  Remove from bowl and place in an oiled container and cover with a lid or plastic wrap.  Allow to stand overnight (14 to 16 hours) at room temperature.
Baking Day
Bring the Eggs, Olive Oil, Orange blossom water, and water to about 60F. 
In the bowl of a 5 - quart stand mixwer, pour in the warmed liquids, add the pre-ferment and then add the bread flour, granulated sugar, salt, and instant yeast.  Using a dough hook, mix together at low speed until the dough comes together (about 4 minutes).
Increase the mixing speed to medium and mix for an additional 4 minutes.
In the meantime, soften the unsalted butter to a plastic state by hammering it with a rolling pin. 
Slowly add the softened butter to the mixing dough in stages.  Be sure that each portion of butter is completely incorporated into the dough before adding the next portion.
Mix the dough until the dough is fully developed.
When the dough is fully developed, reduce the mixing speed to low and add the aniseed and candied orange peel.  Continue until all is evenly distributed.  About 2 minutes.
Turn the dough out onto a work surface and lightly shape into a round.  Place in an oil-sprayed container and cover.  Bulk ferment for 1 1/2 - 2 hours. 
Using a scale and bench scraper, divide the dough into 90 or 100gm units and work into rounds, then cover and let rest for about 20 minutes.
Shape into torpedoes and then press them flat.  They should be shaped like a half circle
Place the straighter edge of the dough near to you and use a 2-inch wide putty knife - I used a plastic card - somewhat like a credit card you might like to cut up : )
Cut 3 slits starting in the middle and one on each side.  Cut 4 slits about 1/3 the the way down into the outer edge of the dough, splitting the difference in between the major slits.  You'll have 4 cuts along the outer edge.
Pick up each unit, open it with a gentel stretch,  place on parchment lined sheet pans.  Let it proof, covered with plastic for about 1 to 1/2 hours.  Mine did not take that long.  My kitchen was pretty warm today.
Pre-heat a covection oven to 350F for about 30 minutes. 
Pre-pare the clarified butter
Proof
Bake until golden
I made a mixture of one egg about 3 Tbsp. milk for a egg wash prior to putting into the oven..on 2 of my last baked Gibassier and I liked the way they came out much better than the unglazed ones..they rose higher and looked more golden brown.
Remove from the oven and brush the hot gibassiers with clarified butter.  After the butter has set, toss in a bowl with grandular sugar to coat while still warm.  Then set on wire rack to cool.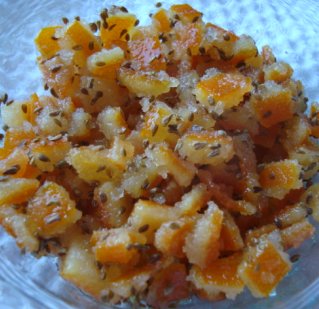 Candied Orange Peel I made from my neighbors organic orange trees.
                           Candied Orange Peel and Aniseed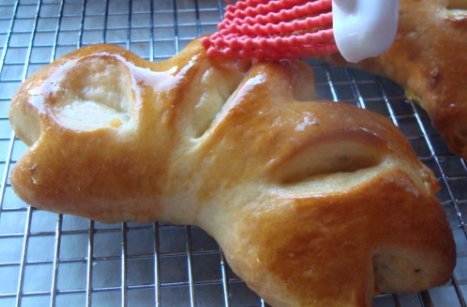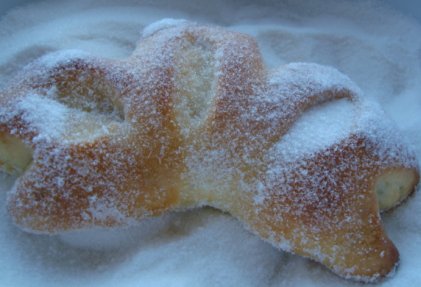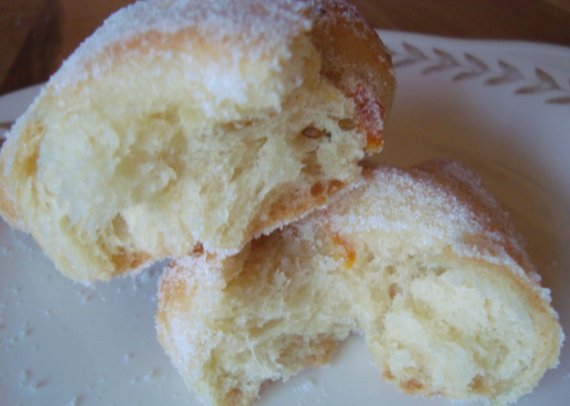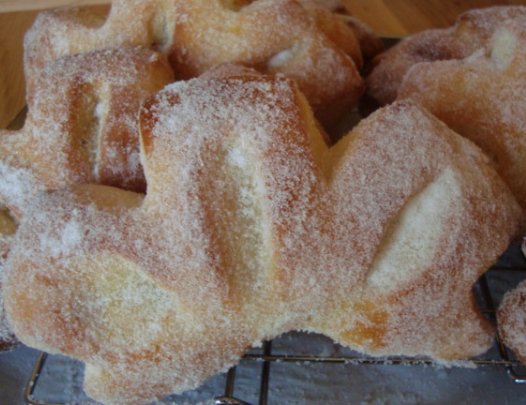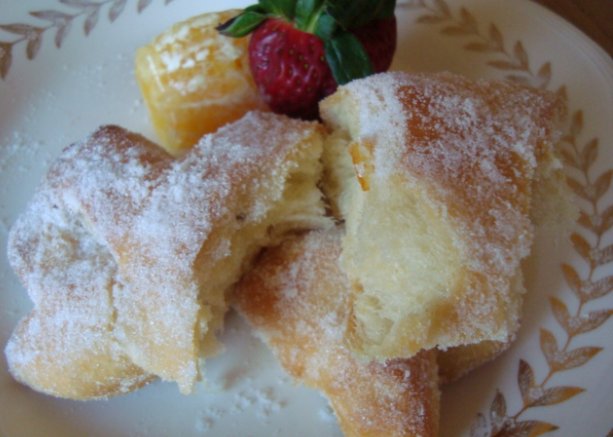 Delicious with a delicate flavor of orange and aniseed.  Ciril Hitz wife was right!  What a perfect breakfast or tea pastry to
                                grace a table.
                                                                      Submitted to Yeastspotting