Nice recipe for some one day buns for sandwiches, hot dogs, or burgers.   Adapted from a Beth Hensperger recipe.  I had just written out the recipe with instructions and deleted the whole thing ; /   So here goes again!
8 oz. Spring Water
1 Large Egg
4 TBsp. soft unsalted Butter
2 TBsp. Sugar or Honey
15 oz. Bread Flour with extra to adjust hydration if needed.  I used Gold Medal Bread Flour on sale here for less than 2 bucks a 5 lb. bag.
1/4 cup King Arthur dry Milk Powder
1/4 cup mashed potato - I used a microwaved potato.  Fast and easy
1 1/2 tsp. sea salt
2 1/4 tsp. IADYeast
  1 egg yolk plus 2 Tbsp. water and 2 Tbsp. milk for glazing
   Sesame and Poppy seeds, springs of fresh Rosemary.
Add liquid ingredients to KA Mixer, add dry ingredients,  I sift my flour and dry  milk powder together.  The KA Dry Milk Powder tends to be sticky and can clump together and become hard if left with moisture for to long..so I just always sift it with my flour..using a wisk or a wire scoop.  Mixed until shaggy adding more flour as needed to adjust hydration.  Cover and rest 25 minutes.  Knead until gluten formation just begins.  Stretch and folds 30 minutes apart until gluten has formed nice windowpane.  Pour out onto counter, shape even weighed rolls, I made 8.  Place on parchment lined pan and press down to shape buns.  I pressed a biscuit cutter nearly all the way through just for a little extra pattern on rolls.  Let rise till nearly double.  Glaze and sprinkle on seeds.  Baked 350F in a convection oven setting till nicely browned..about 20-25 minutes.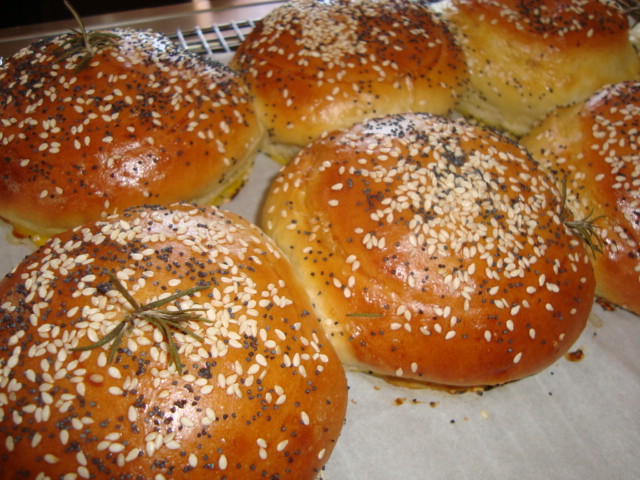 The pattern from the biscuit cutter was not very pronouned..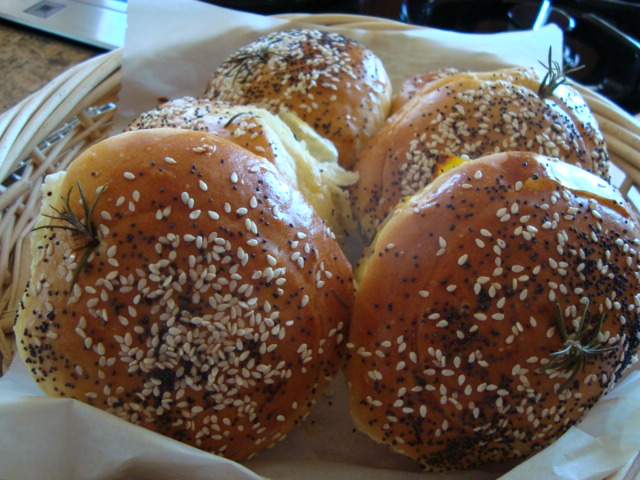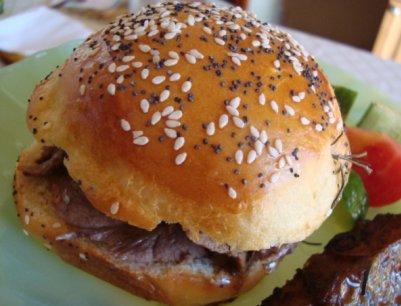 I called these my Aussie Sandwiches : )  
        Sylvia