Many years ago our family lived in Singapore and I had a personal trainer.  Singapore is a young, vibrant society where sports may not be a big thing but going to the gym is popular.  I still remember that on the first day I looked around my gym and felt daunted by what I saw.  At the end of my first session, I asked my trainer how often I would have to train to look like her.   I like my trainer dearly, she is great; she said, "Oh, just three times a week!" 
It was well after we left Singapore that I worked out myself, No way José!
Many of us at The Fresh Loaf are not just interested in making a loaf.  Many of us are good cooks at home and have a broad interest in cuisine in general.  Have you ever watched cooking shows and wondered why those great chefs emphasize on fresh ingredients when all that you are interested in at that particular point in time was "the technique"?   No amount of "techniques" can turn ingredients of less than the most premium quality into exceptional dishes. 
I can research all I like, practice all I like, but if I can't lay my hands on the best ingredients, I won't have exceptional breads.
At different level of our learning, our masters reveal different level of knowledge to us; their purpose is to not scare us away at the beginning, and to not confuse us at the beginning (because we just won't be able to absorb all the knowledge in one go).  That was the well-intention meaning of my trainer, and of many masters!
Do home bakers need other people's exceptional breads at home?  You would be the judge for yourself. 
If you have the freshest seafood, how would you cook it?  Chinese would steam it to allow the freshest sweet taste reveal itself.   If you have the best flour, how would you bake with it?  Do you try to ferment it the best you can, so the natural flavour of flour "shine" through? 
What if your flour is good, but less than the best to your taste, what would you do?  Inject flavours!  I decided I would embark on experiments on flavour enhancers on bread.   
With this post, I have done four experiments with the T80 flour I have from France.  
(1)  T80 miche with garlic and continental parsley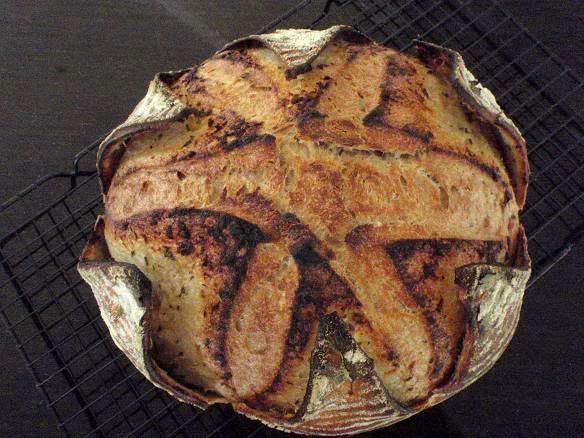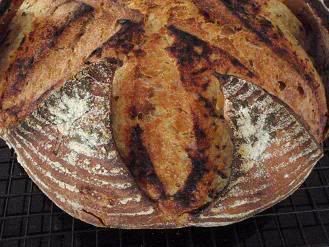 My Formula
220 grams starter (refreshed using one part starter culture, two parts water and three parts T80 flour)
440 grams water
660 grams T80 flour
15 grams salt
Total dough weight was 1.3 kg and overall dough hydration was 67%.  (Note:  The water for the main dough was two times the starter, and the flour was three times the starter.  The idea for the starter:water:flour ratio for the main dough came from Flo Makanai's 1.2.3 method for sourdough bread, a very clever and easy to follow formula.)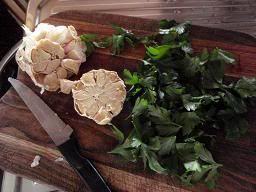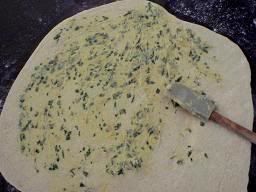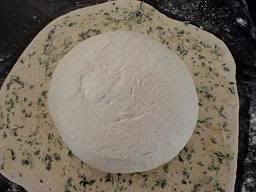 (1) Slow roast the garlic in 160 ºC oven for 1 1/2 hours or until very soft like cream.  Chop the parsley finely (discard the stalks).  Use 1 - 2 tbsp of butter (softened in room temperature) to bind the garlic and the parsley together with a pinch of salt.
(2) After bulk fermentation, divide the dough into two pieces, 400 grams and 920 grams.  Roll out the small one like a pizza base.  Spread the garlic parsley butter over it.  Shape the bigger dough into a boule.
(3) Place the boule (right side down) on the pizza base as shown on the picture above.  Fold the edges of the pizza base over the centre of the boule and turn the whole thing over (so the right side of the boule is now up).  Either prove free form or, as in my case, prove in a flour dusted banneton. 
I scored deep.  In my Body and Mind post, the boule was scored very shallow so as not to cut into the main dough inside.  But in this miche, the main dough underneath was also slashed.
All of the T80 miches in this post were baked using the covered method with no steaming required.  I baked at 245 ºC for 35 - 40 minutes covered, and then another 15 minutes uncovered.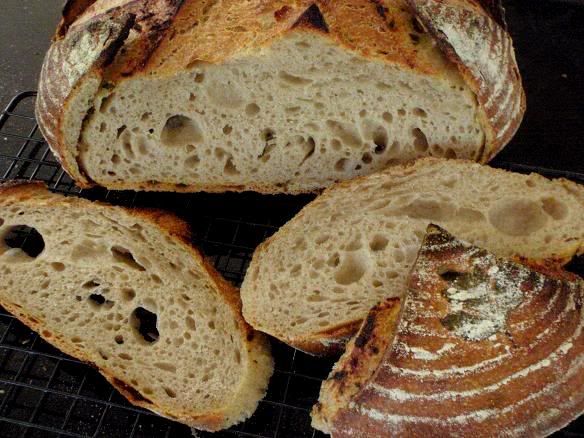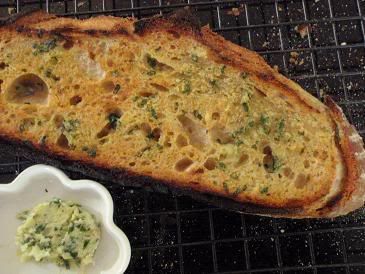 Lovely toasted in garlic parsley butter under the griller 
(2)  T80 miche with porcini and chicken stock
My Formula
232 grams 65% T80 starter
227 grams water
694 grams T80 flour
16 grams salt
for the porcini mixture
24 grams dried porcini mushroom

, soaked in

250 grams boiling chicken stock

(unsalted) for an hour
Squeeze the liquid out of porcini, reserve all the liquid for the main dough
Chop the porcini roughly, then mix it with 1/2 to 1 tablespoon of dark brown sugar and a pinch of salt to try to bring some flavour back to the mushroom as most of its flavour will have lost to the liquid. Marinate for at least 1/2 hour.
Total dough weight was 1.4 kg and overall dough hydration was 68%.   This miche is very simple to make.   First, use the water to dilute the starter, then add the reserved chicken stock liquid and chopped porcini, then add flour and salt, mix thoroughly, then autolyse ... the rest is standard.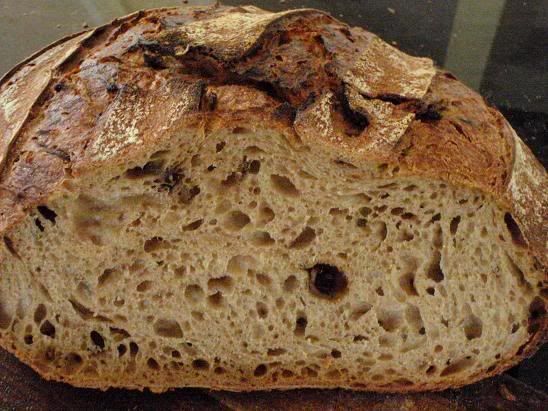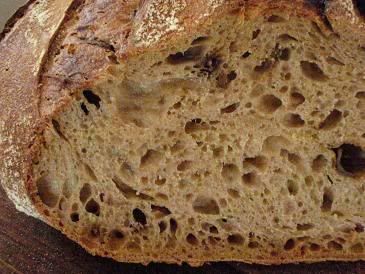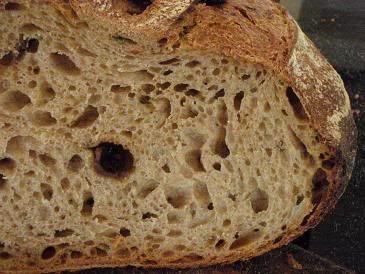 Left                                                                                           right
This is one of the best flavoured miches I have dreamed of.   When I poured the almost darkened chicken stock into the starter, I was skeptical as to how well the little beasties in the starter would like being invaded by the foreign bodies from the porcini mushrooms.   But it turned out alright.  The crumb was very spongy with a strong mushroom savory aroma.   I used the bread to make giant chicken burger sandwiches - the works style with bacon and eggs, and lots of salad.   My kids loved them. 
(3)  T80 miche with dates and milk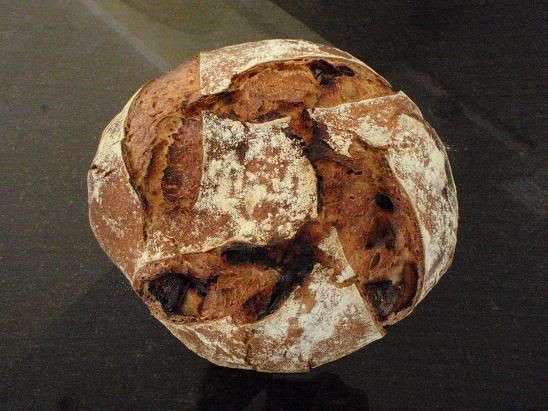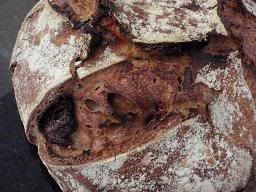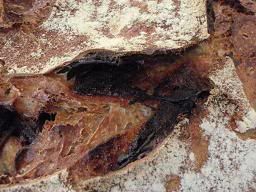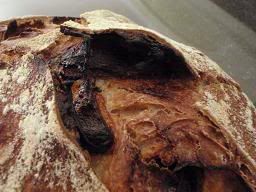 My Formula
262 grams 65% T80 starter
530 grams of milk
784 grams T80 flour
18 grams salt
a big handful of good quality dates
Total dough weight was 1.6 kg (before the addition of dates) and overall dough hydration was 67%.  The dates were incorporated just before shaping.   Once the dough had done bulk fermenting, I flattened the dough completely on flour-dusted bench-top, and placed the dates one by one on the top of the dough as I de-stoned them.   I didn't keep count how many I had used, but as many as I could.   I then rolled up the dough and shaped it round.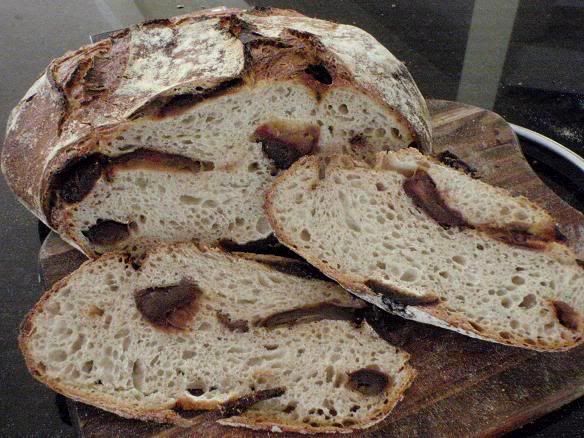 While I was taking the above photo, the sun was very strong.  But all of a sudden it went behind all the clouds (see photo below).  The true colour of the crumb was more like in between these two shots.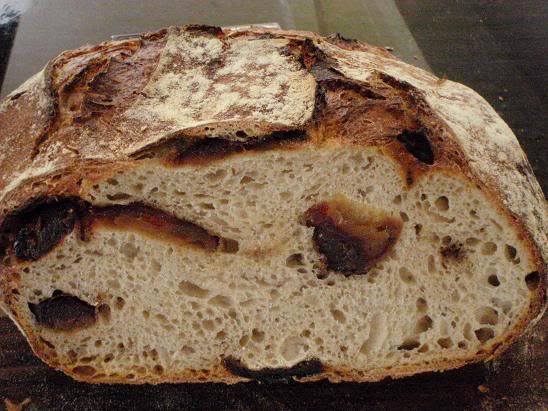 (4)  T80 miche with bacon & pasta sauce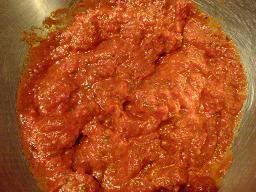 Cheap shot!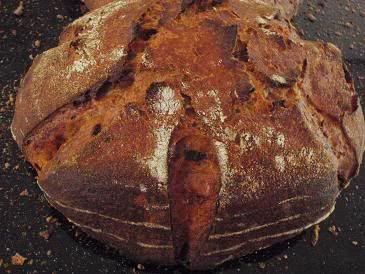 My Formula
218 grams 65% T80 starter
262 grams water
654 grams T80 flour
7 grams salt (1%)
for the bacon and pasta sauce
170 grams bacon (the part that has no fat), diced and pan-fired in a tbsp of butter (once cooked, the bacon will reduce in weight to about 100 grams).
270 grams of the pasta sauce, mixed into the cooked bacon. 
Total weight was 1.5 kg and approximate overall hydration was 67 - 68%.  (Depending on the consistency of your pasta or tomato sauce, you could increase your water.  In fact, my dough was slightly on the dry side.)
It was getting dark and cloudy.  I should have waited until the next morning to cut into this loaf.  But, NO, I had to see....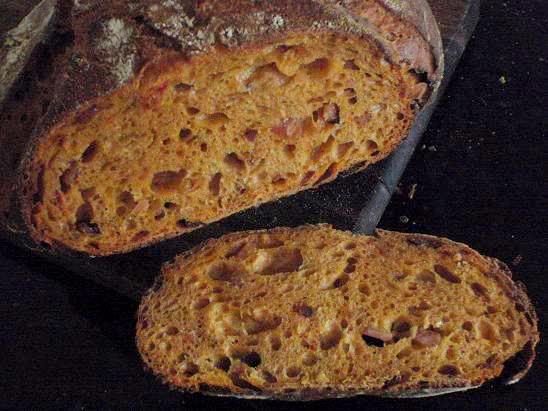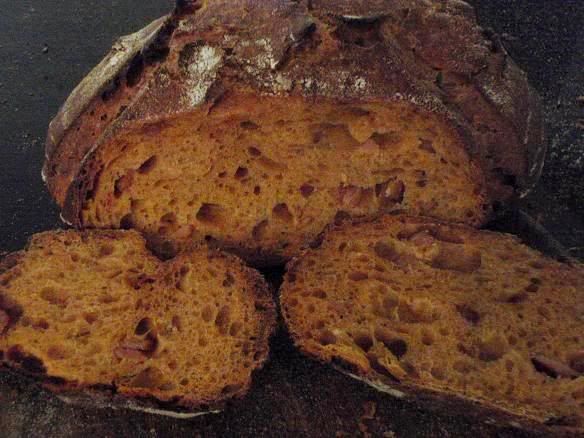 Sorry for the poor lighting.  I didn't want to use my camera flash light and I didn't want to turn on my kitchen halogen lights either. 
Well, this concludes my experiments.  It is too easy to inject flavours.  You can do anything you want.  One day I might roast a whole leg of lamb wrapped in sourdough bread and use a chainsaw to saw it.  My daughter said, "Don't be ridiculous." 
It is way harder to try to ferment the flour.
The cello is playing inside the house and outside the house the rain is falling.   I ask myself if this T80 flour is what I have been waiting for all this while.  It is interesting how I have been fixated on something and have lost sight of something else. 
Our family has been settled back in Oz for five years now.  This coming Easter we are going to Singapore for a small break, and to reacquaint ourselves where we left off five years ago.  The family is feeling an unexplained excitement. 
This Easter marks my one year anniversary since I began baking sourdough.  It has been a journey for me on many levels and I thank many people at The Fresh Loaf, as well as other on-line bread sites, for my development.  I started off doing something, but I ended up finding something else.  I am truly blessed. 
Thank you everyone here at TFL and wherever you may be.
Shiao-Ping