20100306 My First Croissants
This is a very exciting moment.  Many weeks of research and planning have paid off.  My dream of making elegantly curved, crescent-shaped croissants has finally come to fruition.  Along the research process, I've consulted sources from American, Chinese, French and Japanese professionals and reviewed several forum and blog entries at TFL about croissants.  If any of my procedures sounds familiar to you, it is probably inspired by your input and I thank you for sharing your experience with our community.
My procedures are a conglomerate of all the essence from different sources that I found helpful in achieving an effective workflow which produces quality results. This is a primary principle I've stood by in my day-to-day practice. There are numerous good croissant formulas out there.  It's just a matter of settling down on the ones that best suit my needs.  For my first attempt, I was looking for a simple formula that doesn't take forever to produce. After all, it's merely a big lump of butter encased by bread dough.  It shouldn't be that complicated to handle.  Luckily, I've been very familiar with the sweet dough used from making many loaves of Asian style breads. Therefore, once I understood the fundamentals of preparing a butter block and making turns, I was ready to tackle this part pastry, part bread challenge. 
I adapted the croissant formula from "Teacher Zhou's Gourmet Classroom" (周老師的美食教室), a Taiwan based Chinese website dedicated to introducing foolproof recipes of a broad variety of foods. The host of this site is an author of three well-received cooking and pastry books in Chinese.  She currently lectures at a baking institute and is also a high school home economics teacher. The reliable recipes and formulae on her website are a guarantee of quality outcomes and I consider this Classroom the Chinese version of "the America's Test Kitchen/Cook's Illustrated". I particularly like her systematic approach of coaching and scientific approach of handling food.  I simply felt that our styles 'clicked'.  Her croissant formula caught my attention because it was the easiest one I've seen and it only takes a few hours to complete.  With this formula, I won't end up having a full freezer of uneaten croissants.  The portion of flours called for is so small that I could even use my semi-retired Zojirushi to handle the job. 
The following is an outline of my formula and procedures: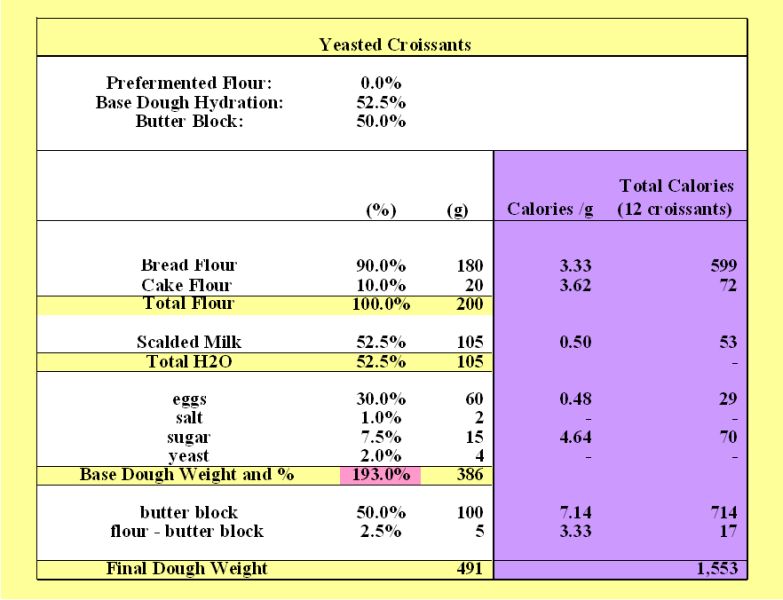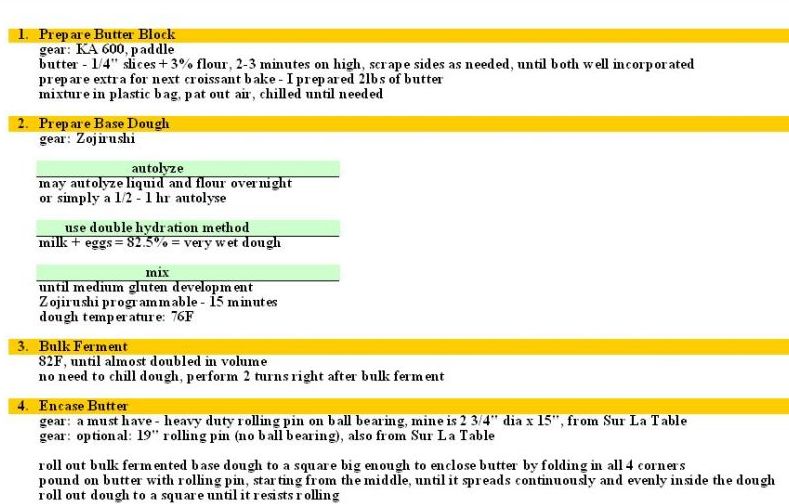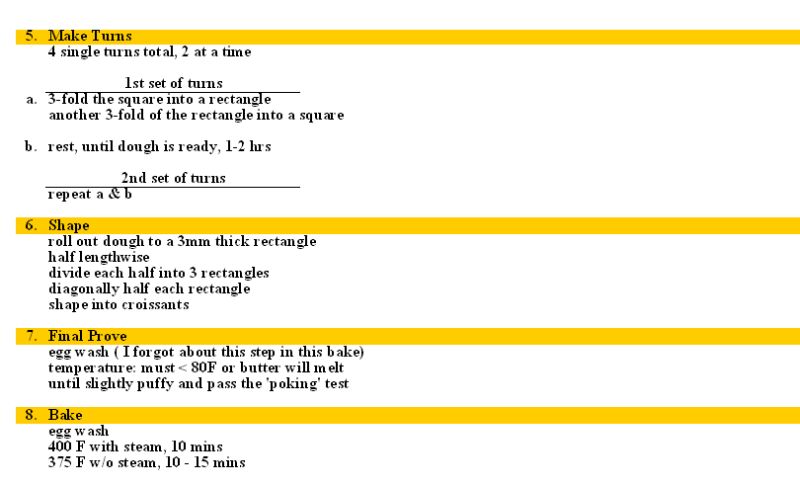 I am very happy with my first croissants.  They look and taste like the real deal.  Next time, I'll try the sourdough version.  The following are some pictures and photo credit goes to my husband.  Thank you, honey, for your help. 
http://www.flickr.com/photos/41705172@N04/sets/72157623822219114/show/
This post will be submitted to Wild Yeast Yeastspotting!