February 10, 2010 - 3:28pm
Pain de Campagne au Levain
Because of the snowstorm, I have been housebound since last Friday so what's  better than playing with flour. I have made Pain de Campagne au Levain in many incarnations using different kind of flour mixes, different types of levain, different dough hydrations, so this time I decided to try another variation using basically all high extraction wheat flour.
Having some T80 high extraction flour from La Milanaise on hand, I mixed it with 5% Dark Rye from Bob's Red Mill and used it for both my Levain build and final dough. I wanted to try using a semi-stiff Levain at approximately the same hydration as the final dough for ease of incorporation after autolyse so I did a 2-step Levain build at 70% hydration. I decided to go with 1/3 proportion of levain to flour.
Formulation:
1st Levain Build:
- 15 gms White Liquid Levain (100% hydration)
- 30 gms Flour Mix
- 20 gms Water
This build took 12 hours
2nd Levain Build:
- 50 gms 1st Build Levain
- 80 gms Flour Mix
- 56 gms Water
This build took 4 hours
Final Dough:
- 500 gms Flour Mix
- 167 gms 2nd Build Levain
- 375 gms Water
- 13 gms Grey Sea Salt
I mixed the flour and water and autolysed for 30 minutes. I set out to use 70% hydration but during mixing, I added more water to get the right dough consistency and upped it to 75%. I performed S&F in the bowl 5 times at 45 minutes interval. Total bulk fermentation was 5 hours. I refrigerated the dough overnight. Next morning, I divided the dough in two, preshaped, rested for 60 minutes, shaped in 2 batards, proofed 45 minutes and baked at 450 degrees with steam for 12 minutes, then without steam on convection at 420 degrees for 20 minutes.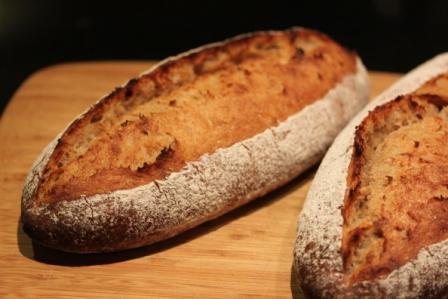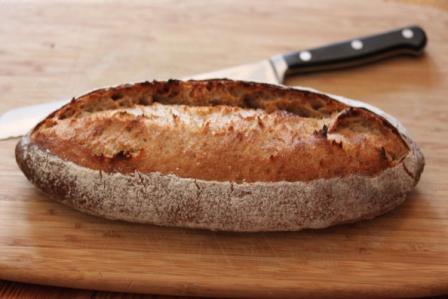 The oven spring was good and the crust came out crunchy with nice dark color. There was an enticing nutty fragrance when it came out of the oven.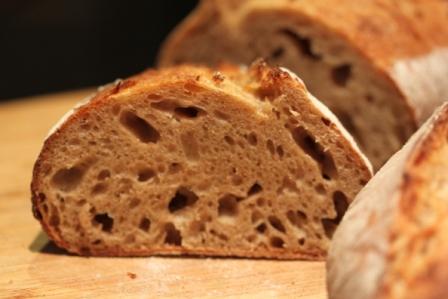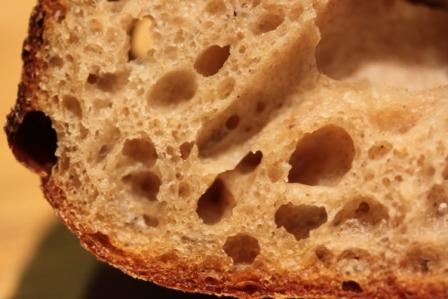 The crumb was fairly soft with irregular holes. It has the gelatinous quality that I always look for.
The crumb had good mouthfeel, soft and slightly chewy. The toasted wheat flavor came through mixed with sweetness and a pronounced tang, a little more than I wanted.
This is the first time that I have made a Pain de Campagne using all Levain. I normally use around 20% levain and added 1/4 tsp of instant yeast to boost the leavening power. I tend to prefer a less tangy and less dense Levain bread so the lower levain percentage and the addition of Instant Yeast made the bread taste creamier and sweeter than an all levain bread. Otherwise, I did not detect a lot of difference in terms of oven spring, appearance and fragrance.
Happy Baking!
Don