February 7, 2010 - 11:15am
Gerard Rubaud 3-Grain Country Loaf
Acknowledgements:
I have been following the fascinating recent posts and the excitement generated by the breads of Gerard Rubaud on TFL, so I decided to try a make a batch on this snowy weekend in Washington DC. I want to thank MC for introducing Gerard to us on her excellent blog and also Shiao-Ping for transcribing the formulation and testing the recipe with her gorgeous miches. Thanks also to David Snyder and Eric Hanner for their detailed step by step instructions and observations of their own experiment.
Ingredients and Formulation:
I used the same flour mix of 70% AP to 30% whole grain. I used the T55 AP flour from La Milanaise. For the whole grain mix, since I cannot grind my own, I used 30% Whole White (winter)Wheat, 30% Whole (Spring) Wheat, 30% Spelt and 10% Rye all from Bob's Red Mill. I mixed all the flours to use for both the levain build and final dough.
I followed the 3 step levain build and added 1% salt to each levain build. In his interview with MC, Gerard said that he increases the levain percentage in winter so I decided to use 40% instead of 30%.
I noticed in the video on MC's blog that Gerard ferments his dough in a wooden trough so I thought that the wood has to absorb some of the water from the dough. Also since I am using the T55 flour which is less absorbent than regular AP flour, I decided to lower the hydration to 75%. 
I used 500 gms of flour mix, 200 gms stiff levain, 408 gms spring water, 11gms grey Guerande sea salt for the final dough and made 2 Batards.
I essentially followed David's fermentation, shaping and baking techniques.
Assessments:
Each step of my levain build took from 8 to 12 hours to ripen because of the cooler ambient temperature. I probably could have omitted the salt.
The lowering of hydration did not affect the character of the dough. Visually, its consistency during fermentation and shaping is very similar's to Gerard in the video.
The loaves had good oven spring. The crust is slightly paler that my usual high extraction bakes probably due to the spelt flour which I have never used before. The crumb is fairly open with a light tan color unlike the light color of Shiao-Ping's miche. The crust is quite crunchy and has blisters which I usually get with levain breads.
The smell after baking is reminiscent of toasted germs, slightly grassy more similar to a levain baguette than a high extraction bread.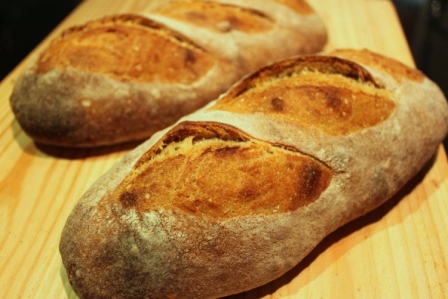 The crumb has a gelatinous character, has more weight and is quite chewy. It smells like a sweet honeyed pipe tobacco with a slight acidic touch. The taste is not as sweet and has a definite tang probably due to the long levain ripening and the higher percentage of levain. Overall is it a whole new flavor profile unlike any that I have had before.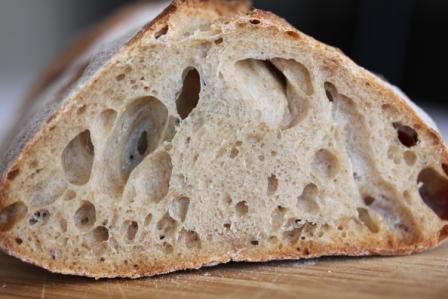 Epilogue:
My wife and I just finished a light lunch of Vegetable Beef Soup with Bone Marrow and toasted slices of 3-grain Country Loaf inspired by Gerard Rubaud on this beautiful sunny Sunday in the aftermath of the Blizzard of 2010. Delicious!
What's next?
I will try to make this bread using T80 high extraction flour instead of the AP/WW mix as a comparison. I will post the results.
Happy Baking!
Don