January 16, 2010 - 2:46am
I'm still patiently working my way through the Schrotbrot, but with a bubbly and ripe rye sourdough on the counter, I decided to try out a new formula. I love my everyday pain au levains, and I wanted to see how it would work out with a rye sourdough and an increased amount of rye flour. This loaf is 30% whole-rye flour, 70% bread flour and is made with a whole-rye sourdough. You'll find a snapshot from my spreadsheet detailing the formula by clicking here!
With a modest 30% rye, the overall dough behaves very similar to any other pain au levain dough, but slightly stickier. You notice that it's not quite as strong when you tug at it, and the cuts tend to tear easier and be less well-defined than in straight wheat breads. Still, I think it turned out well! Although it looks pretty much like your everday pain au levain, there's a distinctive rye character to the bread - you'll sense that both by the smell of the baking loaf and most definitely in the flavour of the finished bread. I'd say it brings about a surprising lightness to the crumb, even though it still wholesome and filling. A most agreeable accompaniment to many cheeses.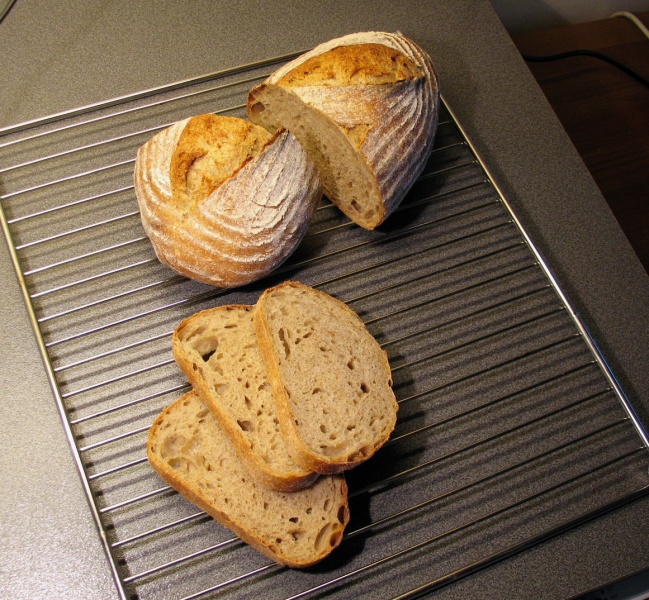 This week's dessert is a delicious chocolate mousse cake with bananas: A rum-flavoured chocolate mousse on top of some ripe bananas, sandwiched between two thin layers of a cocoa-almond sponge. Very tasty!