January 12, 2010 - 2:19am
It's the time of the year where blistering cold winds sweep the city and the surrounding mountainside. Rest assured, no matter how many layers you put on, the cold will penetrate them and get to you eventually. I'm certain that the freezing temperatures are partly to blame for me baking a dense Schrotbrot this week... I had a careful look over my kitchen shelves, pencil in hand, and jotted down potential ingredients for a solid log. I had a vague idea of what I wanted, but this turned out quite good I think.
This week's Schrotbrot: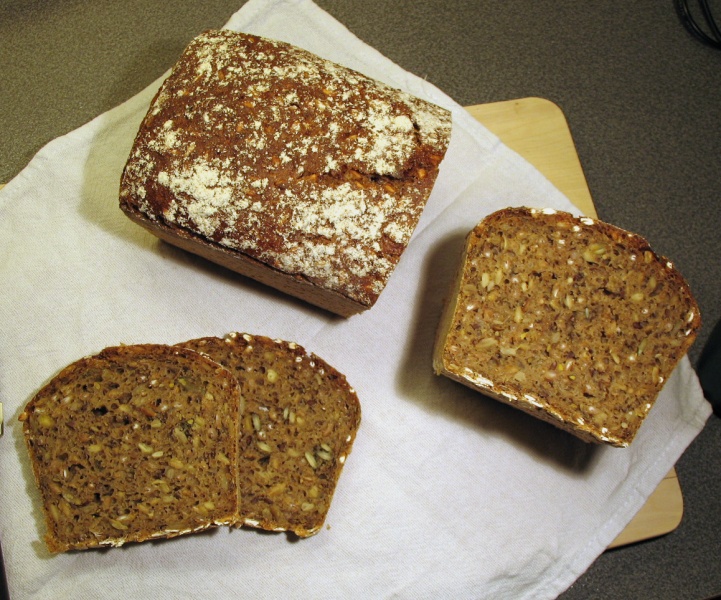 I've snapped a screenshot of the spreadsheet I used to make up the formula; you'll find that at the bottom of the post!
The base formula is pretty simple, and you can put any kinds of grains and seeds in it - flavour it either way you like. I love toasted sunflower seeds in these rye breads, as they give a nutty chew that goes well with soaked rye berries. I used a tad malt syrup to bring out a subtle sweetness in the final loaf. It's not very pronounced, but rather lingers somewhere in the background. I bet either honey or another syrup would work equally well. You might want to alter the overall hydration if you exchange other seeds in the soaker(s), but keep in mind that you want to keep the final dough very wet. Wet your hands with water, give the dough a rough cylindrical shape, and carefully place in a tin. The recipe below is scaled to fill a 1 liter tin approx. 2/3 way up. After about 1 hour final proof, the dough should have risen noticeably, and the top should start to look a bit fragile.
Let cool at least 24 hours. Slice as thin as possible and enjoy at 5 AM with a cheese platter and a glass of cold milk. Then go run the New York marathon.