January 10, 2010 - 4:36pm
White wine chestnut sourdough
It all started with that chestnut pie I made, amazing pie really, how can it not be? It had chestnut cream, chestnut puree, candied chestnut, creme fraiche, mascarpone, heavy cream all loaded in one flaky all butter crust!
But then I had these yummy chestnut puree and whole roasted chestnuts left over, as delicious as that pie was, it was also very rich and had a lot of added flavors, this time I want to make the chestnuts themselves shine. Of course I COULD eat the puree straight out of the jar, but I digress. ;) Here's what I came up with: a chestnut sourdough with loads of chestnut puree kneaded in; whole chestnuts boiled then soaked in fruity white wine overnight, then mixed into the dough; also used the soaking wine as part of the liquid, the result is a bread full of chestnut flavor. The wine brought out the subtle sweetness of chestnut, but the flavor of alcohol was minimal (a good thing since my husband doesn't drink). Chunks of chestnuts studded the soft and spongy crumb. I am pretty happy with the result, with the slight nutty sweetness, and almost "custardy" mouth feel, it's like eating a giagantic chestnut!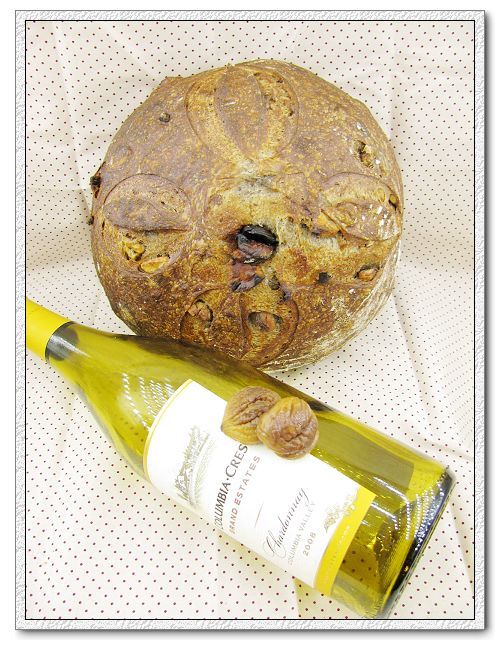 One thing I didn't expect is how sticky the chestnut puree made the dough to be. I had to decrease the liqud amount that I had planned to add in, even then, I still had to do quite a few S&F to build up the dough strength. I later found out that chestnuts have a lot of starch, double of what potatoes have, comparable to wheat flour, minuse the gluten of course. Even though it made kneading and fermentation a bit challenging, the final crumb was similar to those breads with potatoe puree mixed in, soft and songy, very moist.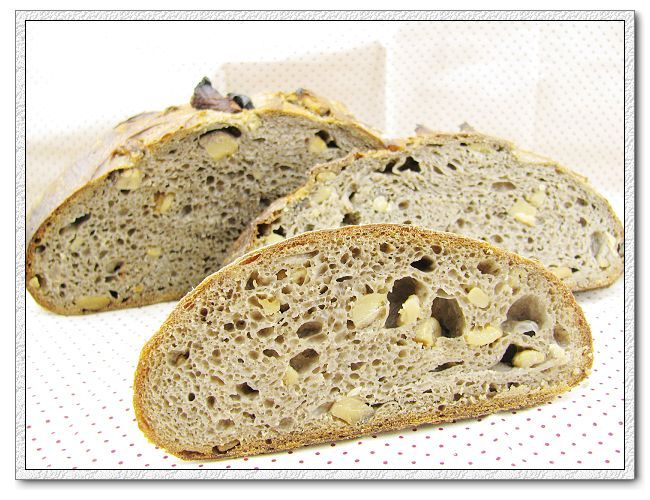 Here's my formula for the bread:
The night before:
mixing 170g of roasted, peeled, and roughly chopped chestnuts with 140g of white wine (I used a fruity cheap one), bring to boil, remove from stove, cover and let sit overnight.
2nd day:
starter, 180g (100% hydration)
salt, 7.5g
bread flour, 300g (I used KA)
wine soaking liquid from above + water, 175g
chestnuts above, drained
chestnut puree, 240g (unsweetened, just chestnut and water)
honey, 22g
1. Mix together everything but chestnuts, autolyse 30minutes, knead until gluten starting to develope.
2. Add in chestnuts, knead them in evenly.
3. Cover and bulk fermentation for 4 hours, at 30, 60, 90, and 120 minutes, S&F.
4. Round and relax the dough for 15 minutes, shape into a boule, put into brotform, smooth side down, cover and put into fridge for overnight
5. About 15 hours later, take out the dough and leave in room temperature for 90 minutes, perhead the oven with stone to 550F
6. Slash and bake, steam as normal, reduce the oven temperature to 450F, bake for 45 minutes in total, at minute 15, take out the steam pan, and rotate bread for even baking.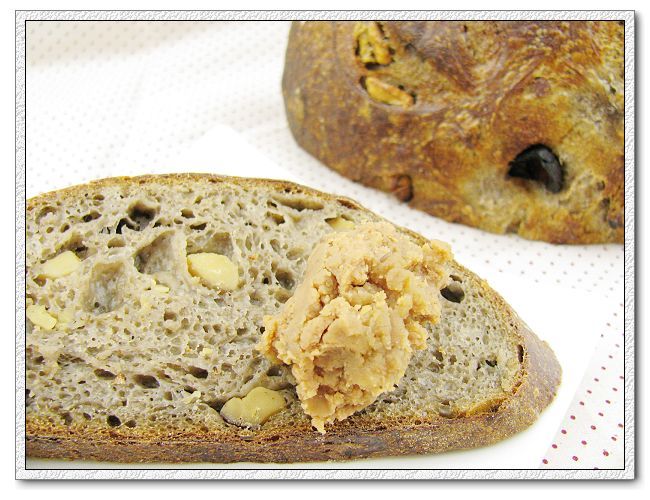 The taste is pretty on target, the slashing effect was a bit lost due to all the chestnut pieces peaking out underneath