January 7, 2010 - 11:55pm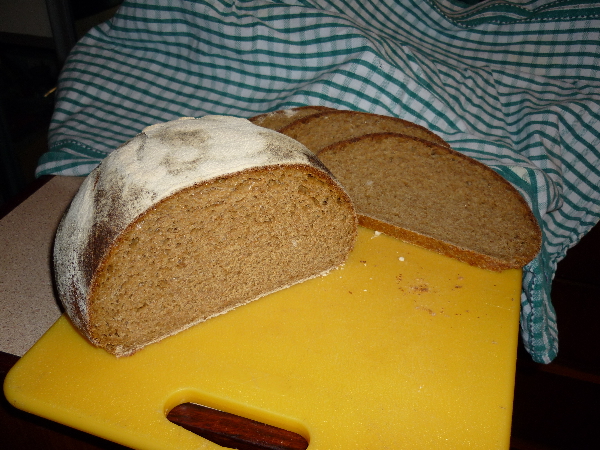 i recently aquired a couple of kilos of rye meal from the local bakery that belongs to a friend of mine he had been dabbling in making a ryebread he gave me some to play with.
So the other day when i was refreshing my sour dough starter i decided it was time to have my go at this BREAD
I USED 200g  rye flour, 200g white flour, 200g starter, 10g salt, 2 bantams eggs, 1 teaspoon full of black strap molasis,
435g water ( from memory)
i mixed the dough @.6.00 am and took it to work with me. i allowed a straight forward ferementation till 12.00 noon knocked back and following recovery shaped into a boule and placed it back in the bowl lined with a floured teatowel upside down by the time i got home it was pretty well full proofed and as my daughter had just cooked a chicken the oven was hot and ready to go.
The loaf went in at just over 200 degrees for 40 minutes. The result was quite good and i dropped off a sample to the bakery this morning and my colleagues here thought it was super.
i shall make this one again and do the retard for 12 hours for comparison