January 1, 2010 - 11:39pm
My daughter left today for Belgium to start a six week (French speaking) holiday and visiting our family friends over there.  A couple of days ago I asked if there's anything she'd like me to make before she goes.  She said, "Something familiar."  I can take the hint.  Recently, I have been experimenting with rye flour and my family are not very impressed with the result.  One rye bread came out really dense and as I was mumbling why this bread is so dense, my husband said, "Don't throw it out."  "What made you think I would?" I asked.  He said, "History."  I have had a bad track record in littering. 
Anyway, as I said, I can take the hint from my daughter.  I made this good old House Miche, or Daily Bread, for our lunch yesterday.  "House Miche" - doesn't it sound glamorous?  It sounds really lovely, I might add.  I took the term from a post by Jeremy of Stir The Pots in the Australian Sourdough Companion, back in 2005!  Jeremy's sourdough making history certainly goes a long way back (or, put another way, Sourdough Companion goes a long way back). 
Well, here it is, our House Miche, a simple formula with a simple procedure: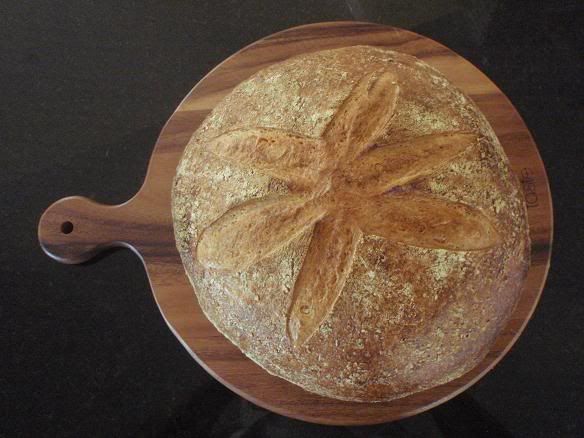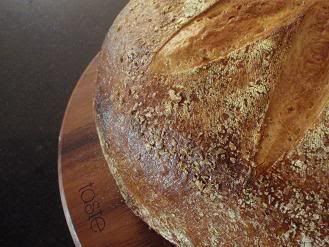 My Formula
230 g starter at

60%

hydration

* Note

100 g whole wheat flour (20% of final dough flour, or 15% of total dough flour)
400 g white bread flour (sometimes I do 50 g rye flour and 350 g white bread flour)
378 g water

* Note

12 g salt
Total dough weight 1120 g; overall dough hydration 72%.
* Note: If your starter is at 75% or 100% hydration, you can reduce your water to 355 g or 328 g, respectively, and still keep the same overall dough hydration.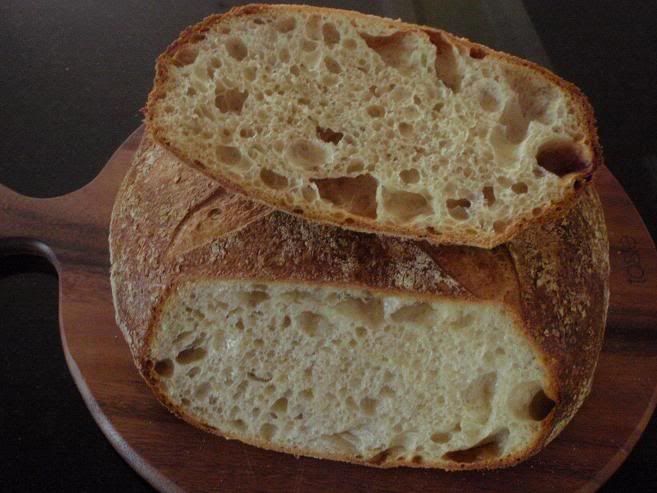 Mix all ingredients.  Autolyse 30 to 45 minutes.  
Depending on your room temperature, over the next 2 - 3 hours, stretch and folds 3 - 4 times with 20 - 30 strokes each time. 
Pre-shape, rest for 15 - 20 minutes, and shape.  (If the dough does not appear to have enough dough strength, pre-shape twice with 15 - 20 minutes rest in between, but be mindful of the time elapsed as it all counts towards the total fermentation time.)
Depending on your room temperature, proof for no more than 1/2 - 1 hour.  (As my room temperature was 28 C, from the time my ingredients were mixed, to the time the shaped dough was placed into the fridge, it was no more than 3 1/2 to 4 hours.  Alternatively, if you want to bake it on the day the dough was made with no overnight retardation, proofing can be up to 2 1/2 hours.) 
Place the shaped dough in the fridge for a minimum of 8 -12 hours.  (Note: an 8 - 12 hours overnight retardation in the fridge is equivalent to an extra two hours of proofing in the room temperature!)  Bake with steam at 240C for the first 15 minutes, then reduce the heat to 220C and bake for a further 20 minutes.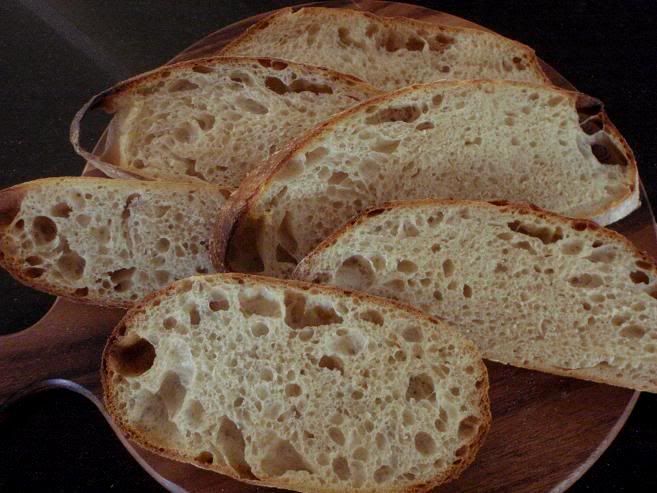 My daughter loved it.  When she returns in mid February, she will start a new phase in her life - say goodbye to school and start university.  She will be ready for more independence and responsibility. 
Until then, our son gets the full attention of both his mummy and daddy.  How good is that, he says.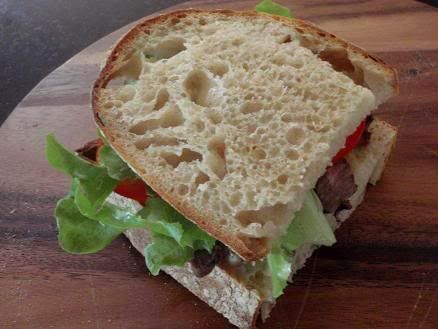 Roast beef and salad sourdough sandwich for our boy - a mid-morning snack
Shiao-Ping