December 27, 2009 - 3:50pm
Grüne Erde /Green Earth Clay bread baker

Ready in 3 1/2 hours?  (Make it longer if you wish, use 1/2 teaspoon of yeast, add salt & caraway and use cold water to make it rise slower.)
Wheat shaped form ... White Bread   crusty
450g hot water (you can just manage to keep a finger in it)
7g instant yeast
650 g Wheat flour (250g AP, 400g Bread flour)
1 1/2  to 2 teaspoons table salt
1/2 teaspoon ground caraway
olive oil for bowl & form
Pour hot water into a large 2.5 ltr. mixer bowl and sprinkle with yeast.  Add the flours and stir until all the flour is moistened and a shaggy dough has formed.  Cover and let stand 2 hours or until the dough has risen up to the cover.  Remove cover and scrape out dough onto a lightly floured surface.  Sprinkle with the salt and caraway.  Fold or roll up the dough and knead to blend for about two minutes.  Shape into a tight ball and cover with the bowl.
Soak top and bottom of a Clay form (total volume 2 liters) 10 min in warm water.  Allow to drip dry and surface water to absorb, one minute.  Smear inside with olive oil.  Re-shape and tighten dough to form a loaf.  Rub with oil and place into bottom form.   Oil the inside of cover and place over dough.  Set in cold oven for 15 minutes.   Turn on oven to 225°c  (440°F) on Hot air (convection) and time for 45 minutes.   Remove form and brown loaf another 5 minutes in hot oven on rack.   Cool on rack for 15 minutes and serve warm with bread knife on cutting board. 
I was given this form for Christmas without any instructions.  As you can see the ingredients add up to just over a kilo of dough, about the right amount to fill this two liter volume form.  The loaf crust is very crunchy and thick.  The crumb slightly chewy and tender.  I removed the top for the last 5 minutes of baking but wished I had removed the whole form to let the bottom brown more as well.   Slices are almost round and crumb is fine.  The oil in the form adds to an almost buttery flaky crust.   This loaf was sliced warm.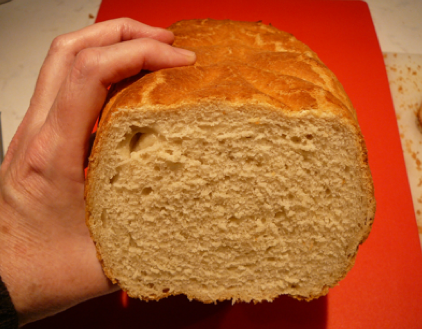 Mini