December 22, 2009 - 7:01pm

It just wouldn't be Christmas at my house, without Ribbon Cookies. I grew up with these, as did my mother and grandmother. When I asked my grandmother if she knew where the recipe originated, she didn't, but we know she is mainly of Dutch descent, and she remembered both her mother and grandmother making them before her. That makes five generations that we can account for, including my sisters and me---six, if my niece carries on the tradition. My grandmother had two sisters, and so my cousins all make them.... and friends and neighbors.... and now coworkers too. It isn't a closely guarded family secret, by any means; it has always been given freely. And it has always been much requested.
See how pretty they are on a Christmas cookie tray. And they taste both as good, and as unique as they look. It's fun to bring them to holiday get-togethers, because people are generally stumped by the stripes. They always want to know, how did I do that? But it's not a feat of magic. It's so easy, a child can do it. I know, because I did growing up.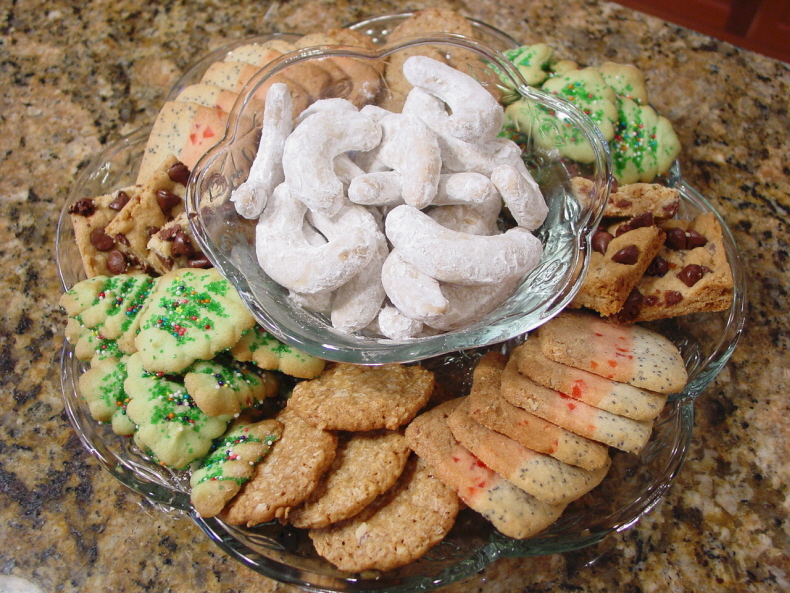 My grandmother passed away a few years ago, at the ripe old age of 95. While cleaning out her apartment, I found her hand-written recipe card, yellowed by time, that had become one with the plastic sleave she put it in long ago for protection. That was just like her.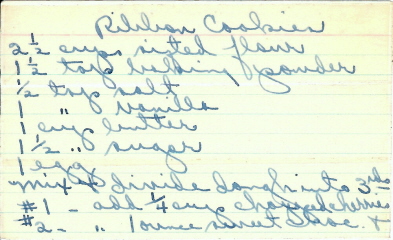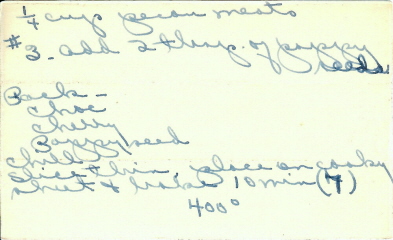 In case you can't read my grandmother's handwriting, here's my version:

Ribbon Cookies
2 1/2 cups flour
1 1/2 teaspoons baking powder
1/2 teaspoon salt
1 cup butter
1 1/2 cups sugar
1 egg
1 teaspoon vanilla
1/4 cup chopped candied cherries
1/4 cup chopped pecans
1 ounce milk chocolate, melted
2 tablespoons poppy seeds
Whisk together the flour, baking powder and salt. Set aside. Cream butter and sugar. Beat in the egg and vanilla. Stir in the flour mixture.
 

Divide dough into 3 equal parts. Mix the chocolate and nuts into one part and press evenly into the bottom of a waxed paper lined 9x5" loaf pan. Set pan in freezer for a few minutes or until firm. Stir the cherries into the second dough portion and press evenly into pan over the chocolate layer. Put back in freezer until second layer is firm. Add poppy seeds to the remaining dough and press evenly over the cherry layer. Cover pan and chill in the refrigerator until firm.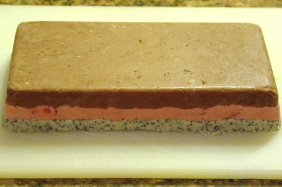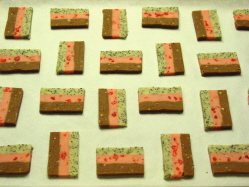 Remove dough from loaf pan and cut into thin slices (about 1/8 inch). Bake on greased or parchment-lined baking sheets about 10 minutes at 375ºF. Watch closely because they can burn fast, but they should be starting to color a little around the edges.
Notes:
These cookies should be crispy when completely cool. If they're not, they may be sliced too thick, not baked long enough or oven is too hot (or not hot enough). Leave some space between them on the cookie sheets, because they grow quite a bit. I make my slices across the short side of the loaf (side to side) and then cut that in half for two medium-size cookies. One year I used unbleached flour and the cookies were not as light or crispy, so it's bleached for my Christmas cookie baking. I add a drop or two of red food coloring to the cherry dough now, because candied cherries aren't as deeply colored as they used to be. They just don't impart as much color to the dough. If you use unsalted butter, you might want to double the salt.