November 19, 2006 - 4:48pm
I made my very first Rye loaf today, and it turned out wonderful! I used a recipe from "The Practical Encyclopedia of Baking", which someone let me borrow. The bread turned out moist and not too heavy which has been a problem with some heavy grained breads.
Anyway, the only changes I made to the recipe was to do it all by hand- without a bread machine or mixer. I prefer the way completely handmade loaves come out. The rise is usually better and the taste is extremely superior.
Here is the recipe, as well as pictures should any of you like to try it out =)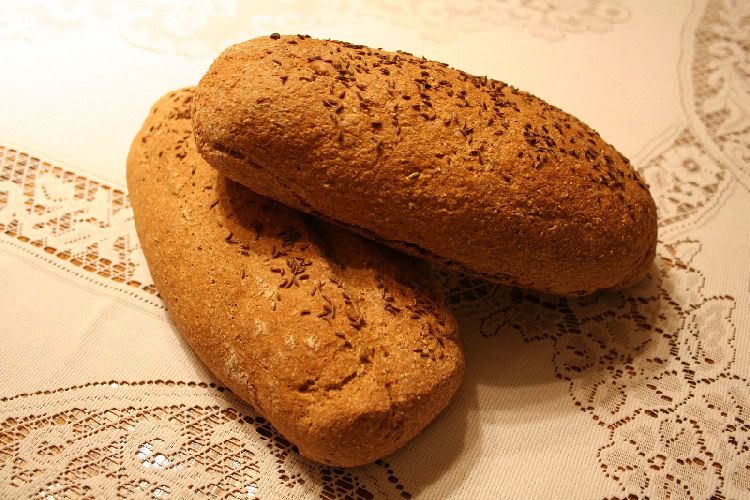 3 cups Whole-wheat flour

2 cups Rye flour

1 cup unbleached, enriched flour

1 1/2 teaspoons salt

2 Tablespoons caraway seeds

2 cups warm water

2 teaspoon active dry yeast

2 Tablespoons molasses*

1. Put the flours and salt in a bowl. Set aside 1 teaspoon of the caraway seeds, and add the rest to the bowl.

2. Put HALF of the water in a bowl with the yeast, let sit until frothy.

3. Mix yeast mixture and molasses into the flour mixture. I used my hands to mix until it was shaggy.

4. Knead for five minutes or so until it is smooth and elastic. It is a heavy bread so the texture will be slightly grainy. Let rise until doubled.

5. Divide dough into two pieces and roll into two 9 inch logs with slightly flattened tops. Place on a greased baking sheet or stone. Brush lightly with water and sprinkle with the remaining caraway.

6. Cover and let rise until well-risen (app. 40 minutes) Place in a preheated 450 degree oven and bake for 30 minutes until they sounds hollow.

* I used unsulphured, organic black-strap molasses. You probably could use regular molasses, but the flavor might be slightly different.
</break>