November 17, 2006 - 10:23pm
This week, one of my colleagues volunteered our team at work to host the monthly Happy Hour. Thanks, bud. Anyway, it was a Thanksgiving theme and since I'm "The Bread Guy," they wanted me to bake something. I thought it would be a good excuse to convert the Bread Baker's Apprentice's Cranberry Walnut Celebration Loaf into whole wheat. So I did. Here's how it turned out: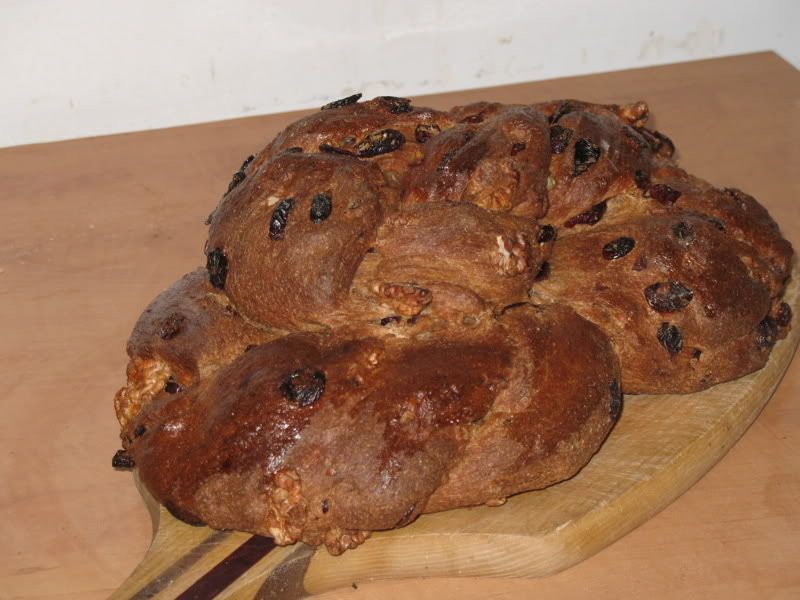 I think I've pretty much got this whole wheat thing down. Converting from a white bread recipe usually involves:
1) Increasing the recipe by about 20-30 percent in order to get the same volume.

2) Increasing the hydration by 10-15 percentage points to get the same consistency.

3) Either let the dough soak overnight (with a bit of salt to control enzymes) or knead for 20 minutes. If you soak everything and use a biga (highly recommended, as it really helps eliminate the bitter, dry taste that so many people find unappealing), you'll only need to knead until the soaker and biga / starter are well combined.

4) Use buttermilk. Man, buttermilk works wonders with flavor and loft.


The taste was definitely "Holiday" and it's an impressive presentation, though you can tell I was a bit sloppy with the egg wash. My wife's reaction upon tasting it was, "Wow! This is like fruitcake, except good!" And that's pretty much true. Reinhart recommends using either orange or lemon extract -- I went with orange, though I imagine lemon would not elicit the "fruitcake" comparison.


In any case, I'll be making this again come Christmas, for sure.