November 22, 2009 - 12:51pm
Liberty Hill Farm's Pumpkin Crescents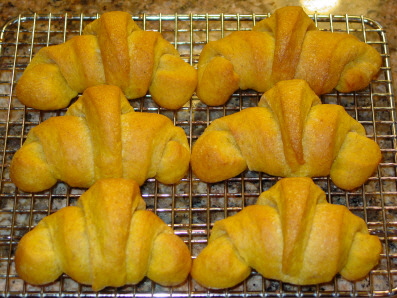 Thanksgiving is fast approaching, so I thought I'd get in a quick blog entry before things get really busy... and to prove that I really do make breads once in a while. I found this recipe while searching The American Country Inn and Bed & Breakfast Cookbook (vol. 2), for a vegetable dish to take to my sister's on Thursday. I'm Still undecided on the vegetable, by the way, but these sounded perfect for the Thanksgiving table, so I had to try them out. (I get side-tracked easily.)
My thought was, If they turn out well, I'll freeze and take them, and if not, we really don't need the extra starch anyway. Well, I'm taking them, and I kinda hope they don't all get eaten, because I'm already thinking they'll make a mighty fine bread pudding. I think the dough would be good for other things too---like warm caramel pecan sticky buns.... Okay, enough of that! Time is running out, and I have to decide on a vegetable.

Pumpkin Crescents
makes 3 dozen rolls
2 1/4 tsp. (1 package) active dry yeast
1 cup warm water
1 cup canned pumpkin
1/3 cup sugar
1/2 cup cold butter [the recipe calls for shortening]
1 egg
1 1/2 tsp. salt
5 to 6 cups all-purpose flour
more butter, softened
This is how I put the dough together:
Dissolve the yeast in the warm water, then mix with the pumpkin, sugar, egg and salt. Add half the flour, and then as much more as needed, a little at a time, kneading until a firm, elastic dough forms. Add the butter in small pieces and continue kneading until it disappears and incorporates into the dough. Add a little more flour if the dough becomes too soft and sticky (you're going to have to roll this out later).
Round the dough and place into a greased bowl. Let rise until double. (The recipe says about 1 hour in a warm place, but that's not likely with only one package of yeast---mine took 2-3 hours.)
Deflate the dough and divide into 3 equal portions. Round each piece and let rest 20-30 minutes. Roll out into 12" circles, and spread with the softened butter. (It will take around 2 tablespoons per circle.) Cut each into twelve wedges---a pizza cutter works best for this. Cut a small notch in the center of the curved edges. Stretch each triangle from the curved edge to the narrow point, and then widen the curved edge to open the notch by pulling out from the other two corners. Roll up, beginning from the notched edge. Place the rolls on lightly greased sheet pans, with the points tucked underneath, and curve into a crescent shape. Let rise until doubled. Bake at 400F for 14-20 minutes, until golden brown.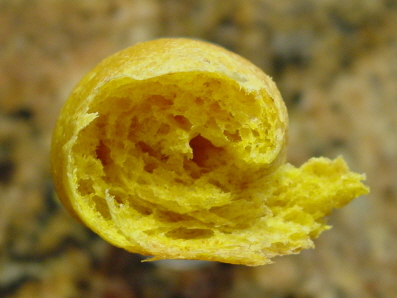 Adapted from the recipe by Liberty Hill Farm, Rochester, VT