November 20, 2009 - 9:09am
Rolled Oats and Apple Bread
Another winner from Dan Lepard's book "The handmade loaf".
The dough was very sticky and wet from soaked oats and grated apples (I used Fuji), but I like wet dough. I used Sir Lancelot high gluten flour because I ran out of bread flour at home (17 different kinds of flour, yet that's the one I ran out), the end result was a beautiful bread with open, moist, and chewy crumb. Intentionally left a few bigger chunks of apple in the dough, which made the apple taste stronger.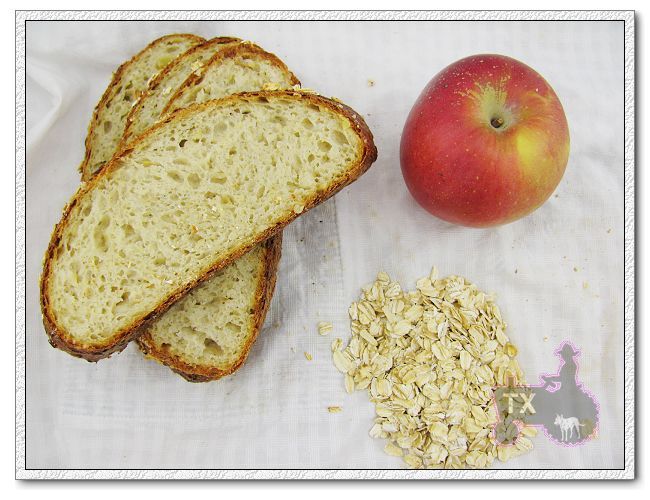 The book called for 3/4 tsb of fresh yeast, I used less than 1/2tsb of instant yeast. Even though Dan suggested that the amount of instant yeast should be half of fresh yeast IN WEIGHT, which is equal amount in VOLUME, I found that I only need half of the yeast IN WEIGHT if I use instant, otherwise it fermentate and proof way too fast. Even with barely 1/2 tsb, my proofing time was only 45 minutes, not 1.5 hour suggested in the book. (My kitchen was pretty warm that day though)
I really like the subtle warm/tart/sweet taste of this bread, thanks to the oats and apple, it goes well with jam/butter, great as a sandwich with some ham and veggies too.