November 12, 2009 - 7:35am
Pain Au Levain Aux Et Raisin
This is my first attempt to post a blog. I have been baking bread and looking at the site for many years....here it goes.
I try to make a bread at least once a week especially when the weather is agreeable. I was looking for a bread to make over the week-end and saw the Cherry Pecan sour dough recipe posted by Mountaindog....and thought...that will work! I did tweak the formula a bit, I used 35% white whole wheat, 5% rye and increased the hydration to 73%. (my flour tends to be thirsty). It was not fussy at all and had a nice oven spring. Next time I might try leaving out the ww and up the rye.
I like a bold bake......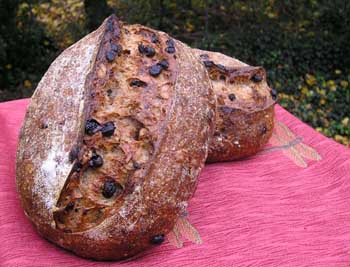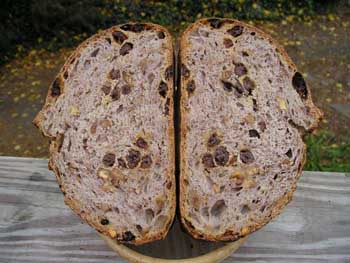 That was touch and go tring to get the photos in....
Being sent to Yeast Spotting
Cheers