October 27, 2009 - 10:52am
Sourdough Cinnamon Swirl Bread Recipe
I have had numerous requests for my Sourdough Cinnamon Swirl Bread recipe. Here it is, but it is in volume measurements. If someone wants to convert it to grams, be my guest. I'm not good at conversions and this is an old recipe, before everyone was interested in using weights.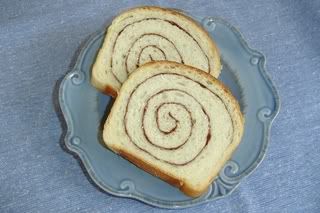 Sourdough Cinnamon Swirl Bread
2 cups active, bubbly starter
1/2 cup milk
1 tsp. vanilla (optional)
1/4 cup sugar
1/4 cup butter, softened
1 1/2 tsp. salt
1/4 cup instant mashed potato flakes
3 1/2 cups flour (half AP, half bread flour)
Mix and knead the dough. Place in an oiled bowl and cover with plastic. Bulk ferment until about 1 1/2 times the original size. This makes a very soft dough. Roll out dough on floured or Pam sprayed surface into a rectangle about 9 x 18 inches. Spread with soft butter, sprinkle with sugar, and very generously with cinnamon, leaving 1/2" on one of the 9" ends clean for sealing. Roll up as for cinnamon rolls. Try to keep the roll snug as you roll. Place in greased loaf pan. Spray oil top of loaf and cover with plastic. Proof until almost double in size. Bake at 350°F for 30 to 40 minutes, or until done.
I don't frost my loaf because I like to toast my bread and it just melts in the toaster. As an alternative to frosting, I have brushed on an egg white wash and then sprinkled with coarse raw sugar just before baking.