October 22, 2009 - 11:22am
Mrs. Wilson's Banana Bread
I haven't posted to my blog in a while, so it's high time I do. I've been away on vacation for a few weeks, which is why I haven't participated lately, nor have I been baking either. My husband and I just got back from a road trip we took to Charleston, South Carolina. Beautiful town... ever been? Unfortunately for us, the weather was gray and rainy for a good bit of our trip, so when the sun smiled down on us for one whole day, we put on our walking shoes and headed downtown. We traversed our way through the streets, admiring the architecture and beautiful old mansions, the many small graveyards tucked in here and there, and dined on some pretty amazing seafood (something we miss here in the heartland). Just as the sun was getting low, we happened upon a sort of open-air market, where locals hawk their wares.
We meandered through oodles of sweet grass baskets, art, leather, jewelry, spices, etc., until my husband zeroed in on cookbooks. He was on a quest to find gumbo recipes. The booth's owner directed him to a few of the popular ones, and then handed him Charleston Receipts, "America's oldest Junior League cookbook in print." I flipped to the copyright page to see when it was published and found that the first printing of 2000 was November of 1950. It must have been an immediate hit, because they printed 3000 more just one month later. And the thirty-third printing in 2007 brings the total to over 800,000 by my calculations. That's a lot of books. I haven't even looked at the gumbos yet, because I'm still flipping through the baking sections. I love old cookbooks. Anyway...  
As we were packing up to leave Charleston, we had a couple bananas left from a bunch we bought at the beginning of the week. They were already past the point of good eating, so I threw them in the bag to cart back with us, estimating that they would be about perfect for making banana bread by the time we got home. And wouldn't you know it, there's a "receipt" for that :-)
Banana Bread
1 3/4 cups sifted flour (I still have some White Lily from a previous trip south, so I used that)
2 teaspoons baking powder (I used Argo, of course)
1/4 teaspoon baking soda
1/2 teaspoon salt
1/3 cup shortening (I chose unsalted butter)
2/3 cup sugar
2 eggs
1 cup mashed banana
You mix this one just like a butter cake---cream the "shortening" and sugar, beat in the eggs one at a time, sift together and add the dry ingredients alternately with the liquid (in this case, the bananas). The batter is turned into an 8 1/2 x 4 1/2" loaf pan and baked at 350ºF. The recipe says about 70 minutes, but mine was done in 45-50.
I'm not at all sure who to give proper credit for this recipe, because the conventions used in the book aren't explained. I'm going to guess the contributor was a Mrs. Robert Wilson, Jr., but she got it from Gabrielle McColl...  I really don't know. Thank you Mrs. Wilson and Gabrielle McColl, whoever and wherever you are!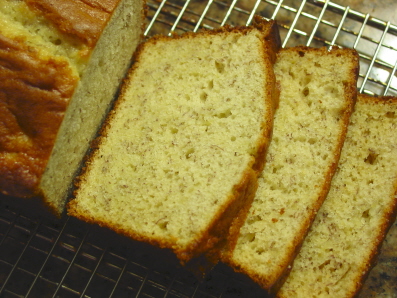 Now I must tell you, either the temperature was too high or my pan too dark, because the edges are a bit over-browned. I will bake at 325º next time, or 300º with convection, which I find is usually best for anything in a deep pan like this. Regardless, the crumb is just wonderful---moist, tender and fine-textured. I think a double recipe could make a fine bundt cake. It might even be a nice layer cake, made with cake or pastry flour. This is dessert.   -dw
Edited 12/20/18 to fix a broken link