October 14, 2009 - 2:48am
Pain au Levain with wine for 60% hydration
Wine is abundant in our household; a day rarely goes by without some consumption of wine.  When I read Erzsebet Gilbert's post: A winemaker wants to be a wine-baker, I thought what a good idea.  There was a lot of discussion there whether or not alcohol kills off the yeasts.  I thought the only way to find out is to try.  Recently I have been making mainly Pain au Levain breads, so I took my formula and simply replaced 60% of hydration with wine.  This number was a matter of convenience and also because I felt any less than 50% the wine flavor might not come through.  As my starter is normally 75% hydration and my Pain au Levain is normally 68% hydration, when I substituted wine for the hydration for the final dough, the wine worked out to be roughly 60% of all hydration. 
I did four doughs in the following order (my starter was the same for all four doughs):
(1) dough one with red wine previously boiled and cooled down to room temperature of about 20C / 68F;
(2) dough two with white wine previously boiled and cooled down to room temperature of about 20C / 68F;
(3) dough three with red wine as is from a bottle at room temperature; and
(4) dough four with white wine as is from a bottle in the refrigerator but warmed up to 20C / 68F. 
The boiling was supposed to take off the alcohol in the wine (14.5% for my red, Australian Shiraz, and 14% for my white, Chardonnay).  
My formula for all four doughs are the same as follows: 
300 g starter @ 75% hydration
285 g bread flour
15 g medium rye flour
192 g wine (for dough one and two above, I measured at least 220 g of wine to allow for evaporation from boiling)
9 g salt
Total dough weight (each) 800 grams and total dough hydration 68%
In a large bowl, mix wine and flour only until just combined
Autolyse 40 minutes
Add salt and starter, and knead by hand for 3- 4 minutes (alternatively, stretch and fold in the bowl for 100 times to thoroughly mix all ingredients to a homogenous whole)
Bulk fermentation 2 1/2 hours with two sets of stretch and folds, each set 20 - 30 times (dough temperature about 20 C/68 F, adjust fermentation time longer or shorter depending on room and dough temperatures)
Pre-shape to a boule, rest 15 - 20 minutes, then shape to a tight boule
Proof for 1/2 to 1 hour then place in the refrigerator for overnight retarding (I did 19 hours)
Bake next morning with steam at 240C / 460F for 20 minutes and another 20 minutes at 210C / 410F
Below are the first and second Pains au Levain with wine (previously boiled to take off the alcohol):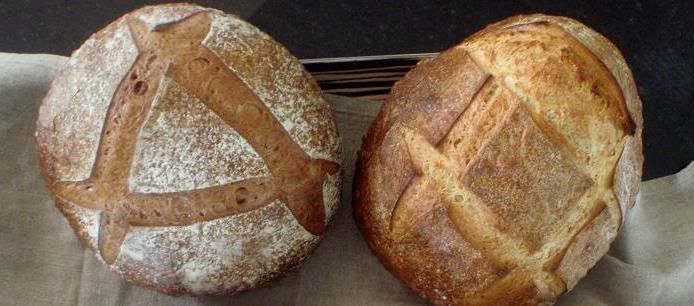 red loaf on the left and white loaf on the right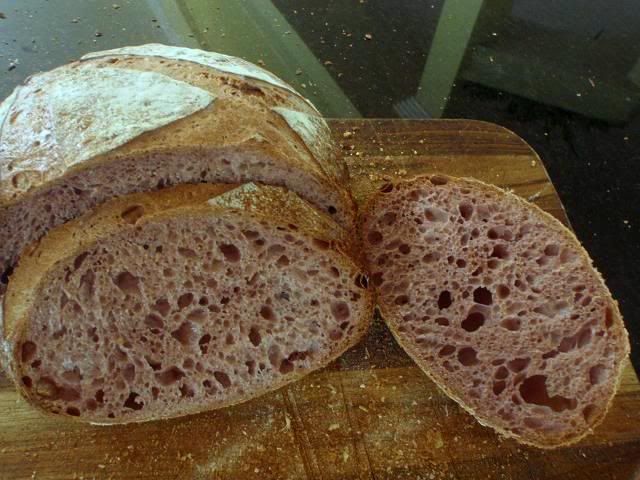 Pain au Levain with boiled red wine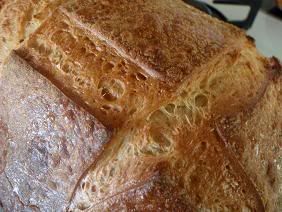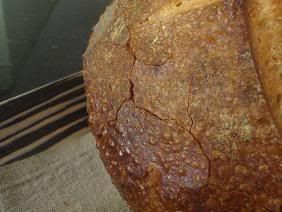 crust of Pain au Levain with boiled white wine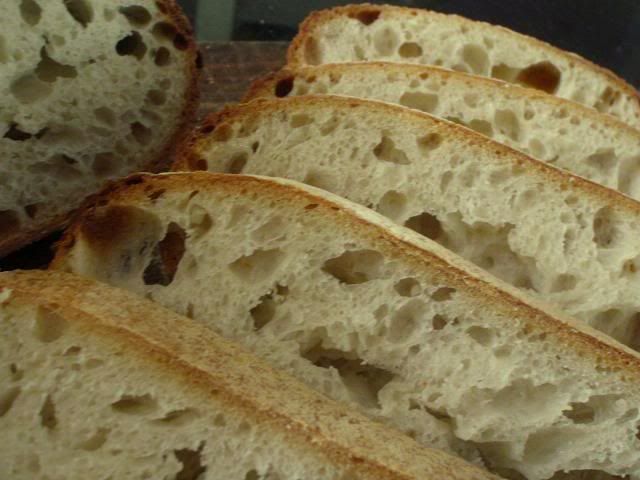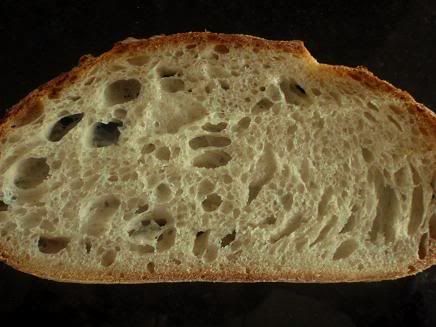 Both loaves have very open cell structure as above; the white one tastes to me no difference to a normal Pain au Levain, but the red one seems to taste more flavourful (I don't know if I am imagining flavors because of the color).  Both crumbs are mildly chewy and not very sour, just like normal Pain au Levain.  As the alcohol was taken off, the breads do not taste to me to have any trace of wine, save for the color in the red loaf.  The breads are lovely just the same but I don't know if I can say for sure that the wine improves the bread in these two instances. 
Following are breads made with wine straight from the bottle (dough three and four descriptions above).  The doughs looked noticeably smaller after fermentation compared to the first two; however, it did not appear that the yeasts were completely killed off, there were some activity but far less compared to the first two loaves.  The crumbs are very dense but extremely flavourful.  When the breads were being sliced open, you could smell the strong alcoholic aroma from the wine.  The white loaf has a hint of bitterness about it, but the red one has none of it (I don't know why but I can only guess that other flavor compounds which have come through the red wine have masked the bitterness).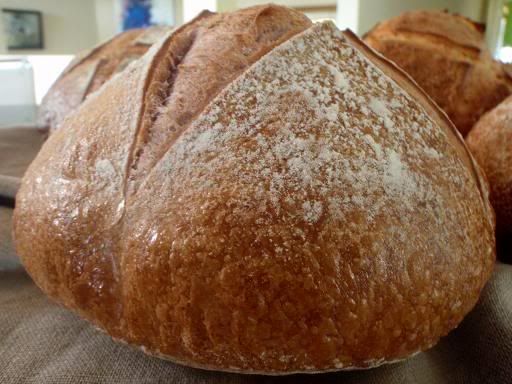 Pain au Levain with red wine (straight from bottle)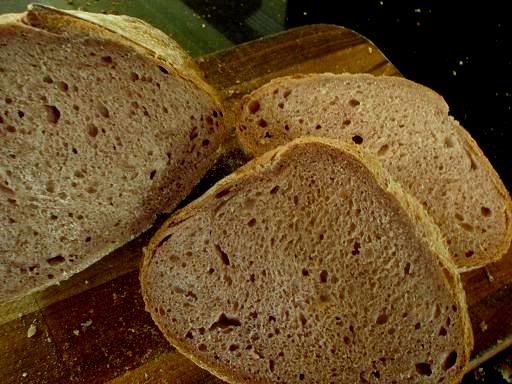 By the time I took this shot, the natural light was out so the color here is not exactly true.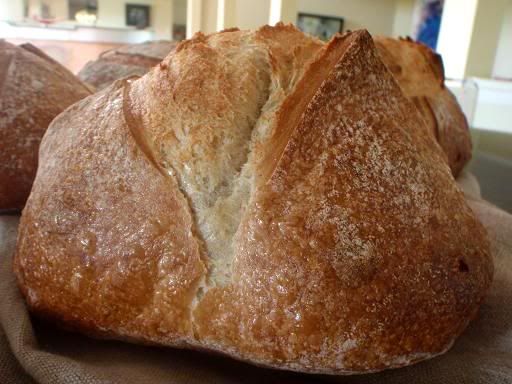 Pain au Levain with white wine (straight from bottle)
As someone says, flour is for baking, and wine is for drinking, and so perhaps it's best to keep the two separate?!  Or, as Erzsebet says, they are delicious together too?!  
I guess, it's your choice.
Shiao-Ping