October 10, 2009 - 11:22am
Prescott Flaxseed Sourdough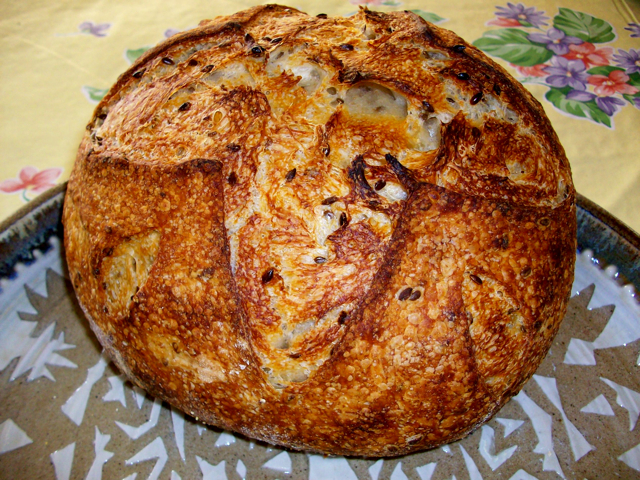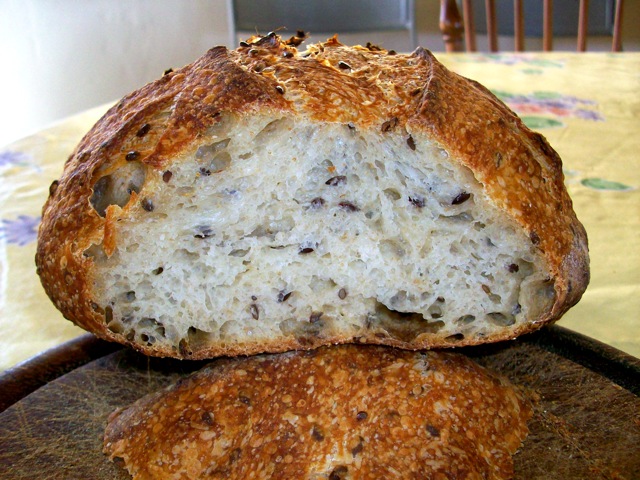 Same old recipe, tweaked a little for the seeds.  I keep learning more and more, thanks to everybody here.  This one's named Prescott, as we're up the hill in Arizona for a short while. 
Here's the way I did it. It's only one way, so bake how it suits you and your location, temp, flours, etc.
20g whole flaxseed and 55g warm water, soaked for about 30 minutes before starting dough
50g firm starter
175g water
275g KA Bread Flour
25g whole wheat flour
6g salt
Mix starter and water, add all of flaxseed mixture, then add flours and salt.  Mix minimally by hand just until flour is wet, rest for 30 minutes, one Stretch & Fold, two more S&Fs at 1-hour intervals, let rise to double.  Keep the dough temperature in mid-70'sF during fermentation.  Pre-shape, rest 15 minutes, shape, then overturn into linen-lined basket.  Put in plastic bag, then into fridge for overnight.  Out of fridge for two hours before scoring, loading into oven, and covering. Oven preheated to 480F, then lowered to 440F after 3-5 minutes.  Bake 20 minutes covered, 15 minutes uncovered, 5 minutes in turned-off oven.
Note:  You can retard this dough in an oiled bowl after folding, if you like, and continue in the morning.