September 10, 2009 - 7:58am
My imitation of Chad Robertson's Country Sourdough
Have you ever seen a photo of very stiff starter wrapped up tightly in cloth then tied up in string (as if making absolutely sure that the little beasties have no way of escaping)?  I never understood the purpose of the tight string until the other day when I was writing about Chad Robertson.   A Day in the Life at the Bay Village Bakery in The Bread Builders says Chad "uses a brief two-hour final stage of leaven expansion before he mixes up his dough" (page 221).  In both of these two cases maximum natural yeast population is achieved without them further fermenting (because there will be plenty of fermentation once final dough is mixed).
Chad Robertson's rustic sourdoughs from Tartine Bakery were my most favourite during my recent stay in San Francisco.  I wanted to see if it was possible to reproduce his style of sourdough at home.  I was told that a bread cookbook is coming out soon (in addition to their existing pastry cookbook), but no date is given.  Alain Ducasse's Harvesting Excellence quotes Elizabeth Prueitt as saying that Chad's breads were hand-made from the very beginning to the very end, and that "it is one person's expression" (page 19).
By the time The Bread Builders wrote about him, Chad Robertson had acquired a mixer from Europe which helped him in meeting the growing demands for his breads.  A brief description of timeline for a typical load of breads that he baked at his (then) one-man bakery at Point Reyes, Califorina (before he and Elizabeth moved to San Francisco and opened Tartine) is as follows (according to The Bread Builders): 
At 8 am, he mixes his final intermediate levain and let it sit in room temperature for two hours (note: I assume the levain is fully mature before the two-hour final expansion);
At 10 am, he mixes the final dough by first putting all the ingredients or all except the levain into the mixer and running it for 2 - 3 minutes at 45 - 50 revolutions a minute;
Autolyse 15 - 30 minutes
Adds the levain if necessary, then mixes it for 4 - 5 minutes
Bulk fermentation 4 hours (counting from 10 am to 2 pm), during which time several stretch and folds in the tub are done;
At 2 pm, divide the dough and pre-shape them, then rest for 15 minutes
Shape the dough and place them on the bannetons or couche dusted with a mixture of bread and rice flours;
Proof in room temperature for 2 hours before going into proofing boxes (at 55F) to retard for 8 - 10 hours (

Harvesting Excellence

says up to 12 hours); and
The next day, start baking between 4:30 - 5 am.
Based on this timeline, my formula for Chad's sourdough follows:
My formula for Chad's Sourdough
Two nights before bake day - first stage of levain build-up
82 g starter @ 75% hydration
164 g bread flour (i.e. two times starter amount for me)
124 g water
Mix and ferment for 6 - 8 hours at 18C / 65 F (depending on your room temperature, you may need more than 2 times bread flour, or shorter or longer fermentation time for your starter to mature)
The morning before bake day - second (and final) stage of levain expansion
370 g starter @ 75% hydration (all from above)
370 g bread flour (I figure one time starter amount in flour is enough)
277 g water
Mix and ferment for two hours only
Formula for final dough
1,017 g starter (all from above)
1,017 g bread flour (Australian Laucke's Wallaby bakers flour, protein 11.9%)
651 g water
30 g salt
Total dough weight 2.7 kg (divided into three pieces) and total dough hydration 68%
I followed the timeline above but I did everything by hand.  I fully intended to fold as many times as necessary to build up dough strength but as my dough was not very wet the gluten developed very fast and by the end of first set of stretch & folds, the dough already felt silky and smooth.  I did only two sets of stretch & folds in the bowl.
After the dough was divided into three pieces, I pre-shaped them to tight balls, rested them 20 minutes, then shaped them into batards and placed them on bread & rice flours dusted couche.
The shaped loaves proofed for 2 hours in room temperature then went into my refrigerator to retard overnight (for 12 hours).
Bake day
I baked the loaves cold (straight from the refrigerator).  I pre-heated the oven to 250C / 480F.  Once the loaves were loaded, I poured 2/3 cups of boiling hot water onto lava rocks (enormous steam was generated), and turned the oven temperature down to 230C / 450F.  They were baked for 20 minutes, then another 15 minutes at 210C / 410F, and rested for 5 minutes in turnoff-off oven.  (You can bake them for 10 minutes more if you like darker crust.)
There was an impressive oven spring with this bake.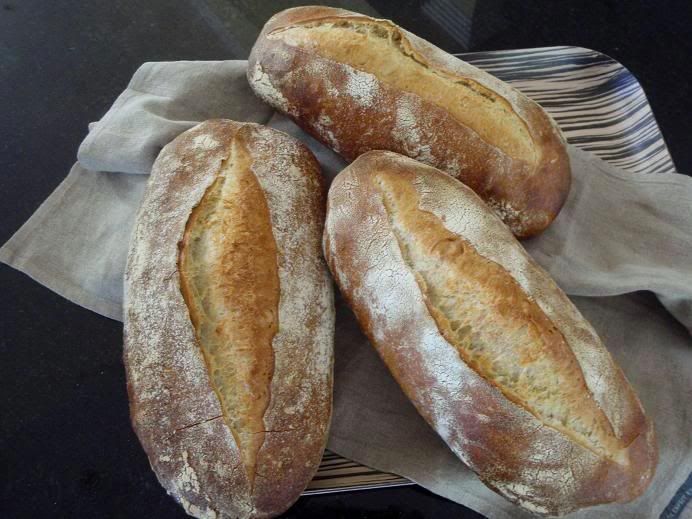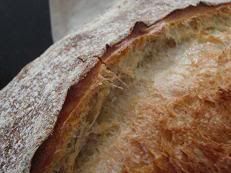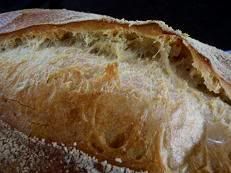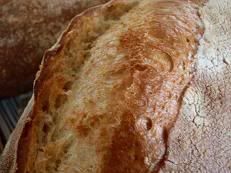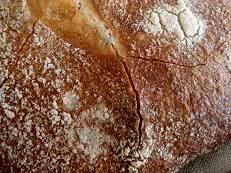 I am quite pleased with the result, although without rye and whole meal flours, I probably cannot call this country sourdough.  Also, Chad's country sourdough has a very rustic look (quite dark) as if from a wood fired oven. 
As I was drafting this post and looking at the black and white picture of Chad's bread in Harvesting Excellence, my daughter came by, I said to her he is the reason why I bought this book; she asked, is he "hot"?  I never understand teenagers' lingo - why "hot" and "cool" mean the same thing.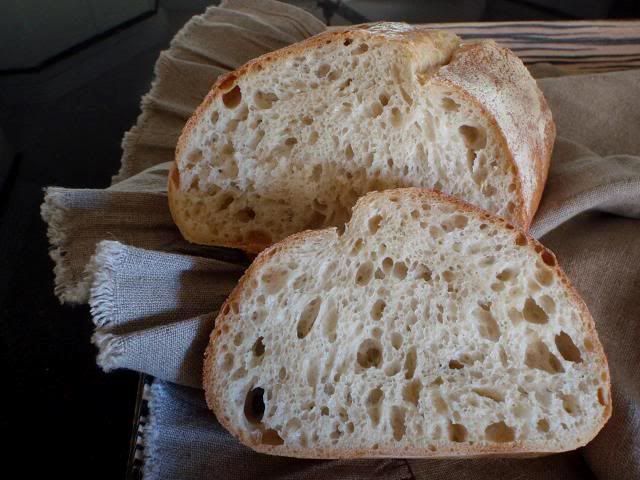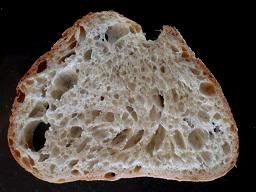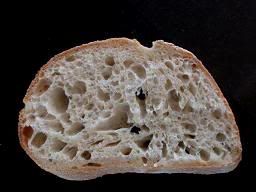 The crumb is really tender and moist.  It has a very supple texture and open crumb that I did not believe I would have been able to achieve with low hydration dough.  I really don't know what hydration level is Chad Robertson's sourdoughs; I did 68% here because I wanted to have good volume and, possibly, good grigne.  Well, it worked. 
I like the flavor very much, more so than my Sourdough 50/50.
Shiao-Ping