September 7, 2009 - 6:02am
I came back to Brisbane to the first day of spring (1st September).  I had neglected my back yard garden for over a month.  There had been very good rain going into winter after a prolonged drought and no name flowers are sprouting every where.  Even my one and only lemon tree is loaded with clusters of dainty little pink and white flowers.  Any my wisteria!  It welcomes me back with such vivid purple (or blue):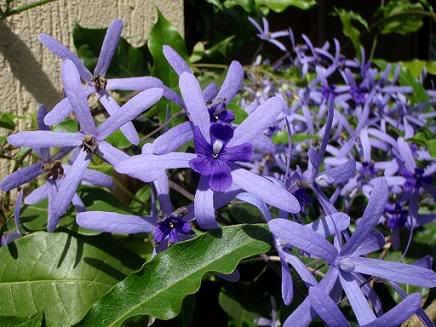 I waited three seasons for this to flower. 
As I was going round the garden pruning and liquid-fertilizing, I marveled at how time could not be rushed, how waiting was paying off, and how often my energy was misused in being inpatient.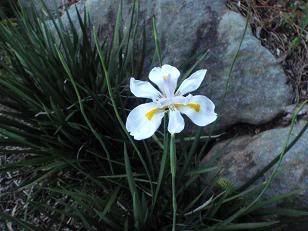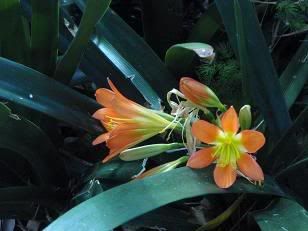 no name flower 1                                                                      no name flower 2
                                                                                 and other no name flowers
Since I came back from my baking classes in San Francisco, I had made 6 less than satisfactory breads; three on my Kitchen Aid Artisan stand mixer (which has a C hook, not the spiral hook which comes with the Kitchen Aid Pro stand mixer), two on my Panasonic bread machine (dough mixing function only) and one by hand.  I find it hard to adapt the techniques I learned in the baking school to home set-up - our equipment are different, our starters are different, and our dough temperatures are perhaps different too, etc. etc.  Our instructors foresaw these problems, and they emphasized the need for us to learn to "read" the dough rather than mechanically following instructions or formulas.  We were asked constantly during the mixing process to check gluten development by window paning and by simply tugging at the dough to feel its strength.  But all this is easier said than done.
All that I can do is to keep trying.  The idea of this 7th bread came indirectly from Safa, our instructor at the Artisan I course.  It was my last Saturday in San Francisco; I was on my way to Ferry Plaza market and I ran into him on the train; we chatted all the way.  He said he recently made a bread and he called it 30/30, not that there is anything magic about the number 30, but it's just that it is easier to remember since it has 30% soaker and 30% levain (in relation to final dough flours).  So here I experimented with my 50/50 - 50% Poolish and 50% Levain.
The purpose was to see how this would vary sourdough's flavor profile. I have learnt that the acidity you get from poolish as well as levain that is fed more frequently than just once a day is lactic acidity (e.g. yogurt) as opposed to acidic acidity (e.g. pickles).  A classmate at the Artisan course who had done the bakery tour at Boudin bakery museum in San Francisco told me he saw a baker there use the starter straight out of the refrigerator.  Their San Francisco Sourdough is famous for its sourness which is not to my taste.  I imagine if the starter is fed only once a day and is kept in the refrigerator for part of the feeding cycle such that it stays in the anaerobic condition for a long time the acidity can be developed quite strongly.  I am a fan of Chad Robertson's rustic sourdoughs.  I was reading about him in "A Day in the Life at the Bay Village Bakery" in the Bread Builders and Alain Ducasse's Harvesting Excellence; and interestingly it is mentioned that he uses a brief two-hour final stage of levain expansion before he mixes up his doughs.  I imagine this "levain expansion" would be the aerobic stage of levain build-up where the little beasties are in rapid reproduction (rather than fermentation).  I don't know for sure but I imagine too his levain would be fed more than once a day and would most likely sit in room temperature.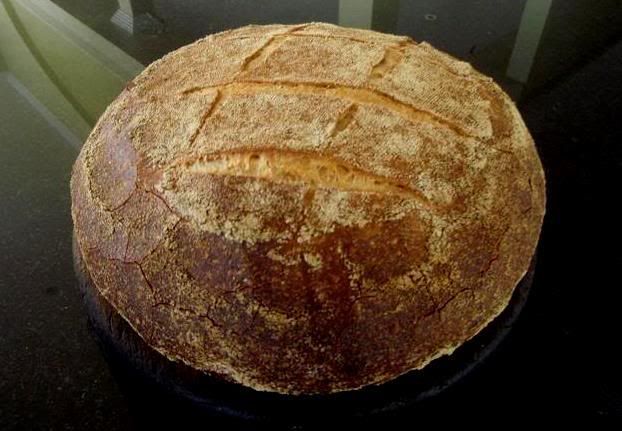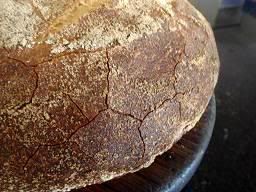 Formula for my 50/50
Early morning - prepare Levain and Poolish, allow for 6 to 8 hours to ferment, depending on your room temp
Levain
80 g bread flour
24 g medium rye flour
78 g water
52 g starter @75% hydration
(Note: this starter is on a two feeding a day cycle and stays in my room temperature of around 18 - 21C / 65 - 70F)
Poolish
117 g bread flour
117 g water
A very small pinch of dry instant yeast (or 1/4 of a 1/3 tsp)
Late afternoon - prepare the final dough
400 g bread flour (Australia's Laucke Wallaby unbleached bakers' flour, protein 11.9%)
34 g whole wheat flour
34 g rye flour
275 g water
14 g salt
234 g Levain (all from above), which is 50% of final flours
234 g Poolish (all from above), which is 50% of final flours
Extra medium rye flour for dusting
Total dough weight 1.2 kg and total dough hydration 68%
I mixed all ingredients in my Kitchen Aid for 4 min at the first speed then another 6 min at the 4th speed, at which point the dough did not feel very strong.  I pulled it out of the mixer any way because I planned to supplement by stretch and folds during bulk fermentation.
I placed the dough in an oiled container and gave it two letter folds. After the first letter fold, the dough was rotated 90 degrees then letter-folded again, and then the dough was turned upside down so that the folds faced downwards (ie, right side was up).
Bulk fermentation was 2 hours with a set of two letter folds (as above) every 30 minutes.  I turned the dough over first (so the right side was down) before I did the letter folds and when I finished the folds, I turned the dough over so that the folds faced downwards (the purpose was so that the dough stayed tight.).
After 2 hours, I pre-shaped the dough into a tight ball, and while it was resting, I dusted a linen-lined basket with medium rye flour.  After a rest of 20 minutes, the dough was shaped into a boule and placed in the basket and covered with a plastic bag.  I placed it into the refrigerator to retard (for 13 hours).
The next morning the dough was baked cold at 220C / 440 F for 50 minutes with steam for the first 10 minutes.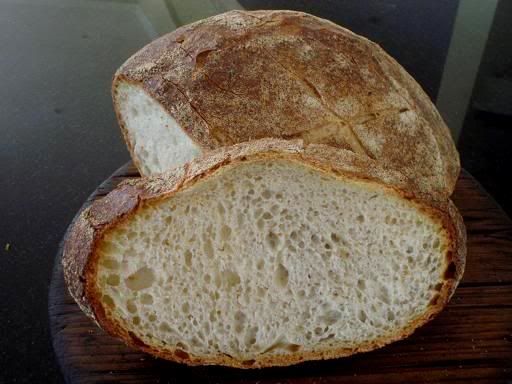 This sourdough has the flavor profile that I like: the lactic acidity from the Poolish and the levain, the sweetness from the bread flour, and the richness from rye and whole wheat.  All round the flavor is complex and the after taste is long lasting.  It is mildly chewy, very pleasant.
I'd like to work on my scoring.  Also I am finding it tough to apply what I learned on the mixer I have at home.  Perhaps I need to mix my dough to stronger gluten development in order to have a bloom.  Or perhaps the blind faith in a perfect mixer is a sign of no faith in one's self.  Whatever it is, for now, this: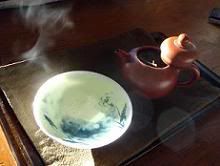 with a view of this: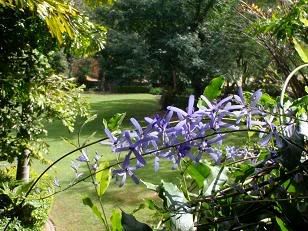 is what I need.
Shiao-Ping