September 1, 2009 - 4:31am
My Version of Jean Luc Poujauran's Pain de Campagne
Background:
I first read about Jean Luc Poujauran in 1994 in Linda Dannenberg's book "Paris Boulangerie-Patisserie". At that time, he was already an established member of the younger generation of French artisan bakers that included Basile Kamir, Gerard Mulot, Pierre Herme and Eric Kaiser. He owned a very successful little bakery with its ever present bright blue antique delivery van parked in front on rue Jean Nicot in the 7th arrondissement in Paris. In 2003, he sold his bakery to dedicate himself to a wholesale business supplying bread to over 100 of the best eating establishments in Paris like Pierre Gagnaire, l'Atelier Joel Robuchon, La Regalade and Le Comptoir.
I have had the good fortune to taste Jean Luc Poujauran's signature Pain de Campagne at a few of those restaurants. I will never forget the time my wife and I had dinner at La Regalade and as soon as we sat down, our waiter presented us with an assortment of house made saucissons and pate de campagne, a crock of cornichons and a wooden cutting board with a loaf of Pain de Campagne from Poujauran. It was an absolutely perfect way to start a meal.
Another time, on one of the coldest day in February, we ate at the restaurant Le Comptoir and after a wonderful dinner, for the cheese course our server set on our table a tray of assorted cheeses so large that the far end had to rest on the neighbouring table. But the best was a basket of Poujauran Pain de Campagne to go with it. We enjoyed the best cheese course we ever had while marveling at the brave souls who sat outside eating at the sidewalk tables, wrapped in blankets supplied by the restaurant and warmed by a couple of portable heaters and the wonderful creations of chef Yves Camdeborde. It was an absolutely perfect way to end a meal.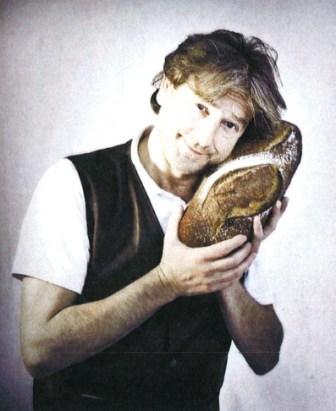 Jean Luc Poujauran with Pain de Campagne
Since discovering TFL about six months ago, I have acquired a wealth of bread baking know-how from its members through various posts and have felt bold enough to attempt to replicate Poujauran's Pain de Campagne based on his own published description as well as my taste memory.
According to Poujauran, his Pain de Campagne is 100% organic and made with high extraction stone ground flour, neutral PH non-demineralized osmosis filtered water, Sel Gris from Guerande and a natural Levain which has undergone a double fermentation. The dough goes trough a slow mixing and folding process and a long 18-24 hour fermentation. The loaves are shaped by hand and baked on Lava Rocks.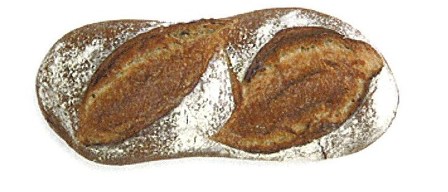 Poujauran's Pain de Campagne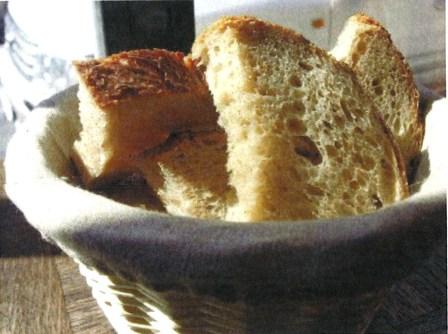 Poujauran's Pain de Campagne Crumb
Ideas and Notes:
I decided to follow Poujauran's description as close as possible starting with all organic ingredients.
I decided on a flour mix of higher gluten white flour and stone ground Whole Wheat flour with a touch of Rye flour. I selected Bob's Red Mill flours because I have found them reliable, easily available in the DC area and they fit the established criteria. I added some Malted Barley Flour to help the browning of the crust because unlike most flours BRM White Flour does not contain any.
I did some research and found that Deer Park Spring Water has a close to Neutral PH, goes through double osmosis filtration and is not demineralized.
I was able to buy a bag of Sel Gris de Guerande which is an Atlantic grey sea salt produced by evaporation in the western coast of France in the Guerande area which also produces the much more expensive Fleur de Sel which are salt crystals that form on the surface of the salt ponds and are skimmed off the top.
I settle on the use of a liquid levain with 2 builds to minimize the sour effect of the starter. I use mature 100% hydration white flour levain for the 1st build at 1:2:2 ratio and let triple in volume at 80-85 degrees for 4-5 hrs before the 2nd build. This amount of plain white flour is not included in the flour mix. The final build uses a portion of the flour mix.
I followed the slow mixing and folding and the long extended retardation.
Formulation:
Flour Mix:
-370 Gms BRM Organic White Flour
-100 Gms BRM Organic Stone Ground Whole Wheat Flour
-30 Gms BRM Organic Stone Ground Dark Rye Flour
-1/8 Tsp BRM Malted Barley Flour
Liquid Levain 2nd build (100% hydration):
-30 Gms Liquid Levain from 1st build
-60 Gms Flour Mix
-60 Gms Deer Park Spring Water
Dough Mix (70% hydration):
-150 Gms Liquid Levain
-440 Gms Flour Mix
-290 Gms Deer Park Spring Water
-9 Gms Sel Gris de Guerande
-1/8 Tsp Instant Yeast
Procedures:
1- Mix Liquid Levain w/ Flour Mix and Water and let rise at 80-85 degrees until triple (4-5 hrs) before use.
2- Blend Flour Mix with Water using flat beater on slow speed for 2 mins and autolyse for 30 mins.
3- Mix Dough, Levain, Salt and Yeast using Dough Hook on slow then medium speed for 2 mins until dough comes clean from the side of the bowl and let rest for 10 mins.
4- Stretch and fold dough manually every 45 minutes for 4 times total.
5- Cover and refrigerate for 18-24 hrs. Dough should almost double in volume.
6- Flatten and pre-shape dough into round shape and let rest seam side down for 1.5 hrs.
7- One hour before baking, preheat oven to 475 degrees w/ baking stone and cast iron skillet filled w/ lava rocks.
8- Gently shape dough into Batard shape and proof on couche for 1.5 hrs.
9- Flip Batard on parchment and slash 2 times lengthwise. Mist oven and slide parchment on baking stone in oven. Pour 1 cup boiling water on Lava Rocks.
10- Lower oven temperature to 450 degrees and bake for 15 mins.
11- Remove Cast Iron Pan, rotate Batard, reduce oven temperature to 400 degrees and bake for another 30 mins.
12- Turn off oven and cool batard in oven w/ door ajar for 15 mins.
13- Transfer Batard to wire rack to cool.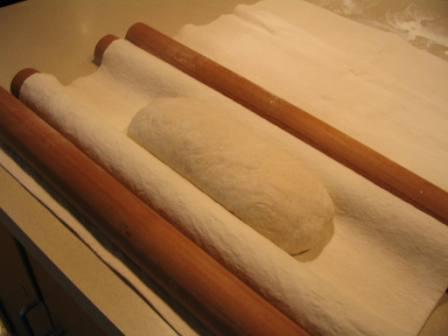 Shaped Batard on couche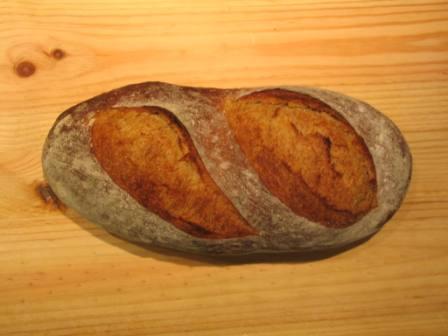 Poujauran's Pain de Campagne (My Version)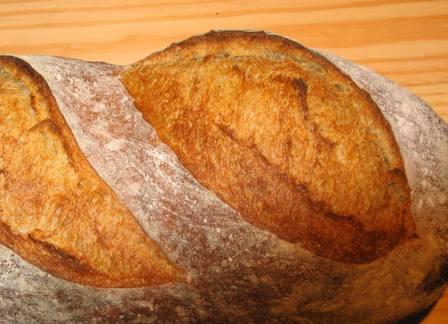 Grignes detail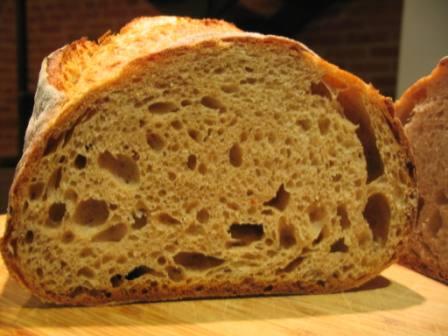 Crumb detail
Assessments:
The dough had a nice balance of elasticity and extensibility and had very good oven spring. The cuts opened nicely and the crust was deep mahogany color with an enticing aroma of warm molasses. It had medium thickness with a nice crunchiness. The crumb was light tan color with fairly open and irregular holes. It tasted medium soft and slightly chewy with roasted nut flavor. It tasted sweet with a definite tang but not sour, reminiscent of an English style Stout. Overall, I was pleased with the results but wish that the crumb would be a little softer and a little less chewy like the original Poujauran version. Oh well, it is a work in progress and I will update with future tweakings when available.
Happy Baking!
Don