Shiao-Ping's Pain de Tradition Method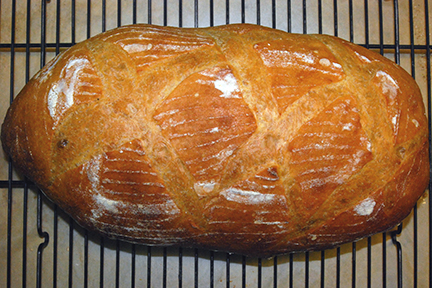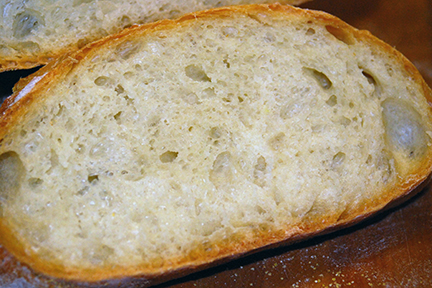 I was interested in this one day bread that is reported to be a flavorful and beautiful direct ferment dough. I followed Shiao-Ping's formula precisely, even to the point of obtaining a bag of King Arthur flour. I figured if she can spring for it in Brisbane, I'll dig deep here where it's only 3 times the cost of my usual bread flour.
I was pleasantly surprised at how nice the dough felt as it proceeded through the folding stages. It was a thing of beauty by the last stage. All of the times and temps were right on. I planned for a 72F dough temp and it stayed there all through the ferment. At 4-1/2 hours I shaped and let it rest on the counter as advised. I wanted to skip the banneton, the gluten was well developed and I think it would have stayed in shape for 45 minutes. Surprising for an 80% hydration dough.
Anyway I watched the proofing progress as advised and at 40 minutes it was right according to my floured digit. After a sloppy pineapple slash into the oven it went. Yes, a scant 1/4 Cup of water in the steam pan.
I have never baked a white flour loaf for an hour and was hoping it would look right. I read Shiao-Ping's note about how the author suggested up to 70 minutes but I wasn't that brave. 60 minutes of oven time, the last 50 being at 350F was my plan.
You can see the crust is nicely browned and not overly thick all around. I got a nice oven spring and the shape is about what I would expect. The crumb is reasonably open and has a nice chew.
For a short 4.5 hours of floor time this is a nice bread. It isn't the best direct bread I have eaten but it's very good considering the time it took to make it. I did think the crust was more chewy than crispy. Perhaps the additional 10 minutes in the oven would fix that.
I plan to make this again or rather the Sourdough/yeast  version tomorrow. I'll probably add a little rye in the flour mix just to try to maximize the flavors. If the dough feels as good as it did today, I'll do a free style bake and proof in a couch cloth. I might split the dough and make a baguette also.
We are going to a dinner party Sunday with some friends who like to think they are well traveled. I want to take some baguettes that will make them beg for the source and then tease them with the name of a fictitious new bakery. It will drive them nuts for a while trying to find it. Lol I was planning on doing the Anis method but this is in the running.
So that's it. Thank you Shaio-Ping for your inspiration to try this formula and method.
Eric