Blueberry Pie on the Fourth of July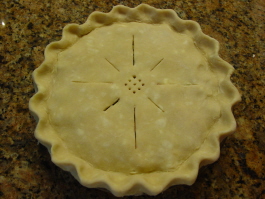 This was my contribution to the July 4th feast this year. I was asked to bring a dessert, with a request for something fruity. Blueberry pie seemed like a perfect choice. Simple in concept, but not always simple in execution, baking the perfect pie can be quite a challenge. This one could have used a little more lemon juice in the filling (or better yet, some rhubarb :-), but the crust turned out surprisingly well. And so, I offer my tip for keeping the edges from overbaking:
Instead of piecing together foil strips, I like to cut a doughnut shape. But rather than wrapping it from the top down, like most people do, I find that wrapping upward from underneath the lip of the pan does a better job of protecting the fluted edge from the intense heat rising off the heating element. This allows for lower placement in the oven, which gives better browning to the bottom crust. I can monitor how it's going by baking in a clear pyrex pie plate, and move the pie higher or lower as necessary.