I have been having problems with my San Francisco starter.  This is the only starter that I have used so far that is not home grown.  It is not as vigorous as what I am used to.  This is the third time I've used it to make sourdough but I'm still not getting the open crumb that I want.  I am documenting it because my husband claims that it is the best sourdough I've made so far.  He absolutely loved the flavor and could not stop raving about it.  He said "it's long in the palate, like wine."   
Our kids' God parents came tonight and I made roast pork leg for dinner.   There was only a little bit leftover and my husband said he couldn't wait to have roast pork sourdough sandwich with apple sauce tomorrow.   Another reason why he likes this sourdough is because the crust is not too crusty (thick crust hurts his gum?!).
Well, if it makes my family happy, I am happy.  So I am going to be "thick-skinned" and show this somewhat dense crumb here.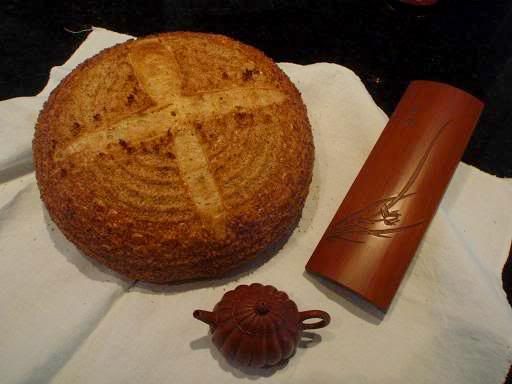 San Francisco Sourdough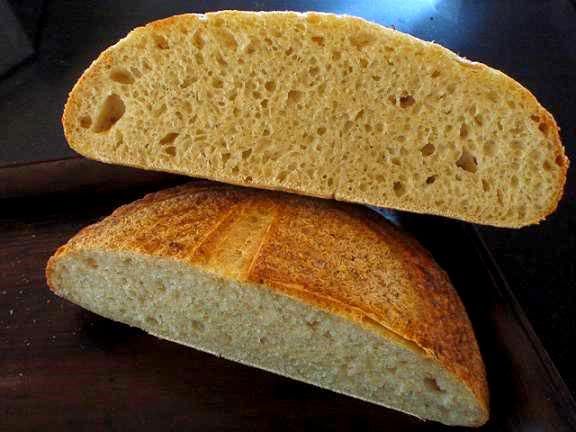 The crumb  
For this sourdough, I tried to follow Leader's San Francisco Sourdough recipe (p. 212 - 215 of Bread Alone), but I had no patience.  A 29-hour procedure became 65 hours for me because I left it in the refrigerator for too long.   And maybe that is what contributed to the great flavor!  
Shiao-Ping