This is Major Tom to Ground Control!
My local grocery store have just started to stock buckwheat flour, a flour I'm completely new to. To try to figure out what it's all about, I pulled Whitley's "Bread Matters" from my shelf - a great book by a passionate baker with a separate chapter on gluten-free baking. On buckwheat, Whitley says:
Good qualities: Traditionally used in Russia (in wholegrain form) to make kasha (porridge) and as flour to make blini (pancakes), usually in combination with wheat flour. In modern gluten-free baking, mainly used sparingly to provide some flavour and nutritional value in breads, cakes and savoury biscuits.

Problems: Disliked by some on account of its pungent flavour, which is an acquired taste.
Hmm. "Pungent flavour". Well... better start off easy on the buckwheat then, right?
So far, I've experimented with a buckwheat content between 5% - 25% of the total flour weight, and I can't say I notice any negative pungency. There's certainly a different flavour note to the breads; quite subtle and hard to describe, really. A subtle, piercing, nutty kind of flavour. Anyways.
Today I baked what I think is becoming one of my favourite multigrain sourdoughs: There's 20% buckwheat and 10% whole rye in this loaf, and the soaker is a combination of flax, sunflower, quinoa and pumpkin seeds.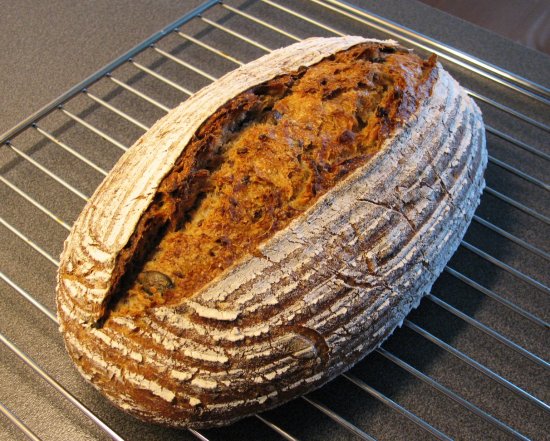 I do think the buckwheat makes the crust brown quicker than what I usually get. The loaf comes out with a crackling crust, almost like a baguette. And the crumb attains a slightly grey colour, also due to buckwheat, I would guess?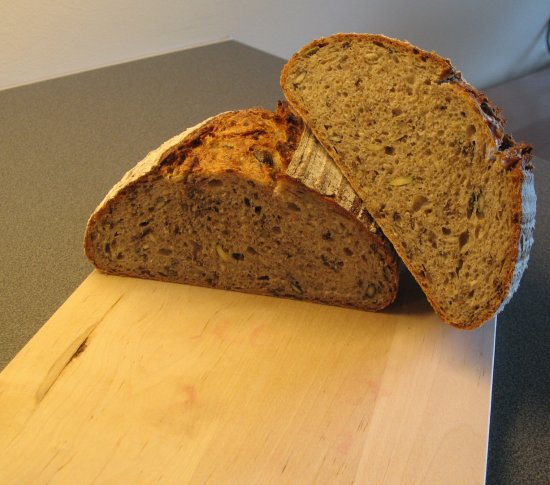 It's fun to mix in different flours in tested recipes. Earlier last week, I used 30% whole rice flour in a pain au levain, and that gave the loaf a completely different flavour. Slightly bitter, I would say. Not something I'd like every day of the week, but certainly terrific together with an ageing brie I was having a love affair with.
For dinner, I went with a blind baked pâte brisée tart shell filled with scrambled eggs, a dab of Dijon mustard and freshly cooked crab. The recipe (and inspiration) came from Michel Roux' brilliant book on pastry.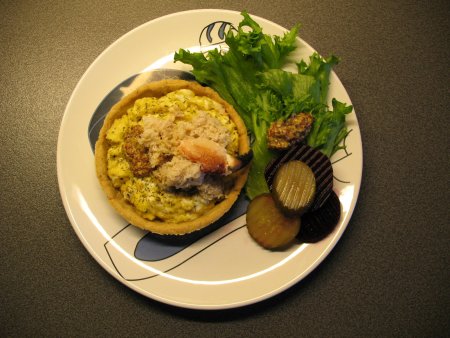 Cherries are also starting to pop up in grocery stores and markets around here, and this week I had the opportunity to make a cherry clafoutis (not photographed, recipe also from Roux' book) and a Gâteau Basque: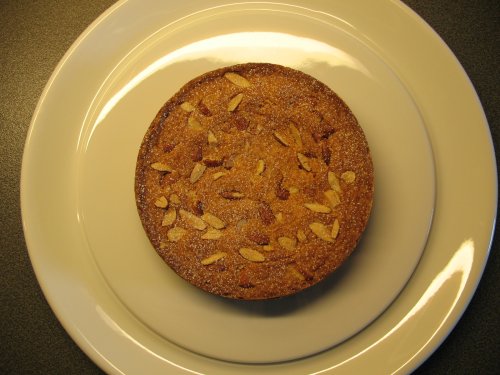 This is a very simple tea/coffee cake with a pastry cream and/or cherry filling. Since I had some left over cherries, I pureed a bunch in my mixer, and used that as the single filling in the cake. As I wrote, it's a very simple cake: Cream butter, sugar and eggs, and fold in flour, a speck of baking powder, some vanilla extract and load up your pastry bag. The batter resembles that of choux pastry, and it's deposited into the pan by first filling the bottom in a spiralling motion. Then pipe a border along the rim, top the interior with filling, before you pipe the top over the whole to seal it. Sprinkle on chopped almonds and bake in a low oven for just under an hour. Nothing too fancy, but goes well with a cup of coffee!