I saw these luscious looking onion rings on YeastSpotting several weeks ago and just could not get them out of my head. After eating them only once, I'm more obsessed with them than ever!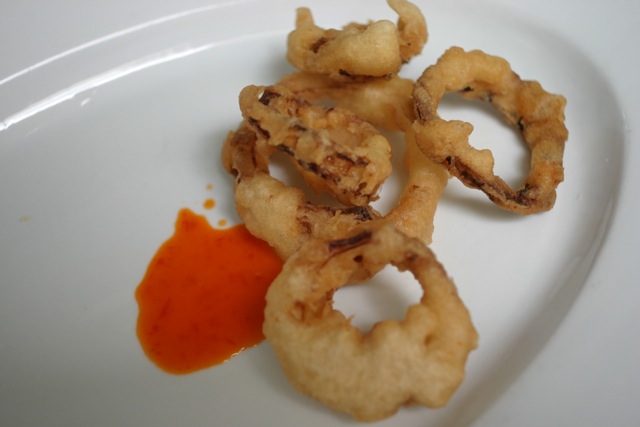 What a terrific way to use up your sourdough discard! Heck, these were so good that I'd make sourdough starter for the express purpose of turning out these tasty little rings.
Why were these onion rings so good? They weren't at all greasy (I recovered almost all the oil after cooking), they stayed crisp even when cool (not that many had the chance to get to that state but I had to save a few for the picture), and they had a wonderful flavor.
This was the best batter I have ever used. It would work great on fish (fish & chips) as well as vegetables (tempura). It is a total winner and many of us at TFL have an ample supply of SD starter in our kitchens at all times.
I made a few little changes to the original recipe.
The Batter:
130 g ripe sourdough starter (that was all I had; the original recipe called for 150 g)--my starter was firm, 67% hydration
Heaping 1/3 cup AP flour (original recipe called for 1/2 cup)
Heaping 1/3 cup water (original recipe called for 1/2 cup)
Mix together well and let sit on counter, covered, for about 3 hours then refrigerate until very cold (about another 3 hours).
(The original recipe just fed the starter and immediately refrigerated it, but I felt a little funny about that so I let it sit out for a while and start to grow.)
When you are ready to make the onion rings:
Heat 48 ounces of canola oil in a heavy bottomed pot to 375º. I used a pot that was about 3 1/2 inches x 9 inches; my oil was about 2 1/2 inches deep and that worked out just fine.
Cut one very large yellow onion in slices about 1/4 inch wide and separate them into rings (you can leave them in either two or one ring slices--I did both types).
Place one cup of AP flour into a pie plate and season it with 1 teaspoon cayenne pepper and 1 teaspoon granulated garlic (I don't like the taste of garlic powder so if you can't or don't want to obtain a superior product, I'd just skip it--I use Morton & Bassett granulated garlic with parsley).
Take your starter out of the refrigerator and whisk it with 1/4 cup cold seltzer (or soda) water. It will require some work to get the starter and water mixed up. The batter will be very thick.
Dip the onion rings in the flour, coat with the batter, and then drop them in the hot oil. Don't crowd the pan (one onion required two batches for me). Turn them over several times while they were cooking (about 6 minutes, I think, but you will know when they are done).
Remove to a lined platter and reserve in a 250º oven while you are getting the next batch done.
Sprinkle with kosher salt when they come out of the oil. A dap of your favorite hot sauce makes a nice accompaniment.
Serves 2.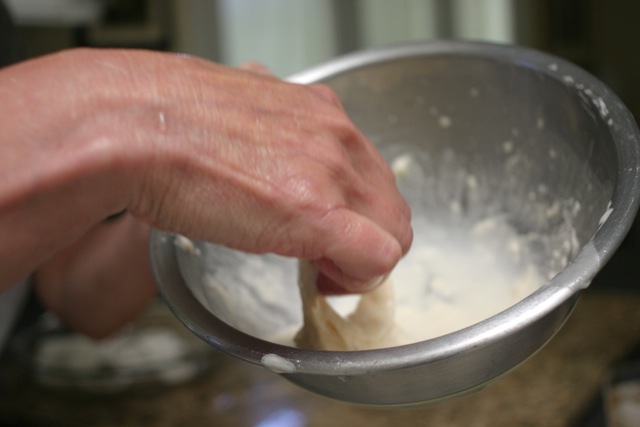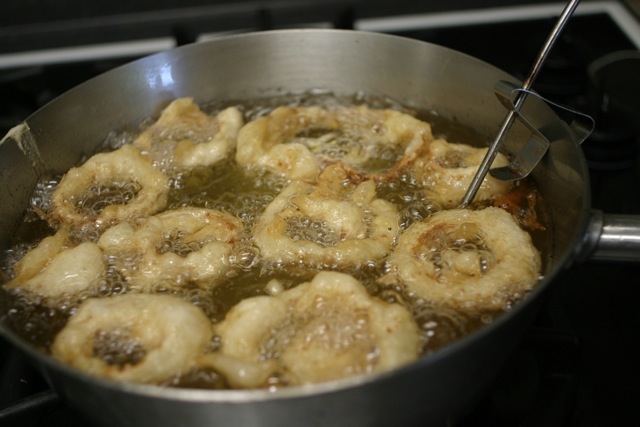 --Pamela